Welcome back to The Rebound: Worldwide, where we bring you all the biggest and oddest updates from around the footballing globe – including strange sackings and seismic shocks on the international stage.
First, to Germany, and where it's fair to say that Julian Nagelsmann's dismissal by Bayern Munich was a little bit unexpected – not least by Nagelsmann himself, who was skiing when he found out about his sacking via social media.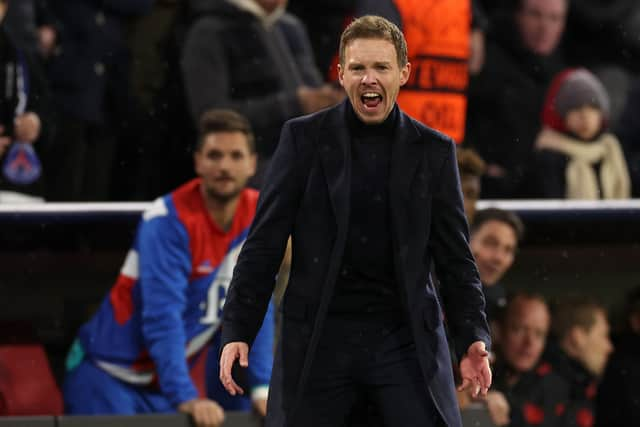 Nagelsmann, who won the Bundesliga with Bayern last season and had won all eight Champions League matches this term had seen his side slip to second in the table after defeat by Bayer Leverkusen last weekend, but that didn't mean he was expecting to find Thomas Tuchel occupying his desk this week. Bayern sporting director Hasan Salihamidzic has spoken about unspecified "discipline issues" behind the decision, and if they justified a punishment as severe as a sacking and an immediate link with the vacant Tottenham Hotspur job they must have been pretty serious.
Elsewhere, on the actual football pitch, there were two especially remarkable results to chew over – the first in Astana, where Kazakhstan engineered an astonishing comeback to sink Euro 2020 semi-finalists Denmark.
The Danes were 2-0 up and cruising thanks to a brace from in-form and in-demand young striker Rasmus Hojland, who had hit a hat-trick against Finland just three days previously. Given that Kazakhstan had lost their four most recent games to Slovenia, Uzbekistan, Azerbaijan and the United Arab Emirates, it would be reasonable had the bookies started paying out – but The Hawks had other ideas and three goals in the last 20 minutes saw them produce one of the most famous results in their nation's history. Here's the second, an absolute screamer from Ashkat Tagybergen, who plays for Kazakh Premier League side Tobol and is not, in fact, a minor character from Game of Thrones:
Elsewhere, Morocco seized the chance to prove that their run to the World Cup semi-finals was no fluke with a superb 2-1 win over Brazil. Goals from Sofiane Boufal and Abdelhamid Sabiri gave the African side their first ever win against global football's biggest powerhouse, who fielded a somewhat experimental line-up.
Ramon Menzes is in temporary charge of the five-time world champions and took the opportunity to field a much-changed side which included Casemiro, Alex Telles and Emerson Royal. Spurs fans will be unsurprised to discover that it was an error from Royal which allowed the opening goal, although anyone else may be surprised to learn that it was one of the heroes of the World Cup run, goalkeeper Bono, who fouled up for Casemiro's equaliser:
A couple of golden chances spurned by Palmeiras winger Rony on debut allowed Morocco to find a winner and give their wildly enthusiastic fans ever more reasons to cheer after their stunning success in Qatar.
Elsewhere, football largely stuck to the script with big teams beating small teams – and there was a very small piece of history made in Batumi, where Mongolia visited Georgia for their first ever match on European soil – well, European as far as UEFA are concerned, anyway, the geography of the matter being rather more complicated. The visitors went down 6-1 but couldn't have shown off much more spirit if they tried, going in 1-1 at half-time and having only conceded thanks to a goal that replays showed to be offside.
And mention should certainly be made of Moldova, who managed to hold on for a 0-0 draw at home to the Czech Republic. The Eastern Europeans won four of their six games in the Nations League and have started off unbeaten in Euro 2024 qualifying - salad days indeed for one of the minnows of the international game, not that we're all that likely to see them in Germany next year with Poland also in the way.
Snapshots
It may come as something as a surprise to note that Russia was playing this weekend – but it's less of a shock when you consider their opponents. Banned from European competition, Russia has turned to Asia to find international football and there they have political allies willing to oblige.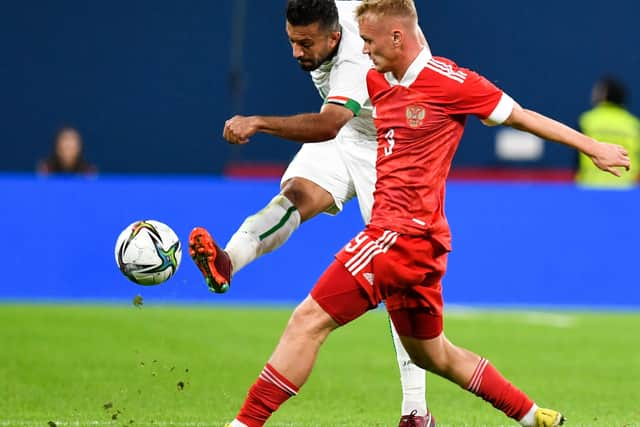 First, Iran hosted Russia in a friendly in Tehran, a 1-1 draw that would seem diplomatically appropriate between two countries who have been strengthening ties since Russia's invasion of Ukraine. Then Iraq visited Saint Petersburg, a 2-0 win for the hosts. Russia has publicly suggested the possibility of joining the AFC and turning their back on UEFA, a move that would be politically complex for the Asian Football Confederation to decline. Russia have also signed on to play in the first ever Central Asian Championship, being hosted in Uzbekistan and Kyrgyzstan in the summer – again nations where Russia has been deepening political and financial ties as their political isolation with the West continues.
UEFA are unlikely to readmit Russia any time soon, even if Wimbledon is expected to lift its ban on Russian players this year and the IOC has stated its readiness to allow Russians to compete in Paris next year. The European footballing body has discussed extending its ban to Belarus as well, who have mysteriously escaped footballing sanction thus far despite the country's role in the war in Ukraine. They were crushed 5-0 by Switzerland in a Euro 2024 qualifier that may be rightly rendered irrelevant before long.
We want your feedback on 3 Added Minutes - details here
Finishing on a lighter note, there were of course plenty of ridiculously good goals this weekend, and let's take a look at one of the very, very best – Fulham's Bobby Decordova-Reid's frankly disgusting strike for Jamaica against Mexico which opened the scoring in a 2-2 draw on Sunday. One word – crikey: