At the risk of sounding presumptuous, congratulations to England, Euro 2024 qualifiers! Their sacking of Rome was hardly Visigothic, and their Ukrainian swansong had more than a touch of the Sundays about it, but two wins from two have left Gareth Southgate's men in a wholly commanding position at the summit of Group C. With Malta and North Macedonia to come in June, and with little to suggest otherwise, their passage to the finals should be all but secured.
When they do arrive in Germany next summer, much of their hope could rest on the shoulders of Bukayo Saka. The winger is so prodigious, so remarkably accomplished, that it is sometimes easy to forget just how young he is. At 21, he has staked his claim as one of the best attacking talents in world football, and his hugely influential turn against Ukraine at Wembley served as a conspicuous reminder - not that one was needed - of his otherworldly gifts.
Much will be made of his goal, of course; the way that he assumes possession so readily, the manner in which he glides away from the grasping grabs of his helpless defender, the artisanal precision with which he rifles his shot - power and beauty in perfect balance, like a sculptor's mallet striking the chisel that carves at the marble. It was, in a word, sublime.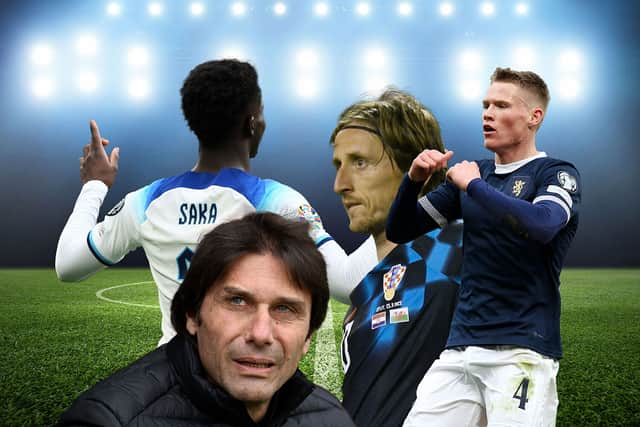 But just as impressive was his assist for Harry Kane. Saka possesses that rarest of abilities, the means to seemingly slow time itself. Unflustered and assured, he petrified his marker, found the slightest hint of a space, and produced the kind of cross that his captain must have fantastical daydreams about. He is a marvel, and one that both England and Arsenal must look after with the highest degree of care humanly possible.
Elsewhere, both Scotland and Wales have been been left stumped by this newfound sensation swelling in their rib cage. It sort of flutters and simmers like anxiety, but it feels almost... good?! Could it be... surely it isn't... optimism? In the case of the Scots, a 3-0 win over Cyprus has already got the Tartan Army measuring up for Lederhosen and checking average temperature charts for Germany in the months of June and July. Let's ignore the fact that Saturday's victims are ranked lower in FIFA's ever-swirling rankings hodge-podge than the likes of Tajikistan, Vietnam, and Madagascar, and instead congratulate them on a job well done. Ish.
Were it not for a brace of late goals from Scott McTominay, things might have seemed altogether less riotous, and the fear will be that Tuesday's Hampden visit from former world champions Spain could impose a much sterner reality check. But hey, that 150th anniversary shirt is a stunner, isn't it?
As for Wales, much like Robert Pattinson in The Batman, they proved that life in a post-Bale world doesn't necessarily have to be an unmitigated disaster. The Dragons' qualification campaign got underway with a tough trip to Split, but thanks to an injury time intervention from Nathan Broadhead, they were able to steal a 1-1 draw against Croatia. Jasper Carrott would be proud. With Turkey, Latvia, and Armenia making up the rest of their group, they might just fancy their chances.
And finally, like a bucket of ice cold water to the face, news of Antonio Conte's departure from Tottenham on Sunday night awoke us from the slumbering malaise of the international break with a healthy dose of Barclays-induced hyperthermic shock. The Italian has seemingly been embroiled in a game of chicken with Spurs' top brass ever since he had the audacity to point out that a club who haven't won any silverware since 2008 aren't very good at winning silverware. In the end, both he and his employers buckled at the same time, with Conte departing by mutual consent.
A proven winner by almost any metric, Tony C was brought in by Tottenham to deliver a trophy. Instead, all he has been able to deliver is atrophy. True, Spurs currently occupy that fourth and fabled Champions League spot, but their current prosperity is more a reflection of the relative ineptitude of Liverpool and Chelsea than anything else. At the time of writing, they also happen to be 20 points adrift of league leaders Arsenal, and in the event of the sides beneath them winning their games in hand, they could slip to as low as sixth.
Early favourite to replace Conte in north London is Julian Nagelsmann. The German coach lost his job with Bayern Munich last week, had to cut short a skiing holiday to return to Bavaria to face the music, and is now being linked with Spurs' vacancy. They do say bad news comes in threes...