The top 10 wildest haircuts in football history - including David Beckham and Ronaldo classics
A look at the ten weirdest and most wonderful haircuts in the history of football.
Watch more of our videos on Shots!
and live on Freeview channel 276
Visit Shots! now
If football has taught us nothing else, it's that very wealthy men with a lot of time on their hands love to get ridiculous haircuts. We may be well past the cursed era of the mullet, but plenty of footballers since have been willing to test the patience and artistic limits of their barbers in new, innovative and often rather appalling ways.
Here, then, are ten of the very strangest, wildest and most unexpected haircuts of the lot. Not that they're all bad – although most of them are – but they are all extraordinary. Be prepared for the voluminous, the ill-judged, the gloriously idiosyncratic and the ones which include more highlights than Match of the Day:
10. Taribo West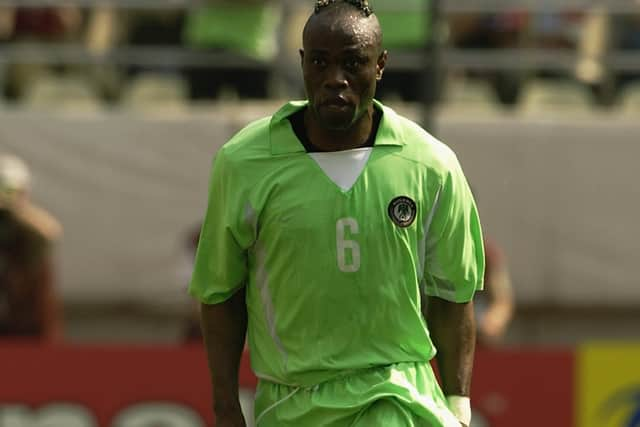 No discussion of footballing hair can be complete without the singular stylings of Nigerian defender Taribo West. He played extensively with the 'tiny double-bunch' form throughout his career, but will always be remembered best for using his hair as a vessel for his national pride, dying those scalp-hugging head tassels green in honour of his homeland. It was sadly disappointing to discover that the modern-day West has eschewed his unique look in favour of a bog-standard buzz crop these days. Still, he leaves with a hair legacy he can be proud of.
9. Marouane Chamakh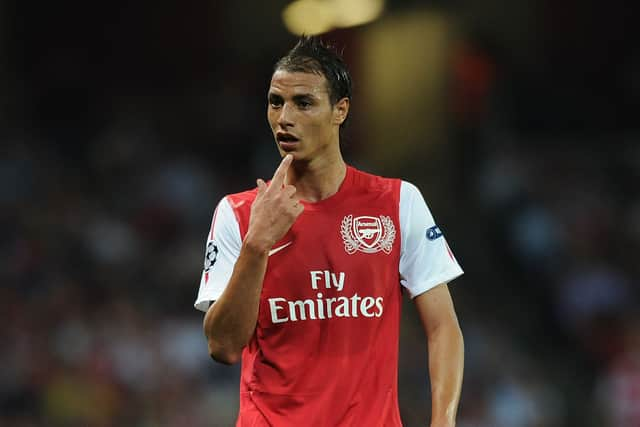 Many players have gone for pointy quiffs over the years, and quite a few have had a crack at the mohawk, but few have tried both at the same time, and none of them have done it with as little actual hair as the former Arsenal and Crystal Palace man. Bobby Charlton could have managed a more convincing mound of mane, and what sparse offerings the Moroccan did have were slathered up with so much product that the top of his bonce looked like a seagull that had been rescued from an oil slick. A rather malnourished one, at that.
8. Paul Scharner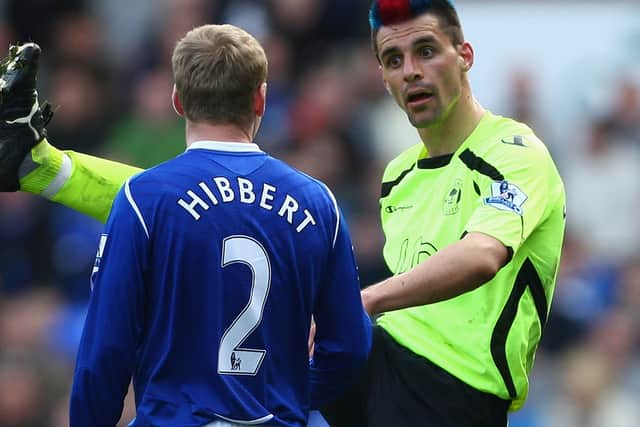 For most of his career in the Premier League, Austrian centre-half Scharner rocked some perfectly sensible haircuts. Then, every now and again, he'd come out of the tunnel with as many shades of dye swarming all over his scalp as he could manage. A full Dulux colour pallet of hair-dos has graced the former Wigan and West Brom man's noggin over the years, although perhaps his most memorable was a half-black, half-white job which made it look like he'd taken a badger that had been run over on the M1 and stapled it on. Then the next week he'd turn up with a perfectly normal crop job again. Baffling.
7. Neymar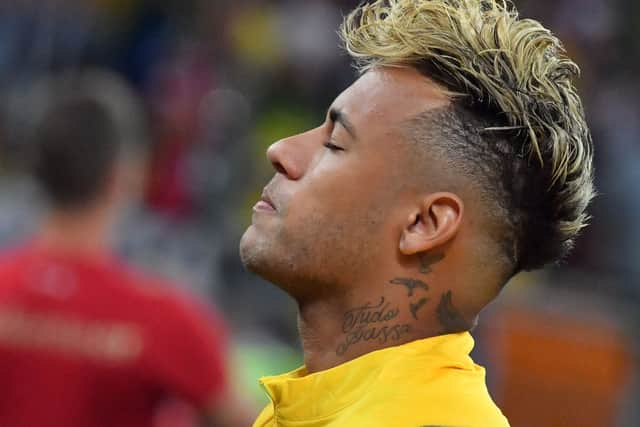 This is a bit of a curveball because this specific haircut makes it in not for being bad, but for being quite good. You see, Neymar likes to have a fresh trim every other week, and seems incapable of either settling on a style or indeed having any sense of style whatsoever. Opening strongly with the hideous fluffy mullet of his Santos days, he's never let up in his quest for the most tragic coiffure that can get his hands on. Or head on, perhaps. So it was something of a shock when, in 2018, he showed up for a few matches with a genuinely elegant – if hardly subtle – blonde take on what hair artists have described as 'The Fonz For Gen Z'. I actually liked it, and that made it perhaps the most unexpected haircut of them all.
6. Djibril Cisse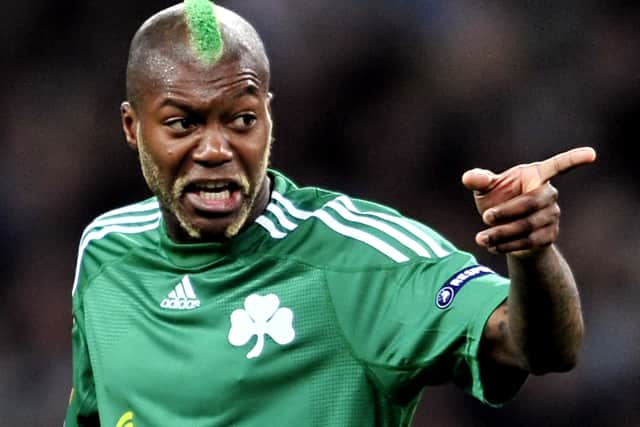 The former Liverpool forward was never shy of a bit of peroxide, or of ensuring that he stood out on the pitch, but unlike many players who have dabbled with the bleach, he actually had the cool to pull it off. As he did with the boldest effort of his career – a lime green mohawk matched with blonde muttonchops while he was at Panathinaikos. It made him look like a nu-rave Mr. T, and he may indeed have been just about the only man on earth who could possibly make it work. It also made him look he like he had thoughts on the second Klaxons album but still, kudos to the Frenchman.
5. Roberto Baggio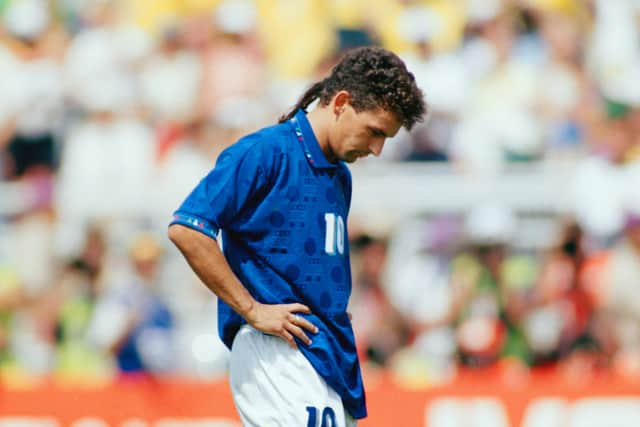 Now time for a controversial opinion. Brace yourself, because this hot take is seriously sizzling – Roberto Baggio's 'divine' ponytail was rubbish. Yes, I know. Go and have a lie down and come back when you've cooled off. But seriously, though – it's woolly rat-tail with ideas above its station. It might be the most eighties haircut of the nineties, and that's the deeply uncool Duran Duran eighties, not the somewhat suave Echo & The Bunnymen eighties. From the back it looked like a fake extension tied forcibly onto an unwilling cranium. Still, it all added to his legend, and he was one of the best forwards of his generation – nor was it as bad as his penalty in USA '94. So perhaps we should be more forgiving.
4. Abel Xavier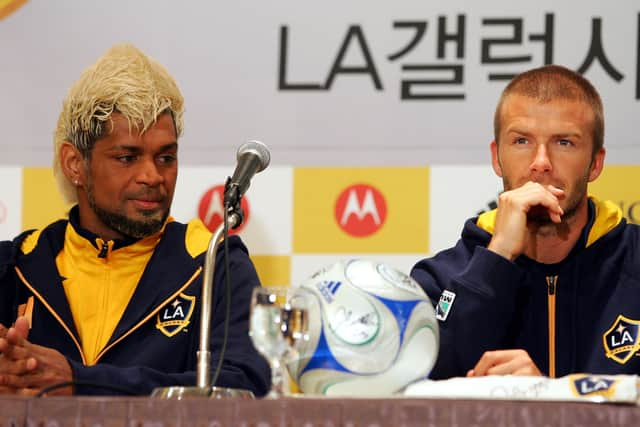 The Portuguese full-back was another man who loved to do handstands in bottles of bright yellow hair dye, but unlike most of his peers he preferred to get the whole head in there, bristling beard and all. At least as effective at warning ships away from dangerous rocks as he was as a defender, Xavier reached the zenith of his hair career when he let it all grow out at LA Galaxy, a hairstyle truly dialled up to eleven. It was such an efficient attention vacuum that even David Beckham didn't dare to compete with it.
3. David Beckham
Speaking of whom… Becks had more haircuts than England caps by the time he retired, a startling combination of the boyband-ish (the curtains, the bald with a sudden goatee), the baffling (the mohawk and the ponytail) and, in this instance, the grossly ill-advised. The cornrows were rather fairly criticised as representing cultural appropriation but even without that being the case, they looked utterly abysmal. They didn't last long, mercifully, and he has since admitted to regretting them. As did everyone who laid eyes on them. A rare haircut that fails on both a sartorial and ethical level.
2. Carlos Valderrama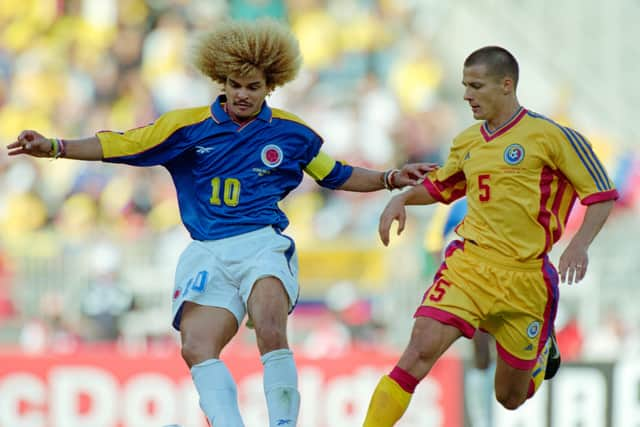 One of the greatest bonnets of all time, the Colombian playmaker's massive mop of golden tresses was one of the most stirring sights in nineties football. Eclipsing even the hirsuite heroics of his marvellously-maned international team-mate Rene Higuita, Valderrama was a brilliant player with a huge personality and the hair to match. Bouncing about the field of play and providing excitement and joie de vivre in equal measure – a fair description of both the man himself and his massive mountain of hair. An immortal addition to the hairy pantheon.
We want your feedback on 3 Added Minutes - details here
1. Ronaldo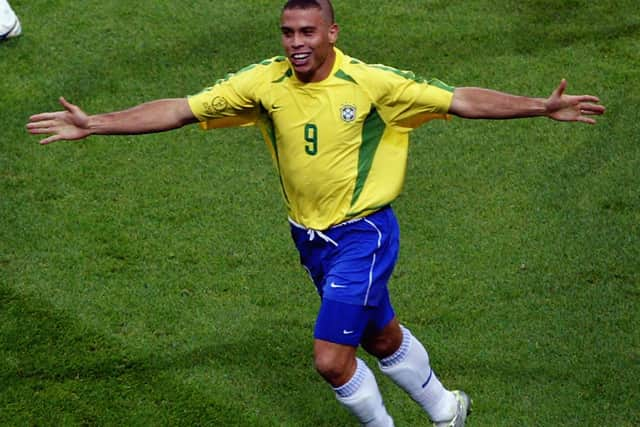 Well, what else could it possibly be? The greatest striker of his age decided to inject a daring dash of the absurd into the 2002 World Cup with a truly original look, the lesser-spotted and rarely-repeated 'forward sandwich'. Apparently it was originally intended as a joke to wind up his manager, but when it generated an instant media sensation and caused many impressionable and presumably somewhat idiotic young children in Brazil and indeed further afield to copy it, he saw it through to the bitter end and maintained the hairy hemisphere for the remainder of the tournament. The strangest, most inexplicable and probably worst haircut ever to grace half of the head of a professional athlete. Ronaldo, for making us all feel better about our own dodgy dos, we salute you.