Crystal Palace's Roy Hodgson appointment reeks of regression
Roy Hodgson was unveiled as Crystal Palace's new manager on Monday morning.
Watch more of our videos on Shots! 
and live on Freeview channel 276
Visit Shots! now
Can't a septugenarian tend to his rhododendrons and watch endless re-runs of Homes Under the Hammer in peace? At a time in his life when his only away day should be to the local garden centre, Roy Hodgson, a man who used to lend his ID to Methuselah, is being thrust back into the crucible of Premier League management with an unexpected return to Crystal Palace. By a certain point, you have to ponder whether or not this constitutes elder abuse.
There are few statesmen as venerated as Roy. The 75-year-old has been stalking dugouts since 1976, the year James Callaghan was elected Prime Minister and the very first Star Wars film was released. He puts the OG in Werther's Original. Forget this current iteration of Crystal Palace, Hodgson probably still has his ticket stub from the Great Exhibition.
And yet for all of that experience, it would appear that Roy still can't spot a poisoned chalice when he sees one. His last foray into management came with Watford, a club who ruin eager appointments like unrefigerated bowls of potato salad at Death Valley picnics, and his new, old job with Palace bears all the hallmarks of a fairytale; specifically the part in Little Red Riding Hood where her grandmother gets eaten by a wolf.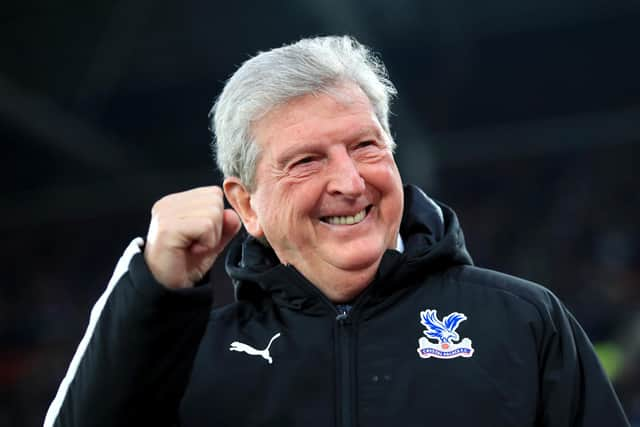 You see, the Eagles are in trouble. Four defeats on the spin were enough to put pay to Patrick Vieira's tenure (credit to Steve Parish, who showed a remarkable knack for comedic timing by ousting him on St. Patrick's Day, by the way), and while they may sit twelfth in the table, the reality is that their relatively lofty perch belies an increasingly precarious situation. Palace are just three points above the relegation zone, and have the joint-lowest Goals For column in the division. They could very easily go down this season.
Presumably that is the motivation behind Hodgson's return. He is, after all, one of the main reasons why Palace have been able to establish themselves as top flight stalwarts over the past decade or so. Evidently, the desperate lure of pragmatism has wiped clean any lingering memories of the grumbling, grey cloud under which Roy initially left the club. And in truth, there is a certain appeal to the uncomplicated approach he is likely to usher in. Hodgson will probably play a 4-4-2. Sometimes, he might use a 4-3-3. He will try to prevent Palace from conceding too many goals, and he will look to utilise their meagre attacking presence in a more effective and incisive way. It's not exactly brain surgery, nor will it be particularly pretty, but it is what it is.
More than anything, though, Hodgson's homecoming reeks of regression. To all intents and purposes, Palace have wasted two years on a bold new venture, only to crumble at the first hint of a downturn and shuffle back to a man who squandered his last meaningful dose of fighting spirit in a blood feud with a hornet mascot.
Roy, for his part, was never going to turn down the chance to manage his boyhood club one more time. His is a demeanour that exudes a profound, dignified adoration for the game, and you get the impression that he would rather embrace and endure a proverbial viking funeral than he would the enforced relaxation of a Viking cruise. Never mind 75, if Palace were to come calling when Hodgson was 105, he'd probably still be up for the gig.
It is, of course, worth emphasising that Roy's new agreement at Selhurst Park is a short-term one, designed to tide the Eagles over until the end of the campaign when more viable candidates might become available. But even that presents its own dilemmas. Either Hodgson takes them down and they start looking for a lower calibre of appointment, or he keeps them up and they hand him the role on a permanent basis... or give him the boot regardless. It's like Sophie's Choice if Meryl Streep had triplets.
And that's ultimately where this leaves us. Congratulations to Roy Hodgson, a true great who deserves every success but may struggle to attain it this time around, and commiserations to Crystal Palace who require much better and have instead wilfully chosen to take a notable step backwards. The Eagles, to be blunt, have botched their landing.