Jude Bellingham to Manchester City: Real Madrid and Man Utd in mix for £130m transfer, our verdict
Will Jude Bellingham be on his way to Manchester City this summer? We go over the latest press reports as Manchester United and Real Madrid vie for his signing.
Watch more of our videos on Shots!
and live on Freeview channel 276
Visit Shots! now
What would you do if you were Jude Bellingham? If you were one of the most talented midfielders on the planet, with the biggest clubs in Europe desperate to sign you? Bellingham's price tag is rumoured to be anywhere up to £130m and there's a solid chance that he becomes the second most expensive player in history this summer – so a huge decision awaits one of the most gifted young players in the game.
Still just 19 years old, but blessed with enough ability to make any starting eleven in the world, there will be immense expectation wherever he ends up – and with Liverpool reportedly dropping out of the race as the price tag spirals ever upwards, three main contenders for the Stourbridge starlet's signature have emerged – Manchester City, Manchester United and Real Madrid.
Let's look at what the press are saying about each of those possibilities and analyse which would make the best landing spot for Bellingham.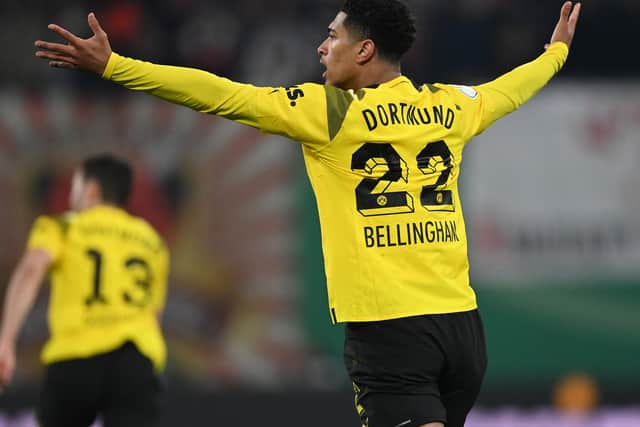 Manchester City
With the chance to become the second English club to win the treble of Premier League, FA Cup and Champions League, it's easy to see why Manchester City would tempt Bellingham. The opportunity to play alongside Kevin de Bruyne – one of the few midfielders who could teach him a thing or two he doesn't already know – and to link up with his former team-mate Erling Haaland must make a move to the Etihad a very interesting proposition.
ESPN have reported that his good relationship with Haaland (and another ex-Dortmund player, Manuel Akanji) has made City the frontrunners in the race, and they're definitely in the market for a midfielder with İlkay Gündoğan likely to leave and further doubts over the future of Bernardo Silva. They also most definitely have the money to make a deal work, and having secured Haaland's signature last season, presumably have a sufficiently good working relationship with Dortmund to grease the deal's wheels.
The 3AM Verdict: There aren't many players that could substantially improve Manchester City – but Bellingham is one of them. They have the money, they can offer the likelihood of trophies, and would pay him enough money to fill a swimming pool with fifty pound notes. He makes sense for them and they would make sense for him – it's easy to believe ESPN's reporting and hard to see any substantial impediments to a deal.
Real Madrid
The other team most often raised in relation to Bellingham are Real Madrid – and they're a team that tend to get their man when they want them. They've been keeping tabs on the youngster for some time and have never wavered in their determination to get him on the books at the Bernabeu.
Madrista newspaper Marca report that Real are "confident" of getting the deal over the line, while a string of pundits have backed Bellingham to make the move to Spain – including Rio Ferdinand and Troy Deeney, who played with Bellingham's brother Jobe at Birmingham City and is a friend of the family, making him at least as well placed as any number of 'inside sources' to predict what Jude's next move will be.
The 3AM Verdict: If Bellingham could pick up some tricks from De Bruyne, then the same most certainly applies to a job posting alongside Luka Modrić and Toni Kroos. They may also be the biggest impediment to a move, however – while Real are looking for their long-term replacement, Bellingham may not fancy facing too much competition for a starting spot. But there's still no argument that Real make plenty of sense for both club and player, and they could well be the favourites.
Manchester United
Any reports linking Jude Bellingham – or any other big-name player for that matter – to Old Trafford come with one big caveat: we don't know who will end up owning Manchester United, and we don't know what the budget and priorities will be. That hasn't stopped many sources suggesting that United's current top brass are extremely keen on securing Bellingham's services, even if we need to take the reports with a slight pinch of salt.
We want your feedback on 3 Added Minutes - details here
David Ornstein, speaking to Football Daily, made the point that while Manchester United are keen, the ongoing takeover talks mean they're in no position to make meaningful progress while other teams can already start their due diligence. Any more positive newspaper reports – such as from The Daily Express – are tenuous at best, and appear to be based on a combination of innuendo and inference rather than anything resembling verifiable fact.
The 3AM Verdict: Unfortunately for Manchester United fans, this doesn't look likely to happen for them at present. If a takeover is finalised sooner rather than later, they may be able to jump the queue if the new owners want to do so – but as it stands the links are based on pure speculation and all signs point to Bellingham playing at either the Etihad or the Bernabeu next season… or, of course, remaining in Germany. Dortmund are rumoured to be readying a €50m per year contract offer, so if the big bids don't materialise, he may remain by the banks of the Rhine for another year yet.