Fantasy Premier League Gameweek 5: tips, price changes and captain picks as Everton face Arsenal
Hints, tips, captaincy advice and the latest price changes and injury updates for gameweek five of the FPL season.
Watch more of our videos on Shots!
and live on Freeview channel 276
Visit Shots! now
With the international break done and dusted, Fantasy Premier League is back – and it's time for a lot of managers to make some big decisions. With several cheap player overperforming, some late goalkeeper moves in the transfer window and gentler runs of fixtures opening up for several teams who've had tough starts, we've got some big moves to make this week, and 3 Added Minutes is here to give you the advice you need to get through the week.
With no Friday game this time around, the transfer deadline is on Saturday at 11:00 BST, just ahead of Wolves' match against Liverpool at Molineux, so we have a couple more days to make our judgement calls. Which is a mercy, because there are some very tough decisions out there this week.
Cheap haulers or established stars?
Several relatively low-cost players have been making big points so far, while quite a few of the FPL's big-money players have been a little quiet. So should you sell Marcus Rashford? Move on from Mohamed Salah? And which of the budget buys should make the cut if you do?
Let's start by debating which in-form midfielders we might want to bring in. James Maddison has been in brilliant form so far, but after Spurs play Sheffield United they have a north London derby to content with, followed by the visit of Liverpool. Will he maintain his form? Given how central he's become to Spurs' play, it's more than likely that he will to at least some extent, and his price is only going steadily up – if you're thinking of bringing him in, this is the best time to do it with a seemingly soft home fixture next up.
Bryan Mbeumo, meanwhile, is not only the highest-scoring midfielder in FPL so far but has the highest combined expected goals and assists of any player, including even Erling Haaland. That said, Brentford have a trip to St. James' Park this weekend before games against Everton and Nottingham Forest – so it might be best to wait a week and bring him in for gameweek six. Likewise, Brighton's Kaoru Mitoma and Solly March have been racking up the points, but it's hard to say that a trip to Old Trafford is all that easy, and both Liverpool and Manchester City are lurking in the near future as well. Brighton assets seems a little less appealing than others at a similar price point.
By the same token, we can't recommend buying into West Ham players at the moment either. Jarrod Bowen has been banging the goals in and James Ward-Prowse is over-scoring for a £6.1m midfielder, but West Ham have been massively exceeding their expected goals so far and have a very tough run of games coming up, including a visit to the Etihad. Expect West Ham to regress to the mean, which means keeping your powder dry on their assets for a few more weeks.
So both Maddison and Mbeumo look like great options going forward, but who do they replace? Looking at the big name players who haven't been at their very best, Manchester United's pair of Rashford and Bruno Fernandes have had mediocre starts to the campaign, largely off the back of poor team performances. A game against Brighton probably won't be the most straightforward – but then have a fairly gently run consisting of Burnley, Crystal Palace, Brentford and Sheffield United. If they are going to play their way back into form, then the coming month is a good time to do it.
Mohamed Salah, meanwhile, has registered at least one goal contribution every week and is hardly struggling, but by his stratospheric standards he perhaps isn't living up to his £12.5m price tag – and chopping him for someone like Mbeumo or Maddison opens up an awful lot of money to spend elsewhere. Arsenal, meanwhile, have an up-and-down run of fixtures in the future and while Bukayo Saka and Martin Ødegaard have started well enough, they've been less impressive than others, and one of the stars of last season, Gabriel Martinelli, has barely registered.
Form and statistics both dictate that selling a high-value midfielder to make room for a cheaper midfielder makes sense, but timing matters – so if you decide that Mbeumo is your man, we'd probably wait another week. If you want Maddison, act now – and based on xG and xA so far this season, we'd probably say that Rashford should be the first on the chopping block among the biggest-name players. He's a great asset, but with his side struggling to create chances it might be best to come back in for him later once Erik ten Hag has sorted things out a bit.
Double transfer decisions
Of course, the main advantage of swapping an expensive player for a cheaper one is that you can splash out elsewhere. Newcastle have had a rough start to the 2022/23 season but their fixtures ease off considerably now – and that means that their assets get a lot more appealing. If you're making one of those big-money moves, Kieran Trippier and Alexander Isak are both players you should strongly consider bringing in. The Magpies have one of the best runs of games over the coming five or six weeks, and they're unlikely to keep losing for long.
A lot of players may also want to consider changing their goalkeepers around, with both Matt Turner and Sam Johnstone likely to be supplanted by new signings. If you're unfortunate enough to have both, it's best to make a change now – but if you only have one, switching goalkeepers around should never be a major priority.
Up front is another area that can be improved upon – of the mid-price strikers, only Aaron Wissa and Taiwo Awoniyi have really shone. If you don't have either of them, Isak looks like a great pick-up, and Chelsea have some pretty generous fixtures too – Nicolas Jackson's price has been falling of late, but he's looked lively and if he's going to start hauling, it's around about now.
A quick word on wildcards – plenty of players get tempted around this time to throw their entire team in the bin and start anew, but unless you've had an abject disaster we really do recommend holding fire. The first wildcard has so much more value towards the end of December when the busy Christmas fixture list kicks in and we have a clearer idea of changes teams are going to make in January. If you've only got two or three real problems to fix, consider taking a -4 for an extra transfer rather than going all-in on a wildcard.
Injuries, price changes and captains
As is traditional after international breaks, a whole host of players are reporting back to their clubs with minor knocks and possible injuries, and it's worth keeping a close eye on the press conferences on Friday before making your final moves. Few big-name players are on the casualty list but Sandro Tonali, Anthony Elanga, William Osula and Marc Guéhi are among the possible casualties we're aware of, and many more may be revealed.
As for price changes, things have calmed down slightly after the early insanity, but Brighton's João Pedro has managed the unusual feat of going up once and down twice already, and now sits at £5.4m. Antoine Semenyo may go up before the weekend, while Nicolas Jackson, currently at £7.2m, is liable to drop. John Stones, Bernardo Silva, Pascal Gross and Manual Akanji are among the players teetering towards a drop as well.
And who should you captain this week? Well, with Erling Haaland away at West Ham this may be one of the rare weeks when an argument can be made against skippering the Norwegian striker – Mohamed Salah is away to Wolves, but do be aware that early kick-offs tend to produce lower scores, while Bukayo Saka could easily rack some points up away to Everton. Raheem Sterling, who has a great record against Bournemouth, isn't a bad shout either. Still, if in doubt, go for Haaland.
3 Added Minutes FC
Time now for our weekly check-in on our example team, and after a great start to the season we had a slightly more average gameweek four – exactly average, in fact, with our score of 72 being bang on the global mean score. That's seen us drop to just outside the top 60,000 – but still, it's a pretty great start all things considered.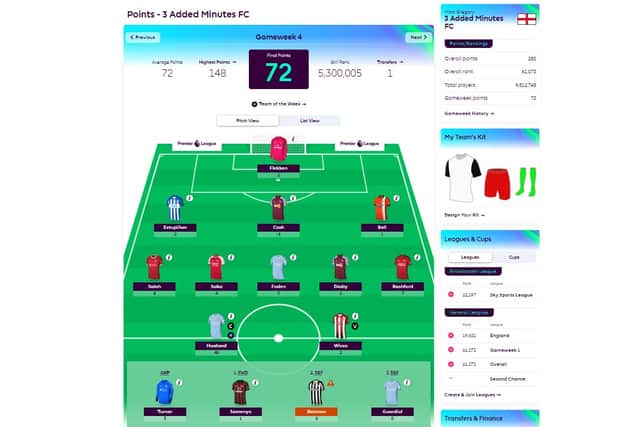 For this week, we'll probably follow our own advice and transfer Marcus Rashford out for James Maddison. We'd love to switch Pervis Estupiñán out for Kieran Trippier, but there's a slight price shortfall there – so we're going to wait on the press conference updates before deciding whether to take a -4 to move another player on (likely Phil Foden for Bryan Mbeumo, given the ever-present danger of Pep Roulette) or to simply stick with a single transfer and wait a week.
That's all from us for this week – best of luck, and may all the players you sell fail to score.