Marcus Rashford has been brilliant - but could Man Utd make him even better?
A look at the statistics and tactics behind Marcus Rashford's superb season - could he be even better if United did things differently?
Watch more of our videos on Shots!
and live on Freeview channel 276
Visit Shots! now
Another Manchester United game on Wednesday, and another winner scored by Marcus Rashford – his tenth this season, his 28th goal overall, and another successful day at the office for the man who has been his club's best player by a country mile and change.
Erik ten Hag was asked afterwards by a reporter whether United relied too much on Rashford, and the Dutchman has admitted it was "the truth", while being quick to clarify that they have "many more players across the squad who can score."
Not that anybody seems to have told them. Bruno Fernandes is the only other player in the squad to have reached double figures, and only half of his ten have come in the league. Rashford scores 0.73 goals per 90 minutes – only Jadon Sancho and Alejandro Garnacho have otherwise passed 0.25. Rashford is his side's biggest goal threat by a massive margin.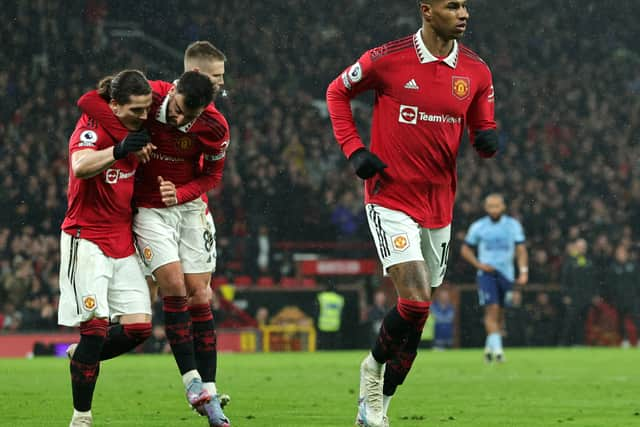 A short while ago I did a statistical deep dive on Erling Haaland which examined whether his goal contributions outweighed the negative impact he had on overall team performance – the answer was that it was something of a wash – but with United and Rashford the issue is almost the reverse. In becoming Man Utd's only reliable goal outlet, Rashford's all-round game has been sidelined, and the team is probably worse off for it.
The perception is that, putting aside the extended blip of last season, Rashford has become a far more dangerous and precise striker, a poacher as well as a marauding wide forward, which is fair – he's outperforming his xG by an impressive 0.22 per 90, compared to, for instance, the 2019/20 season when he undershot his xG 0.09 despite scoring 22 in all competitions. But it's worth noting that his non-penalty xG between those campaigns – 0.51 this year compared 0.48 – hasn't changed too much. Even now, as the central focus of the United attack, he isn't necessarily finding himself in more dangerous positions than he was before as the left side of a more evenly-balanced trident.
And in other areas of his game, the numbers have tailed off. Not only are his attempted dribbles way down, his success rate has gone from around 50% to barely over a third. He attempts far fewer passes with a slightly lower success rate. In other words, the tactical shift that has seen him be the last man the vast majority of the time – and reduced his involvement in the build-up – means he's doing less for the team. That's the fault of the tactical situation and not the man, of course, but put all the stats together and you can see a problem.
That is that while Rashford has happily improved as a finisher, his numbers in previous seasons strongly imply that he was able to get just as many chances, of just as serviceable quality, as a supporting wideman than he has as a central striker or as the last man in the move – but now he isn't in a position to offer as many attacking outlets to his colleagues as he was previously. His expected assists has almost halved since the period between 2019 and 2021.
Of course, Ten Hag doesn't have the same attacking options as United had access to in the past – for all that he could be frustratingly inconsistent, Romelu Lukaku is evidently a direct upgrade on Wout Weghorst, while Antony Martial has been so badly hampered by injuries that it may as well be his ghost roaming the corridors at Old Trafford.
And Rashford's hugely impressive goal return still doesn't quite compare as favourably as might be expected to previous seasons. His 28 goals is his most in a single campaign, but he still has fewer league goals than he did in 2019-2020, and has been able to pad his goal tally slightly with braces against Charlton Athletic and Omonia Nicosia. He has scored six goals in the Europa League this season against teams like a Cypriot side who finished in the bottom half of their domestic table – in 2020-21 he scored six in the Champions League against vastly superior teams.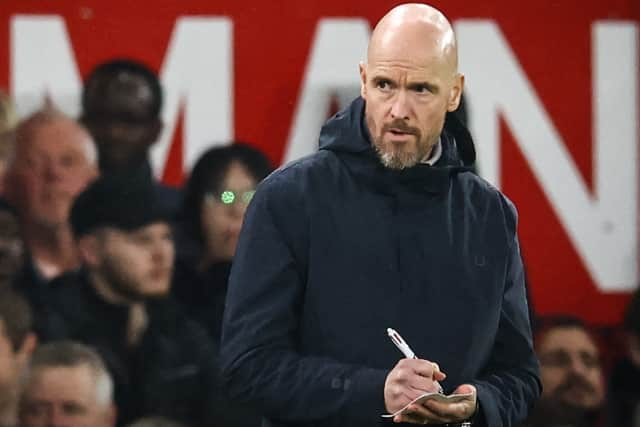 That isn't to devalue his contributions this season – you can only score against the team in front of you, and it isn't especially on Rashford that United are playing lesser teams at the moment – merely to observe that his haul has expanded partly because he is a better player now, and partly because the opposition haven't been as hard to score against. The latter is less important but should still factor in to considering where Rashford is – a fantastic goalscorer but one who is able to offer less to his team-mates because of the constraints and focus placed on him. He was brilliant then, is brilliant now, but unlike in previous campaigns, he's the only brilliant player in the final third for his team.
Part of the conclusion from some time spent among the statistics is an obvious one – United need to improve their attacking line. Nobody, least of all Ten Hag, is under any illusions about the need for reinforcements up front and United have been linked with virtually every high-profile forward in Europe. The point of this is to say that while Rashford has been hugely impressive as a central striker or – as was the case against Brentford – as a number ten playing off a target man like Marcel Sabitzer, he is likely still at his most effective on the wide left, as long as he is given a fluid set of attackers to play alongside. When he isn't the sole focus of attention, he's an even more dangerous player with a wider skillset to offer up.
We want your feedback on 3 Added Minutes - details here
For United, this summer isn't just about buying new forwards, it's about buying the right ones, ones that give Rashford the freedom to play his game and not the game the team needs from him - and most likely ones which allow him to take up his wide left slot and play with the marauding freedom he has done in the past. If Rashford continues as a central striker, he will no doubt continue to excel but may not fully realise his potential.
Right now, with Ten Hag reliant entirely on Rashford to win games, we can only see a percentage of the player he is and is capable of being. This version of Rashford is superb – but there's a version which can offer even more if United can unlock him. And to do that, United need to make the right signings before the next campaign, and free up Rashford to become not just a great goalscorer, but a provider as well.