Youri Tielemans is not the kind of player that should be standing on the brink of relegation to the Championship. The Leicester City midfielder is, for want of a less rote term, a class act; a 58-cap Belgium international in the prime of his career with silverware-winning experience and plenty to offer to the engine room of just about any club in the country.
And yet, here he finds himself, staring down the barrel of the second tier, a game or two away from dropping out of the top flight along with the rest of his bemused teammates. He is also out of contract in the coming weeks, and as such, could be about to spark a serious tussle for one of the best free transfers of the summer. But where should he head to next? We've taken a closer look at three options below...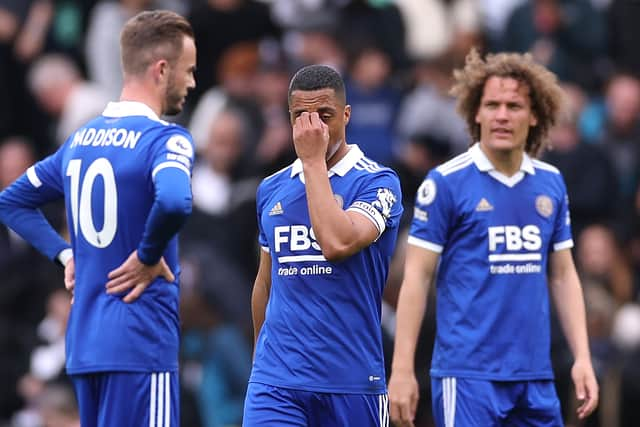 Arsenal
Nobody wants to be an afterthought. Fewer still want to feel like a desperate Hail Mary. You get the impression that if Arsenal were to sign Tielemans this summer, it would be because they'd gone all Papa Roach and reached their last resort.
The Gunners have been linked with the Belgian for quite some time, and there have been points at which they have felt like his most probable next destination; indeed, certain bookmakers believe they still might be. But in recent months, as speculation has mounted over potential swoops for the likes of Declan Rice and Moises Caicedo, Tielemans has looked increasingly like the bottom of Edu's personal barrel.
Does that mean he would flounder or fail in north London? Absolutely not. With Granit Xhaka expected to leave, and with Arsenal in need of midfield reinforcements, he would not be short of opportunities, and given the momentum that the Gunners have amassed this season, it could be a move that works out very well for him. But if there are other clubs interested, and if they do want him more readily, perhaps he should consider those first...
Liverpool
Clubs like Liverpool, for instance. The Reds as with Arsenal, are in need of an overhaul in the centre of the park, although you would have to argue that theirs is a much more pressing matter. We know that as a general rule of thumb that Anfield chiefs tend not to make several expensive marquee signings at once, and we also know that Jurgen Klopp has a proven track record of taking players from Premier League also-rans and turning them into world-beaters. In both regards, a free transfer for a player who is in real danger of being relegated with Leicester City is very much in-keeping with Liverpool's typical mission statement.
Tielemans would offer the Reds a versatile and creative option in the centre of the park, with plenty of international and top flight pedigree to boot. Klopp's side have struggled this term, but they never seem to have two fallow seasons in succession, and if they are to sign the Belgian alongside another player or two besides, they should be back among the big boys next term. Why wouldn't he want to be a part of that?
Manchester United
Another transfer speculation piece, another shout out for Manchester United. Statistically speaking, the Red Devils have been linked with approximately 83% of the world's population already this transfer window, and it hasn't even opened yet. It is only a matter of time before you click on one of these articles and find your own name in it, alongside a photograph of Erik ten Hag looking pensive, perhaps.
Again, like Arsenal and Liverpool, United need midfielders - especially if Scott McTominay is to leave this summer as he is expected to do. Tielemans could be a good fit for them, and it's not necessarily the case that he should actively avoid a move to Old Trafford.
But given a choice between Manchester and Merseyside, the gut tells you that he would be better off choosing the latter. Could be right, could be wrong, but there's only way to know for certain.