Four top class David de Gea replacements Man Utd must consider - including £66m gem and World Cup winner
David de Gea could be on his way out of Old Trafford - we compare the four goalkeepers linked with a move to Manchester United
Watch more of our videos on Shots!
and live on Freeview channel 276
Visit Shots! now
The end of the season is just around the corner and that means decision time for a lot of clubs with high-value players nearing the end of their contracts. Perhaps the biggest call any Premier League club has to make this year lies with Manchester United – David de Gea's contract is up, and negotiations on an extension are proceeding slowly.
With his performances this season dropping below what many fans would see as acceptable levels, one of United's best ever goalkeepers may be on his way out – and even if he stays at Old Trafford, there is a good argument for finding a replacement, whether it's a young buck to give the Spaniard some stiff competition, or a player who they hope can be an upgrade from the get-go.
Quite a few 'keepers have been linked with United over the past few months – so we're going to run down four of the players most strongly suggested by the press, and see whether any of them would be the right man for the job, whether De Gea stays or goes.
David Raya
Probably the name which has cropped up the most in Britain's gossip columns is Brentford shot-stopper Raya, who has already displaced De Gea in the Spanish national side and could now be coming for his club job as well. Fees of at least £35m have been bandied around, which is a pretty reasonable amount for a high-level goalkeeper, and Tottenham Hotspur have also been linked with a move given Hugo Lloris' likely departure.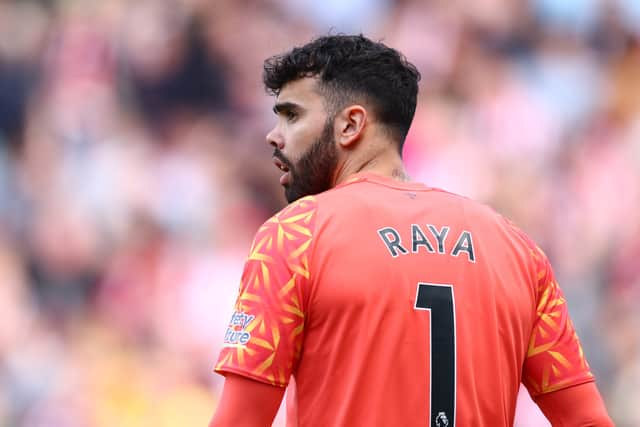 As a shot-stopper, Raya has proven one of the best in the league – his save percentage of 77.1% is substantially higher than De Gea's and is the best mark of anyone we'll look at in this article. His post-shot xG minus goals allowed – the complicated-sounding stat which essentially just measures how effective they are at saving chances – is the second-best of anyone we'll look at as well, having stopped four goals more than the hypothetical 'average' goalkeeper in the Premier League.
Where he falls slightly short is in his distribution – while it has improved markedly since his days at Blackburn Rovers, his short-range distribution is slightly worse than De Gea's and he's only a little better at playing long-range balls. He's still noticeably more comfortable with the ball at his feet under pressure – one of the major criticisms of De Gea and one of the reasons that he was dropped from the national side – but he isn't a creative outlet in the way that some of the best ball-playing goalkeepers can be. Erik Ten Hag might be put off by that relative lack of a well-rounded game, but anyone who's even better at keeping shots out than De Gea has to be a serious consideration.
Diogo Costa
The Porto goalkeeper, just 23 years of age, was tagged as a big prospect from a young age and has broken through in the past two seasons, becoming his side's undisputed number one and working his way into the Portugal side as well. He would probably be an expensive option – Transfermarkt put his value at around £40m, which would likely be a base price given his release clause of £66m – but he's looking every inch like a world-class goalkeeper at the moment and could be worth every brass penny.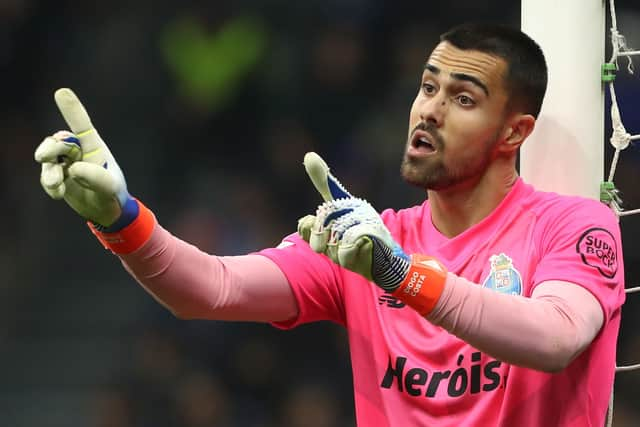 Going on the raw stats, Costa is the best goalkeeper that United have been linked with. His save percentage is only 0.1% lower than Raya's, and his post-shot xG minus goals allowed (we really need a catchier name for this) is a frankly incredible +6.1 – in other words, a regular goalie in the Portuguese league would have let at least six more past them than Costa has. He also stands out as a ball-player, with outstanding distribution including a frankly showy 56% long pass completion rate – that's right up there with the world's best.
If you're not into the statistical side of player analysis, just watch some highlight reels – he's got a slew of Hollywood saves behind him and seems to have that preternatural ability to react to shots almost before they happen that only the best goalkeepers display. He's young and has never experienced playing outside of Portugal, which always leaves room for a question mark or two, but if United can stretch their transfer budget far enough, Costa is probably the best young goalkeeper they could plausibly buy right now. Chelsea, by the way, have also allegedly sent the scouts to take a closer look.
Jordan Pickford
A wildcard recent entry into the Manchester United goalkeepers stakes – England's number one would surely want a move away from Goodison Park if Everton can't beat the drop, regardless of the long-term contract extension he signed earlier this season.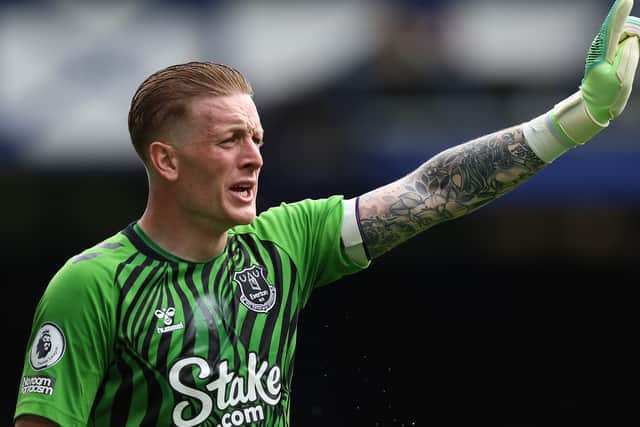 Pickford divides opinion like almost no other goalie – to some, he's England's penalty-saving hero, the man who always shows up when he's most needed. To others, he's a disaster waiting to happen, and he has dropped his fair share of clangers over the years. His penchant for diving hopelessly after lost causes certainly makes him a good meme template.
Like Raya, one of his primary weaknesses is as a long-range distributor of the ball but he's still cosy enough with the ball at his feet, and his shot-stopping stats are substantially better than De Gea's this season – Pickford has kept a thoroughly respectable 2.6 goals out over the season compared to opposing chances, which is the lowest tally out of today's foursome but is still better than De Gea, who's in the negatives column by that metric. His save percentage is, however, the lowest of these four, at a mediocre 70.9%. Still, that's better than De Gea's managed as well. At six foot tall, he's also relatively short for a goalkeeper, and is pretty much mid-table when it comes to coping with crosses into the box.
Is Pickford the best money can buy? No. But he's experienced, mentally tough and if Everton go down, could come in at a lower price point that some of the alternatives. Whether United fans would be keen on such a move is a different matter, of course, any it must be admitted that Pickford is not a big upgrade compared to some of the other 'keepers who could be on the market.
Emiliano Martínez
Aston Villa's World Cup winning goalkeeper could be on the move as well, with Villa reportedly happy to cash in on the 30-year-old if they can turn a tidy profit, having bought him for a little under £20m three years ago.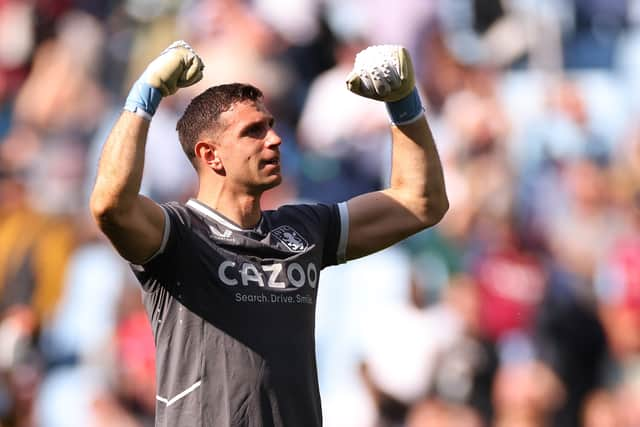 There isn't a statistic which accurately sums up a goalie's capacity to be a manic wind-up merchant, but Martínez would top the world if there was – sadly, we have to rely on slightly less exciting numbers to decide whether he'd be the right man to stand between the sticks at Old Trafford. Like all of our four options, he's ahead of De Gea on the key save-related metrics, albeit in the middle of the pack overall – and he's second only to Costa in passing and distribution. He's also the only player on this list who is taller than De Gea, which gives him a big advantage at handling high balls into the box.
Intangibles count too, of course, and while you get the impression that the Argentine would probably be quite an annoying man to share a dressing room with, he knows how to organise a defence in a way that a young man like Costa may not yet – and with goalkeepers, that experience counts for a great deal, and is arguably the best case for keeping De Gea around, beyond any economic arguments you want to put into play.
We want your feedback on 3 Added Minutes - details here
There you have it then – four goalies, all of whom can statistically outstrip De Gea and all of whom would likely be available for the right price. We reckon Diogo Costa is the best of the lot, but may also be the most expensive, and is certainly the least experienced. There are quite a few highly capable 'keepers likely to be on the move this transfer window, so if United want to move on, it's a good time to do so – and it will be interesting to see which way they decide to go.