Scotland were superb - but what the hell has happened to Spain?
Scotland left Spain battered and bruised, so what has happened to a side who should be among the best in the world?
Watch more of our videos on Shots!
and live on Freeview channel 276
Visit Shots! now
It was a result that will be remembered for many years in Scotland – Scott McTominay the unlikely source of two goals as Spain were sunk in Hampden Park, a 2-0 win that blew Euro 2024 qualifying wide open and handed defeat to Luis De La Fuente in just his second match in charge.
Much ink has rightly been spilled in the service of praising Scotland's superb performance. This was no fluke, no defiant spitting in the face of xG – Scotland were better than the Spaniards in almost every department, and deserve their moment. But that it was plainly not a matter of luck begs a question – what on earth has happened to Spain?
This is not the Spain that dominated world football between 2008 and 2012 – that is obvious. They don't have the cavalcade of superstars that won two European Championships and a World Cup. Instead this is a team in transition, older hands making way for a new generation without the bridge of high-calibre players in their prime. But their squad still bristles with respectable quality, and this result has not gone down well in Spain at all.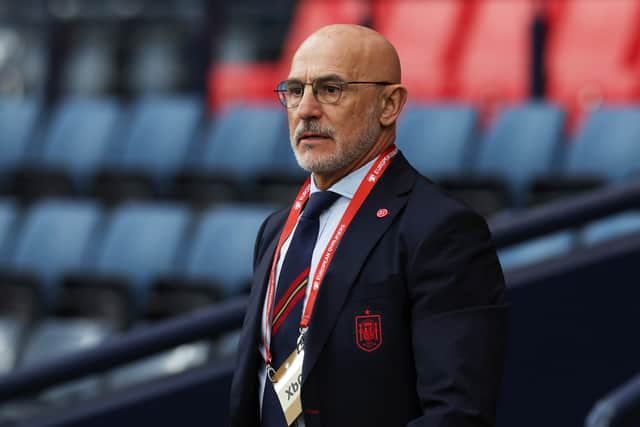 De La Fuente, who managed the Spanish age group sides before taking charge following the departure of Luis Enrique, wants to change the strategy and style of the team, the tiki-taka base upon which the last 15 years of Spanish football has been built. He has openly discussed wanting to break away from the slower passing game and selected his squad with that in mind. He was also clearly keen to experiment with several new players and see who could fit the new tactical move – but it was that experimentation that backfired.
Things started well enough this weekend, with a 3-0 win over a Norway side missing the absent Erling Haaland – but it was not a straightforward game and Spain benefited from a number of controversial refereeing decisions. Still, they were the better side, created more chances and controlled possession. It was a solid enough grounding upon which De La Fuente could continue his reconstruction.
Then he decided to play the tinkerman. Eight changes were made in the starting line-up, with the entire backline replaced and newly-installed captain Alvaro Morata benched. De La Fuente might argue that, without friendlies to fall back on, he was justified in trying something different – but it smacked of unspoken arrogance to believe that Scotland, a team who qualified for the most recent European Championships and have been on a gradual upward curve for some time, could be brushed aside with what amounted to a second string. If De La Fuente had believed that – and to some extent he must – he was set right in startling fashion.
Dani Carvajal, Nacho and Aymeric Laporte were all dropped from the starting line-up – and Alejandro Balde was sent home, presumably for rest but with no official reason given. Dani Olmo, who scored the opener against Norway, joined him on the flight. Gavi, one of the best young players in the world, was also benched while Morata, presumably somewhat to his surprise given his new status as team leader, was left out for Joselu, the former Newcastle United striker who at 32 became Spain's oldest debutant since 2008 when he came on against Norway. He did, at least, score twice to seal the win, so fairly earned his place on the pitch in Glasgow.
Clearly whatever innovation was afoot failed. It is hard to tactically transition a national team when so few games and so little practice time is available, but it should have occurred to the head coach that a key qualification match was not the best time to try stuff out. The more physical, less technical defence struggled to link up with midfield, the new-look midfield failed to move the ball well, and Scotland were presented the opportunity to not only battle their opponents on even terms, but win. A full-strength Spain squad may not have allowed that to happen.
There is some exculpation for De La Fuente, although it is thin. Enrique's first-choice goalkeeper, Unai Simon, was unavailable, while Barcelona starlet Pedri was also injured. A 32 year-old debutant makes it clear that Spain are not blessed with immense reserves of talent in certain positions. He also has to manage a squad whose brightest players are mostly very raw – aside from the Barcelona trio of Pedri, Gavi and Balde, he has Ansu Fati, Nico Williams and Yeremy Pino all under the age of 21. These are future stars, but not close to their probable primes.
He is also the first manager in some time to have to deal with a fractious squad as tensions between Catalan and Castilian re-emerge. With the squad meeting up immediately after Barcelona's 2-1 win over Real Madrid, there were reports of physical altercations between rival players and De La Fuente was forced to ask Real and Barca players to train separately. Cliques forming along club lines is a concern not faced by Spain managers since Vicente Del Bosque successfully put a stop to such absurdities years ago.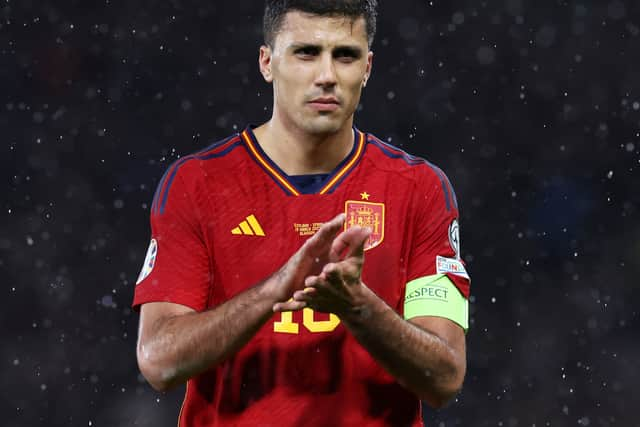 If the players were keen to put suggestions that they weren't in an appropriate frame of mind to bed, they could have done better after the match as well. Rodri was in particularly desperate post-match form – "the way they play, for me it's rubbish, provoking you, always they fall. For me, this is not football." David Garcia, one of the defenders rotated in, blamed the defeat on the lengthy Hampden Park grass. A frustrated Joselu had what amounted to a minor mid-match meltdown after yet another attack was snuffed out by the Scottish defence. None of it looked or sounded like a team immediately able to own up to their own failings, although Rodri has since rowed back.
We want your feedback on 3 Added Minutes - details here
The Spanish press were not in forgiving mood. AS and Sport both described the defeat as a 'shipwreck', while Madrista paper Marca simply headlined with the question 'What is the plan?' - hardly an ideal query to be asked of a new head coach trying to stamp his own style on a squad. This Spain squad may be in transition, and it may be a few years before the youngsters are ready to challenge for World Cups and European Championships – but they can still expect to be much better than they were against Scotland.
None of the excuses either from the players or for the coach were good enough to cover the fundamental disrespect shown by De La Fuente to Scotland, and the bad judgement involved in underestimating their hosts on Tuesday evening. This was a baptism of fire for a new head coach, and he struck the matches himself.