The most outrageous preseason pundit claims that went wrong - including Man City and Arsenal howlers
Sometimes even the experts get it badly, badly wrong...
Watch more of our videos on Shots!
and live on Freeview channel 276
Visit Shots! now
Clairvoyancy is not for everybody; if the Mayans were to be believed the world should have ended in 2012, and I am still awaiting my hoverboard, Back to the Future writers. Nevertheless, every summer, we insist on putting our biggest and brightest (?) footballing minds through the ringer by forcing them into predicting every single minute detail of the forthcoming campaign.
In essence, we are asking them to sharpen their own guillotine blades, waiting for the moment that they trip themselves up so that we can bring it crashing down in a devastating exhibition of smug revisionism. Speaking of which...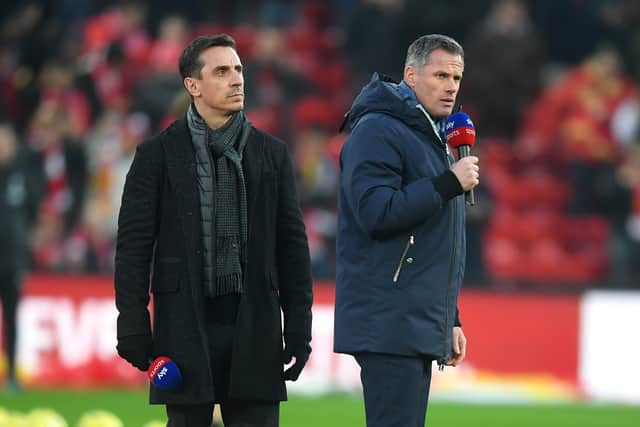 Arsenal underestimated
Trying to find a pundit who anticipated and accounted for Arsenal's stunning tilt at the Premier League title this season is nigh on impossible. Most didn't even include the Gunners in their top four. In fairness, Mikel Arteta's men took the whole division by surprise - not just because they finished second, but also because they led Manchester City handsomely for as long as they did.
Instead, a recurrent theme among pundits was the notion that Tottenham would be the side to challenge City and Liverpool's duopoly at the summit of the table. Roy Keane, Gary Neville, Jamie Carragher, Micah Richards, Chris Sutton, Jermaine Jenas, and many, many others besides had Spurs down to finish third, when in reality, they didn't even qualify for Europe.
Liverpool, title winners
The overwhelming majority of pundits correctly called that Man City would win the title this season, but there were those who opted to back Liverpool in their preseason predictions instead. Former Kopite Carragher was perhaps the most prominent of these, but he was not the only one to vastly overestimate Jurgen Klopp's side. The likes of Sutton, Jenas, Dion Dublin, Stephen Warnock, and Clinton Morrison can all hang their heads in shame too.
Liverpool, of course, didn't even qualify for the Champions League this term.
Richards on Sterling
Something of a footnote, this one, but it is interesting to reflect on Richards' assertion that losing Raheem Sterling to Chelsea would be 'massive' for Man City. In reality, the England international failed to reach double figures for his new club, and Pep Guardiola's side still hit 94 goals in the Premier League alone. Sterling has barely been missed at all.
The Cristiano Issue
How do you solve a problem like Cristiano Ronaldo? Well, according to Keane, you try and get him to stick around for as long as you can. The fiery Irishman told Sky Sports at the start of the season that Man United had to 'try and keep' the five-time Ballon d'Or winner, and that he believed the simmering tensions between player and club could still work out well.
In a similar vein, Neville claimed that CR7 had 'the power, the strength, the status to influence', and argued that the veteran forward needed to 'settle down'. He did not.
Brentford doubts
There were lots and lots of misplaced forecasts about the relegation battle this season, with the common consensus being that the newly-promoted trio of Fulham, Bournemouth, and Nottingham Forest would be making an immediate return to the Championship. None of them did, of course, but at the very least, you can forgive anybody who believed they might.
Perhaps the worst shout came from Carragher, however, who had Brentford as one of his predicted bottom three. Instead, the Bees soundly ignored any hint of second season syndrome, and spent most of the campaign flirting with European qualification.
That Haaland Shout
It might be pushing it to call YouTuber Rory Jennings a pundit, but he is employed by Sky Sports, and he did - without question - make the worst preseason claim of them all this season. Addressing Erling Haaland's arrival in England, the Chelsea fan, to quote verbatim, said: "Erling Haaland will not live up to the expectation. Because he isn't the player who everyone thinks he is. People are saying that he's going to win the Golden Boot - that is outrageous.
"It is so disrespectful to the establishment. The Mo Salah's of the world. The Harry Kane's of the world. The Son Heung-min's of the world - give them the respect. To turn up in a new league and win the Golden Boot - that would be a ridiculous achievement, and he isn't going to do it. He's very profligate, his build-up play isn't good enough at the moment to play in a City team."
Suffice to say that Haaland has since scored 52 goals in all competitions, and Jennings has been forced into offering him an on-air apology. Just a truly awful, rotten take.