Leave Swear-ling Haaland alone - banning him from Man City's treble push would be petty
Erling Haaland has faced a backlash after swearing on live television after Man City's title win
Watch more of our videos on Shots!
and live on Freeview channel 276
Visit Shots! now
It is satisfyingly coincidental that on the same day footage emerged of him stealing away from Manchester City's title celebrations to sear up a hunk of steak in the house kitchen of a local bar while wearing a pair of powder blue silken pyjamas, Erling Haaland would also be involved in another incident that ultimately amounted to absurd beef.
The Norwegian demigod - a sort of Ivan Drago for the TikTok generation - has bullied and pulverised the Premier League with all the uncaring efficiency of an experimental top secret military death cyborg this season. At times, his mere presence has felt like an injustice in a similar way to how the hastening march of artificial intelligence will soon leave us all unemployed and unable to remember a time when we didn't rely on ChatGPT to formulate our every thought for us.
But despite the overwhelming evidence to the contrary, Erling Haaland is human. And like every other human on the planet, he occasionally does things he's not supposed to. Like swearing live on Sky Sports.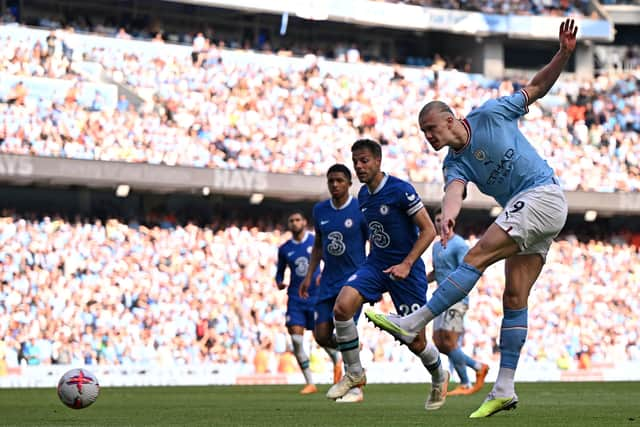 Haaland, in a jubilant blur of flaxen mane and faux Yorkshire accent, gatecrashed a Jack Grealish interview in the aftermath of City's 1-0 win over Chelsea on Sunday afternoon. He then proceeded to profess that he 'f****** loves' the granite-calved himbo before scampering off into ether as a flustered David Jones scrambled to spew forth a pebble-dashing of sombre apologies.
That probably should have been that; young man gets overly excited, curses in an inappropriate situation, and somebody says sorry on his behalf. No dramas, the world continues to spin on its skewed axis. But by now we should know better than to disregard the hubbub of the white-knuckled pearl-clutchers.
By the end of the evening there was a blossoming campaign on social media calling for him to be suspended from City's next two matches, including the FA Cup final on June 3rd. And would it shock you if I told you that a vast majority of the critically offended were Manchester United fans? I thought not.
In one sense, they have a point. Twelve years ago, Wayne Rooney was banned for a pair of vital matches in the latter stages of a title-winning campaign after uttering an expletive straight down the lens during a comeback victory over West Ham. He missed the FA-Cup semi-final - against City, by the way - and United crashed out of the competition. There is, therefore, precedent. And a healthy dollop of due bitterness.
But insisting that Haaland should be suspended in kind is daft. For one thing, there is no moralistic concern here, only fear. This is not a case of 'think of the children', but rather 'think of our precious treble, the only lingering scrap of superiority we have left to cling to'. I can guarantee you that for every United supporter complaining about Haaland's foul-mouted blunder for legitimate reasons, there are countless more who are jumping on the bandwagon because they are terrified of him lining up against their beloved side at Wembley.
For another, I would wager a good chunk of my next pay packet on the fact that of those thirsting for Haaland's advantageously-timed downfall, all but an infinitesimal minority would have been outraged by the decision to ban Rooney all those seasons ago. And if they were, well here's the thing; you can't have it both ways. Either swearing is a forgivable sin, or it is an abominable attack on the very fabric of polite society. To flit between the two stances based on whether or not it affects you for the better or worse shows little more than a penchant for fickle pragmatism. Two wrong rulings don't make a right.
And while there would be a certain novel intrigue to Haaland and City missing out on a treble as a consequence of one errant swear word, like Al Capone being brought down by his tax evasion, sometimes common sense has to prevail. The lad was experiencing one of the greatest moments of his life to date having recorded one of the most remarkable debut seasons that the English game has ever seen. I think I might have sworn too in that situation. Stop being petty and let him crack on.