The top 10 players called Charles in football history - including Man City and Man Utd stars
Counting down the ten best players called Charles ever to grace the game of football.
Watch more of our videos on Shots! 
and live on Freeview channel 276
Visit Shots! now
Whether you'll spend Saturday reciting the pledge of allegiance to King Charles III in your home, hand on proud heart, or chomping down on some coronation quiche at a street party, or just sitting around getting a bit tipsy and laughing at the absurdity of it all – the author's preference, but we don't pass judgement here – there are many ways to celebrate the investiture of our new monarch. Because we're a football website, we decided to mark the historic moment by coming up with our list of the Top 10 players named Charles in football history.
Because the well runs dry after a certain point – any Top 10 which includes Charlie Austin and Charles N'Zogbia does feel a little bit underwhelming, if we're honest – we're playing fast and loose and including any variations on the name that have cropped up both at home and around the world, although we did eventually decide to exclude Karl-Heinz Rummenigge on the grounds that double-barrelled names just didn't sit right. He's only half a Charlie, and that didn't cut the mustard.
Enjoy, and stick around the find out who we've crowned as soccer's very own King Charles.
10. Charlie George
Few players have had a song written in their honour – George had two. Granted, they were both by the same band, but Steven North & The Flat Back Fours, and further granted that they're both absolutely unlistenable, but nevertheless, 'I Wish I Could Play Like Charlie George' and 'The Charlie George Calypso' both exist as testament to his legend at Arsenal, where he enjoyed his best years.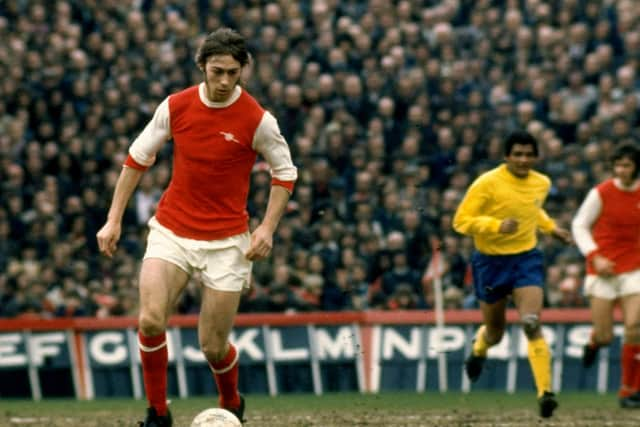 A member of the squad that won the First Division and FA Cup double in 1971, George was a brilliant midfielder whose prime was all to brief, somewhat curtailed by a combination of injuries and dodgy discipline – Arsenal fined him twice for poor behaviour, first for headbutting Kevin Keegan and then again for flicking the Vs at Derby County fans after scoring against them at the old Baseball Ground. He only made one England appearance, which seems insultingly low for a player of his calibre, but then he did get into a row with manager Don Revie after being substituted off on his debut, so it's perhaps understandable that he didn't get picked again. Now 72, he works for Arsenal hosting in their hospitality suites. In a 2016 poll, he was voted in the top ten greatest players in their history – a lasting fan favourite.
9. Charlie Hurley
If you're a Sunderland fan, you'll be furious that Hurley isn't higher. If you aren't, there's a fair chance you've never even heard of the man voted the Black Cats' player of the century. An impressive aerial presence at the heart of Sunderland's defence, he made over 400 appearances at Roker Park and picked up 40 caps for the Republic of Ireland along the way.
Initially turning down the chance to play professional football because he was making more money as an apprentice toolmaker, Hurley eventually accepted an offer from Millwall in 1953, where he played for four years – long enough to be voted the best player in the club's history by fanzine The Lion Roars in 2007. After Millwall cashed in and sold him on to Sunderland – which Hurley admitted he couldn't point to on a map – where he established himself as a club legend and impressed pundits sufficiently to come second in voting for the 1964 FWA Football of the Year award, behind only Bobby Moore and despite playing in the Second Division. Happily, at age 86, the Cork-born centre-half is still with us.
8. Karol Poborský
Before we start – yes, Karol is a variation on Charles. Or rather, they come from the same etymological root. Go and argue about it with Susie Dent, if you like. Anyway, Poborský won titles with Manchester United, Slavia Prague and Sparta Prague, but will always be best remembered for his flowing locks and for his role in the Czech Republic's run to the final of Euro 1996, and, in particular, for that lobbed goal against Portugal.
The funny thing is that he scored an almost identical goal against the same goalkeeper – Vítor Baia – a few years later while playing for Benfica, and nothing he achieved that summer was any kind of bottled lightning. He earned 118 caps for his country and scored over a hundred career goals from the right wing, playing in four different countries. Sadly, the now long-retired winger has gotten rid of the hair.
7. Carlos Tevez
A national champion in Argentina, Brazil, England and Italy, and a continental champion in both Europe and South America, there are very, very few players whose medal collection even comes close to Tevez's – 22 major titles won, more individual awards than we could be bothered to count and even an Olympic gold medal. He's also probably the only footballer to have caddied at the Open.
Quick, industrious, with a lethal finish and excellent vision, he was a versatile, all-purpose forward who could fill just about any hole his team needed and fill it in style – and he's beloved at almost every club he played for. Almost, of course, because his move to Manchester City immediately after spending two years at United made his name mud at Old Trafford, especially because of an infamous sky blue billboard raised above Deansgate which featured Tevez's face and the slogan "Welcome to Manchester". Mind you, that wasn't even the most controversial transfer he was involved in during his time in the Premier League…
6. Carlo Ancelotti
Not just a great manager who boats the records for most Champions League wins and final appearances, and not even just that one, gloriously arched eyebrow – Ancelotti was also a brilliant central midfielder who won five major trophies with Roma before moving on to AC Milan and picking up back-to-back European Cups as a player.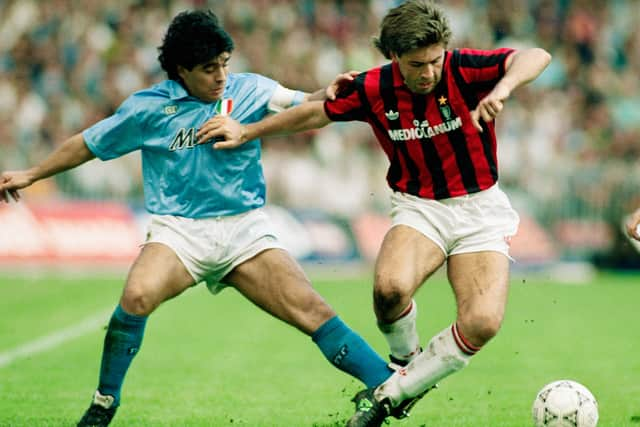 An efficient and economical playmaker, Ancelotti's technique and touch helped him to overcome a torrid time with injuries to remain at the top for longer than anyone anticipated at the time – moving from a wide role with Roma to a central conducting position with Milan where he arguably enjoyed his very best years despite the reduced manoeuvrability that all those knocks and crocks caused. Almost nobody in history can claim to have been this good as both a player and a coach.
5. Roberto Carlos
Allow us to risk some mild controversy – in the author's considered opinion, Carlos might just be the most over-rated player of all time. Not that he wasn't very, very good – just that his jaw-dropping highlight reel and the brilliant teams he was a part of rather masked his defensive vulnerabilities and occasional dodgy decision making, leaving him on a pedestal as one of the greatest left-backs of all time that he might not quite deserve. Just this one man's opinion, you understand, but give me Paolo Maldini any day.
None of that, of course, is to suggest that he wasn't great fun to watch, and all those rocket free-kicks into the top corner means he still deserves to be remembered as a legend. He didn't really just have one trick, of course, but that one trick was one of the most astonishing in the sport - the whip, bend and sheer ferocity of his shot still boggles the mind to this day. He managed over 500 games for Real Madrid and won the 2002 World Cup, as well, so perhaps this author just doesn't know what he's talking about. Or, now he thinks of it, perhaps he's just holding on to prejudices from an era when full-back was still a primarily defensive position. Who cares? Just go on YouTube and enjoy.
4. John Charles
Arguably the greatest Welsh player of all time, no less a judge than Sir Bobby Robson described Charles as "one of the greatest men ever to play the game." With his impressive physique and superlative all-round game, Charles was equally at home playing at centre-half or centre-forward, although it was as a striker that he was at his best, scoring 105 goals in 179 appearances for Juventus following an equally prolific period at Leeds United, the club he loved the most.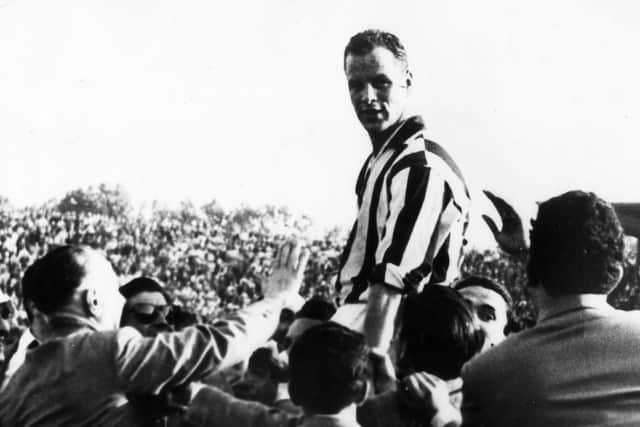 Nicknamed 'The Gentle Giant' because he refused to wilfully hurt an opponent, it was said of him that if matches were contested by 22 John Charleses, there would be no need for a referee. He won five major trophies in Turin and made the World Cup quarter-finals with Wales in 1958 – his name now adorns a stand at Elland Road, where he attended almost every home game for years until his passing in 2004.
3. Carli Lloyd
Two-time World Cup winner, two-time Olympic champion, two-time FIFA Player of the Year and unquestionably one of the greatest players in the history of the women's game, Lloyd picked up a frankly ludicrous 316 caps for the United States and scored a whopping 134 goals, making her one of the four women with more international goals than Cristiano Ronaldo – but unfortunately for the other three, none of their names are etymologically derived from Charles, so it's Lloyd who gets the top three spot here.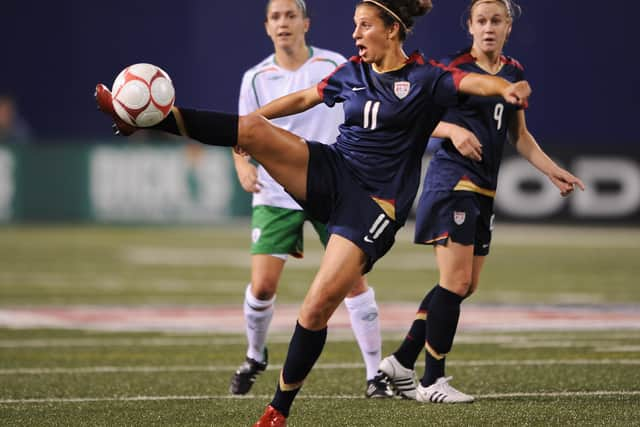 From being trained as a girl by a coach nicknamed 'The Red Baron', through to youth games for fantastically-named teams like Central Jersey Splash and South Jersey Banshees, and eventually on to becoming one of the talismans of the American national team, her story is one of relentless, unceasing excellence. Now retired, she's become an ambassador for teqball, which is that table tennis/keepy-uppy hybrid you may have seen at some point. Apparently it wants to become an Olympic sport – perhaps Carli fancies one more before she takes a well-earned breather.
2. Carles Puyol
The shaggy-haired central defender who become the colossus at the heart of Barcelona's defence for 15 glorious years, Puyol is the rare modern example of a genuine one-club man at the very top level, making nearly 600 appearances for Barcelona's senior team and racking up 100 international caps along the way. 106, if you include unofficial matches for Catalonia.
We want your feedback on 3 Added Minutes - details here
What made him so enjoyable to watch was the contrast he made against his technically stunning team-mates – a caveman figure smashing opposing attacks into the dust, playing relentless, no-nonsense football as his colleagues tiki'd and taka'd around him. He looked and played like a throwback in the most tactically advanced team in the world, and it was impossible not to love him for it.
1. Carlos Alberto Torres
Perhaps the greatest right-back ever to set foot on a football field, and captain of the extraordinary Brazilian side that dazzled the world on their way to winning the 1970 World Cup, Carlos Alberto was fast, strong, technically brilliant and read play like an open book – as well as being one of the sport's great on-field leaders, an inspirational figure who elevated those around him.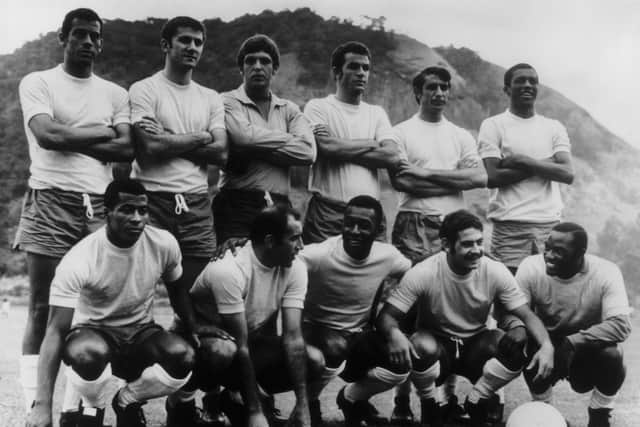 Playing for most of his best years alongside Pelé at Santos, Carlos Alberto redefined his position and set standards even the best modern wing-backs still try to emulate. He was named in the World Team of the 20th Century by FIFA and in the FIFA 100, a list of the greatest players of all time – but he will always be best remembered for Brazil's mesmerising fourth goal in that stunning World Cup final win over Italy in the Azteca Stadium. A truly great player, capping off the greatest moment of a perhaps the greatest team of them all.