With the rumour mill warming up nicely ahead of the a summer of wheeling and dealing, and with Wrexham teeing silly season up nicely by having an optimistic pop at persuading Gareth Bale to come out retirement and play with them – are there any good golf courses near the Racecourse ground? – now seems like an opportune time to pore over some of the most shocking and surprising transfers in the game's history.
These are the ten transfers that came furthest out of leftfield, the most controversial, unexpected and acrimonious moves ever made in a sport which has no shortage of earth-shattering deals in its past.
10. Juninho Paulista - São Paulo to Middlesbrough, 1995
When the 22-year-old Juninho was preparing to leave Brazil, plenty of Europe's top clubs were in the mix – and Middlesbrough. Freshly promoted from the old First Division, Bryan Robson's side were on the up, but nobody suspected for a moment that one of the hottest prospects in South American football would fancy a move to Teesside. But not only was he game, he brought his whole family over to live in Ingleby Barwick. What they made of the climate and the parmos is not a matter of record.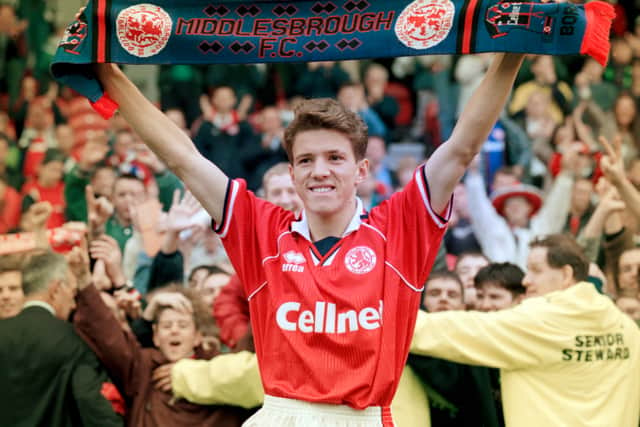 However they handled the transition, 'The Little Fella' – all five-foot-five of him – became one of Boro's best ever signings, helping them reach the FA and League Cup finals in 1997, and paving the way for equally thrilling overseas signings such as Fabrizio Ravanelli and Gaizka Mendieta. By the time he moved on for Atlético Madrid two years after he arrived, he'd changed Boro for the better, and for good.
9. Robert Jarni – Real Betis to Coventry City, 1998
One of the stars of the Croatia side that came third in the 1998 World Cup, left-back Jarni's performances made him one of the most in-demand defenders in the world that summer, and no less a side than Real Madrid were doing their level best to bring him to the Bernabeu. But with Betis unwilling to sell to a direct rival, Jarni took his second best option and went to… Coventry?
The Sky Blues signed him for £2.6m, a purchase that absolutely astounded the footballing world – an incredible coup for a team that was, if we're honest, one of the lesser lights of the Premier League at the time. But then, a few weeks later, it all made sense – without playing a single game at Highfield Road, Jarni was sold on… to Real Madrid, for £3.4m. Collusion was only ever inferred and never proven, and the full truth of the deal has never come out – but in any case, Jarni rather flopped at Real and was shuffled off to Las Palmas just a year later.
8. Robin van Persie – Arsenal to Manchester United, 2012
After eight years at Arsenal, and well on his way to being remembered as at least a minor club legend – Dutch forward Van Persie decided that it was time to move on. He had one year left on his contract and was in a position to force the issue. The only problem was his intended destination – Manchester United.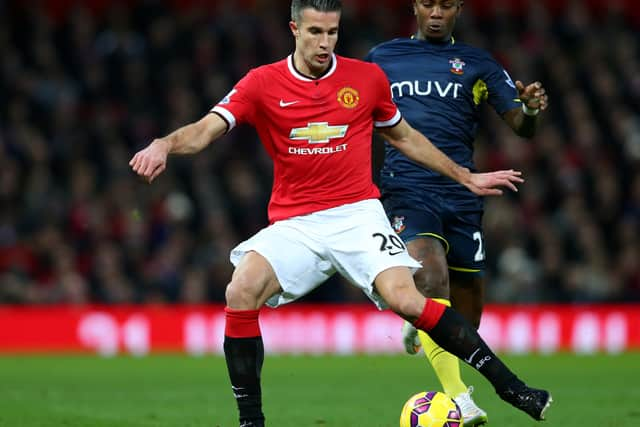 At this point we weren't far off the peak of the rivalry between the two sides – title fights, pizza slinging, endless wars of words between Sir Alex Ferguson and Arsène Wenger, all the stuff of real enmity between two of the country's biggest clubs. To make matters worse, Van Persie had just finished the season as the league's top scorer with 30 goals, so when he tried to explain his decision to switch to Old Trafford by saying "I always listen to the little boy inside of me… that boy was screaming for Manchester United" it didn't go down so well. He went on to score 58 goals in three seasons under United, winning the Premier League in 2013. His name remains mud at the Emirates.
7. Pelé – Retirement to New York Cosmos, 1975
By 1975, the 34-year-old Pelé, the greatest player the game had ever seen at the time (or "the former sports minister of Brazil" as Wikipedia prefers it) was in semi-retirement, playing the occasional match for his lifelong club Santos largely for a bit of extra sponsors' cash and generally winding down his life as a world-class athlete. At exactly the same time, American soccer was, frankly, a bit irrelevant. The NASL, the MLS' doomed precursor, was struggling to pull in a regular audience and the sport had little traction in the land of the star-spangled banner.
So it was something of a shock when Pelé, persuaded in part by a substantial stack of cash, came out of pseudo-retirement to play in the unquestionably cool kit of the Cosmos – tripling their home attendances into the bargain. A reported 10 million people tuned in to watch his debut. He wasn't the first global superstar to play in the States – the great Eusébio had a brief stint with the Boston Minutemen in the same year – but it was Pelé's presence that gave the NASL the boost it needed and helped to tempt players like Franz Beckenbauer and Johan Cruyff to the States later on. The NASL may not have lasted past 1984, but it still gave us this legendary end-of-career cameo before it finally folded.
6. Julian Faubert – West Ham United to Real Madrid, 2009
When Faubert's loan move to the Bernabeu was announced on Sky Sports News in January 2009, a stunned Paul Merson asked the question on everybody's lips: "Who's his agent?! He should be knighted by the Queen."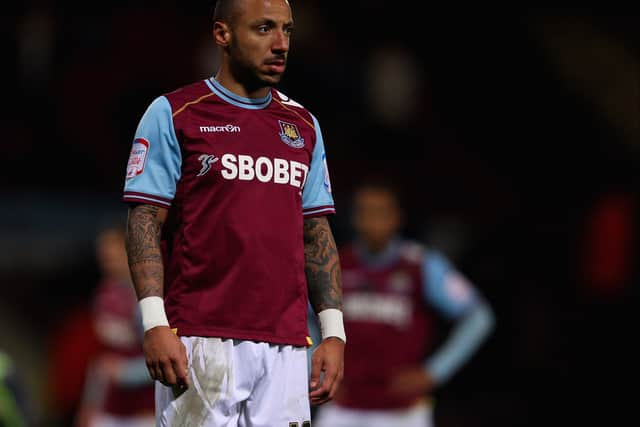 Faubert had enjoyed a couple of respectable but scarcely distinguished seasons for the Hammers when the shock move came around, a solid but uninspiring square peg shoved astonishingly into a glamorous circular hole. Not that the move went any better than anticipated – Faubert only made two appearances, missed training when he thought he'd taken the day off but hadn't, and appeared to fall asleep while on the bench against Villarreal. He insisted that he'd just been bored. He was back at West Ham by the summer, and his next transfer was to Turkish Süper Lig side Elazığspor. It was a little more his speed.
5. Ashley Cole – Arsenal to Chelsea, 2006
To say that this particular transfer engendered a bit of bad blood between the two teams involved would be a fairly mild understatement – Cole had taken his desire to make the move to underhanded extremes, being fined £75,000 by the Premier League for illicitly meeting José Mourinho and Chelsea chairman Peter Kenyon in January 2005, while the club were also landed with a £300,000 fine.
And while he eventually signed a one-year contract extension with Arsenal, it wasn't the end of one of English football's more unseemly transfer sagas. Cole spent the summer of 2006 publicly slating his own side until the issue was finally forced, while Arsenal fans responded by waving £20 notes at the newly-dubbed 'Cashley' when the two sides met in December that year. Apparently Arsenal's offer of £55,000 left Cole "trembling with anger" – his words – and he did, in fairness, eventually get more than double that at Stamford Bridge. He also joined the ranks of players whose names are rarely uttered at the Emirates without the addition of expletives.
4. Johan Cruyff – Ajax to Barcelona, 1973
It's not especially often that transfer sagas get truly political, but then Cruyff was not an ordinary sort of man. Having fallen out with the powers that be at Ajax, the club whose stadium his name would one day adorn, Cruyff decided to force a world record move to Barcelona.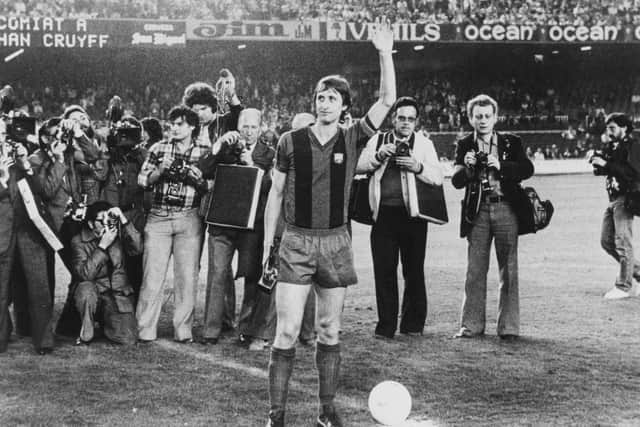 It eventually went through, but not before the Dutch football federation had a crack at blocking it, only for Cruyff to threaten to boycott the 1974 World Cup if they didn't let him leave. Real Madrid also tried to get in on the deal only for the Dutchman to reject their advances on the grounds that they were "a fascist club" – a reference to their apparent links to the Spanish dictator General Franco. It takes a very specific type of man to publicly insult the far-right dictator of the country you're moving to, but then Cruyff was nothing if not special. The move became one of the most successful in football history, with the Dutch genius completely reinventing and reinvigorating the Catalan club as both player and manager over the coming years.
3. Carlos Tevez & Javier Mascherano – Corinthians to West Ham United, 2006
One of the most controversial moves in Premier League history, the Argentinian duo had already earned a burgeoning reputation as potential greats of their generation during their time in Brazil – so to say that the double move to east London was a surprise would be a massive understatement. It was one of the greatest transfer coups in the division's history, and would directly contribute to the Hammers' almost miraculous escape from relegation that same season.
There was just one tiny problem – Corinthians didn't own the rights to the players, a third-party company did, and the transfer was completely illegal under Premier League rules. Once the disciplinary procedures had finished, West Ham were hit by a record fine and had to settle out of court for a purportedly huge sum with Sheffield United, who went down in their stead. To add to the sense of injustice in S2, both players moved on to bigger clubs at the end of the season, contributing to the unproven sense that the move had always taken place under false pretences. Both players, presumably just wanting to crack on and play some football, would go on to their predicted great things, but that short stint under the sound of Bow Bells will never be forgotten – for all manner of reasons.
2. Sol Campbell - Tottenham Hotspur to Arsenal, 2001
It's almost impossible to understate how seismic of a shock Campbell crossing the north London divide was – it wasn't just that Spurs' captain and best player moving to their most hated rivals on a free transfer seemed utterly inconceivable, it's also that nobody had the faintest idea it was happening. When journalists were summoned to a surprise press conference at Highbury, nobody in attendance had the faintest idea that Spurs' talisman was about to be presented as an Arsenal player.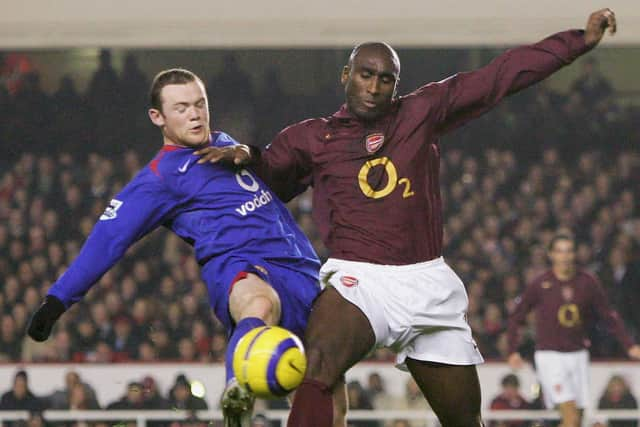 The world knew that Campbell was off on a Bosman, and wanted to challenge for trophies, but nobody had any idea about the destination. The fallout was immediate. Campbell – who had previously stated that he would never play for the Gunners - was branded as 'Judas' by fans of his former side and copped an astonishing amount of abuse. Even eight years later, three Spurs fans were banned from attending football matches for racist and homophobic chants aimed at Campbell. Mentioning his name within earshot of the Tottenham Hotspur Stadium remains an exceptionally bad idea – and it's hard to imagine he will ever be forgiven. Still, he went on to become one of the key cogs in the Invincibles and win five major trophies at Arsenal, so perhaps it was all worthwhile.
1. Luís Figo – Barcelona to Real Madrid, 2000
Very few players have been brave or foolish enough to move between the two greatest and fiercest rivals in Spanish football – and none have had the status of Figo. The Portuguese winger was a bona fide superstar at Barcelona, revered by the fans and regarded as one of the best players in the world – but when Barcelona came to renew his contract, they decided to play hardball. This was not a good idea.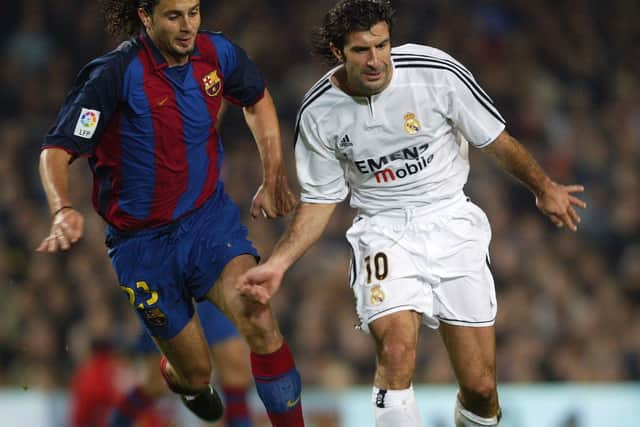 With negotiations at an impasse and frustrating Figo, Real Madrid decided to spring into action. This was the Galáctico era and Florentino Pérez was sparing no expense whatsoever in bringing the biggest names in the game to the Santiago Bernabeu. Figo had a legally mandated release clause in his contract, set at an eyewatering and largely implausible €62m. Implausible, that is, until Real decided to go ahead and pay it, and Figo was happy to follow the money.
We want your feedback on 3 Added Minutes - details here
If Campbell had a rough ride, it was nothing compared to what Figo had to endure. Whenever he played at the Camp Nou he was endlessly, relentlessly taunted and jeered. Banners calling him "Judas", "mercenary" and "scum" were hung around the stadium, and his every touch of the ball was greeted by a volley of missiles from the stands. Initially avoiding corner duties to steer clear of lofted cigarette lighters and water bottles, when Figo did step up to take a corner against Barcelona in 2002, a whole severed pig's head was sent flying in his direction - it was later preserved in formaldehyde and displayed in a jar. The game had to be suspended for 20 minutes as taking the corner under constant fire became impossible. Apparently undeterred, Figo won the Champions League in 2002 with Real and became FIFA World Player of the Year in 2001.