20 years of Tyneside tears are over - remembering Newcastle United's last Champions League game
Remembering Newcastle v Barcelona, and looking at how everything has changed since the Magpies were last in the Champions League.
Watch more of our videos on Shots! 
and live on Freeview channel 276
Visit Shots! now
It's two decades and two months more since Newcastle United last played in the Champions League - now an entire generation of young Geordies will finally get to appreciate an experience that has been denied to them by years of failure and mismanagement. It's a long prayed-for watershed moment for so many who live by the banks of the Tyne, and it will almost certainly be a more exciting experience than watching the 0-0 draw with Leicester City that finally confirmed their return to Europe's top table on Monday night.
For those born after the late Bobby Robson last took charge of a game at St. James' Park, the first reaction to watching the highlights of their 2-0 home defeat to Barcelona back in March 2003 - which knocked Newcastle out at the end of the group stage - will probably be disgust at the analogue picture quality. But for those of us blessed with sufficiently advanced years, it's a time capsule, a Proustian rush of memories, our spoonful of ratatouille catapulting us back towards childhood.
Could the teamsheets be any more evocative? Nobby Solano, Alan Shearer, Lauren Robert and even dear old Titus Bramble for the home side. Patrick Kluivert, Frank de Boer and Juan Román Riquelme among the visitors - and even an early sighting of Xavi and Andrés Iniesta playing together, the latter coming off the bench at just 18 years of age. Did he really play alongside the great De Boer? Did the best midfield partnership in history pit their wits against Kieron Dyer and Jermaine Jenas? Did future Middlesbrough stars Gaizka Mendieta and Fábio Rochemback get their first taste of the North East on that chilly spring night? Did they pop out for a post-match parmo and catch the bug?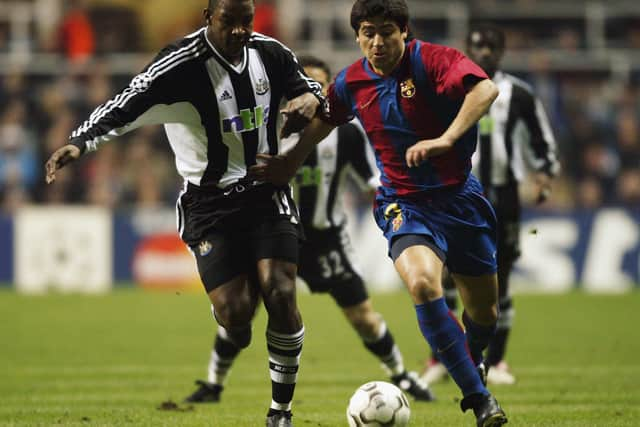 This was a different time for Newcastle, of course. This was before the destitution and desecration of the Mike Ashley years, when they tended to trouble the top four thanks to years of largely careful and conscientious management - as opposed to the current project, a big-money assault on the upper end of the Premier League table which has been pulled off in double-quick time thanks to judicious spending and a capable coach getting results at an undeniably impressive pace.
This was a time when Titus Bramble was the next big thing, a splashy £6m defensive signing whose powerful and determined presence was expected to see him become a mainstay of the team for years to come – five years later, when he signed for Wigan Athletic, he had earned a cruel but not entirely undeserved reputation as a walking calamity. Here he is, in the ninth minute, picking the ball up just inside his own area, under the mildest of pressure from Patrick Kluivert. Here he is, dithering inexplicably as he tries to work out what to do next. And here Kluivert is, prodding the ball into the net after Bramble opted to simply leave the ball alone and let the Dutchman have a pop. A baffling player, who would rather unkindly be voted the worst player in the Premier League a little over a year later.
It was a time of half-chances and maybes and oh-so-nears, not so long after Kevin Keegan would love it if they won but fell agonisingly short. It was a time of youngsters who never quite kept their promise. A time of a good team, undeniably, but one who were never able to scramble over the last and highest hurdle. It was a team that would battle Barcelona well for so much of the game, only to let Thiago Motta take far too much space to score from a wide free-kick. For Newcastle fans, it must have been a time of perpetual frustration, a long cycle of hope and despair – with the latter the eventual winner.
But it was also a time of cult heroes and all-time greats – of Solano swaggering down one flank and Robert bulldozing up the other, of the superb Shay Given, of Shearer scoring, and scoring, and setting the Gallowgate End roaring. It was a time of talented young bucks running themselves into the ground – Dyer and Jenas may have wound up as a case study in a physiotherapy textbook and a daytime television host respectively, but at the time they brought boundless energy to the heart of the park. Granted that they still lost the battle against Xavi and Iniesta, but then who wouldn't over the coming 15 years?
The point is that it was a time when some serious dreaming was being done on Tyneside - and after quite a few years of nightmares for some fairly long-suffering, silverware-starved fans, the hopeful reveries are revving up once again.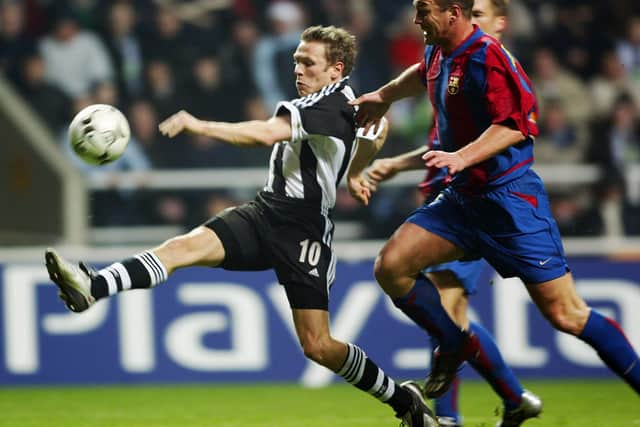 They are back in the Champions League – and look likely to be back in contention for top fours and titles for some time to come. Shearer not withstanding, their team is better than it ever was through those nearly years under Keegan and Robson. As expensively assembled as it is, and as morally questionable as the source of the money may be, the Newcastle project has so far been pulled off to near perfection, a fine and well-balanced side lead by a smart and insightful coach who has integrated the team together superbly.
Keeping up such high standards will not be easy, necessarily. The immense funding behind the new ownership will grease the wheels a great deal, but one only needs to look at Chelsea to see where huge wads of money can take you if you lack the understanding of how to spend it wisely. That Newcastle have come as far as they have, with this much alacrity, implies that they've laid their foundations well.
We want your feedback on 3 Added Minutes - details here
The dreams may yet get bigger than they were in 2003, of course, and could certainly prove more fruitful. A post-match report from a Newcastle fansite records the crowds salivating over rumours that Kluivert, one of the most dangerous forwards in the world, would be signing at St. James' in the near future – which he did, albeit another year down the line. He scored six goals in 25 league games, was largely regarded as a mild flop, and would only score another nine goals in his entire career before a premature retirement. Perhaps this new Geordie dream will wither as rapidly and as unexpectedly as Kluivert's career – but everything suggests they'll be doing alright for some time yet. Just in case, though – I hope the Newcastle fans love every moment while it lasts.