The Wonderkid Power Rankings - a new number one crowned as Arsenal stars slip further
Ranking the ten best young talents in the world of football.
Watch more of our videos on Shots!
and live on Freeview channel 276
Visit Shots! now
Welcome back to The Wonderkids Power Rankings - where, every week, we rate and rank the ten most talented and in-form youngsters in world football, and also complain about how hard it is to maintain a consistent rankings system when everyone insists on getting injured all the time.
Our top two from last week - Jude Bellingham and Pedri - both missed out, the former due to a minor injury but the latter to a thigh strain that is expected to keep him out for a game or two more. Poor Pedri, therefore, drops out entirely again to make way for players who can get on the pitch.
Also dropping out is former number one Gabriel Martinelli, whose slow slide down the ranking is completed after an ankle injury ruled him out of the woeful 1-0 defeat to Nottingham Forest. An unedifying end to the season for a fine young player. We'd say he'll be back - but he may well not be, as he'll be 22 in June, making him a creaking old man and no longer eligible for these rankings. Let's see if he can force his way into a final top ten before the season finishes for good.
1. Eduardo Camavinga - Real Madrid (⬆️ from 3)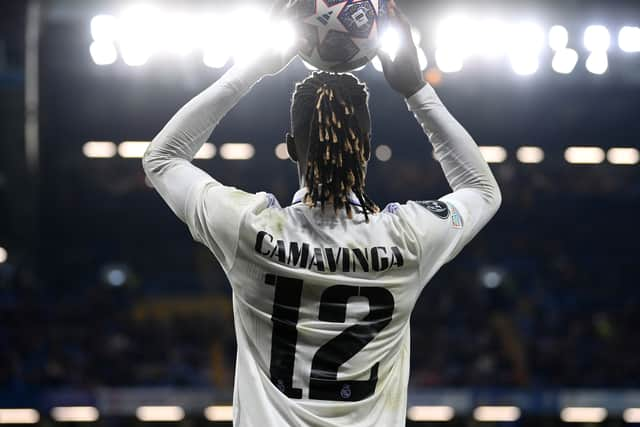 If we're honest, Camavinga gets the coveted number one spot this week largely by default. That's not really intended as an insult, more a reflection of the reality that none of the other serious contenders for the top slot either played or, frankly, played well this past week. Camavinga has consistently earned his top five slot and finally gets a deserved chance to look down on the lot as a reward for his consistency - and even better for the Frenchman, the long-awaited return of Ferland Mendy means that he can finally move back into midfield, where he enjoyed 46 minutes of solid if unspectacular action in the game against Valencia, a match that will certainly not be remembered for anything that happened on the pitch.
2. Karim Adeyemi - Borussia Dortmund (⬆️ from 4)
Another goalless (and assistless) game for the player with the best goal contribution rate in Europe's top leagues, but he was on fine form in the crucial 3-0 win over Augbsburg and gave the hosts' defence plenty to ponder with his effervescent dribbling and quickfire changes of pace. He was given a deserved rest for the last 20 minutes or so, with Dortmund likely keen to keep one of their brightest players in bubble-wrap ahead of the final day of the season, with a first title since 2012 very much in prospect. All they need is one more win, over mid-table Mainz - they can't blow it again, can they?
3. Arda Güler - Fenerbahçe (re-entry)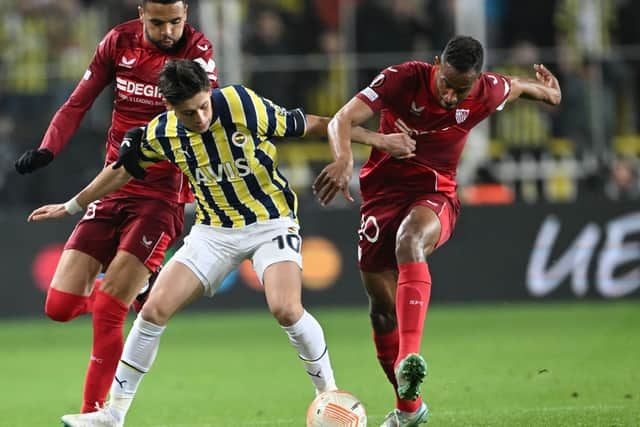 Arda took a week off recently, with a game taken off the schedules due to the ramifications of the tragic earthquakes in Turkey earlier this year. He was back in action on Thursday, however, helping his team to ease their way to a 3-1 win over Trabzonspor that keeps the pressure on Süper Lig leader Galatasaray - and his graceful, languid, eye-catching style (not to mention his knack for picking a pass) were very much in evidence as he teed up Michy Batshuayi for the opener, turning his marker inside out with a single touch before sliding an inch-perfect pass through to the Belgian striker. A lovely player to watch, with a big future.
4. Jude Bellingham - Borussia Dortmund (⬇️ from 1)
Regular readers may have observed a certain degree of inconsistency when it comes to determining how harshly to punish players for the crime of missing a match through injury. That's because I'm just one bloke making the rules up as I go along - but I don't think anyone could begrudge Bellingham, who has been the very clear number one for the last couple of weeks, a week's grace. The Englishman is expected to feature in the final-day showdown against Mainz, and given that he's been die Schwarzgelben's best player this season, they'll be pretty glad to have him back.
5. Jamal Musiala - Bayern Munich (⬆️ from 6)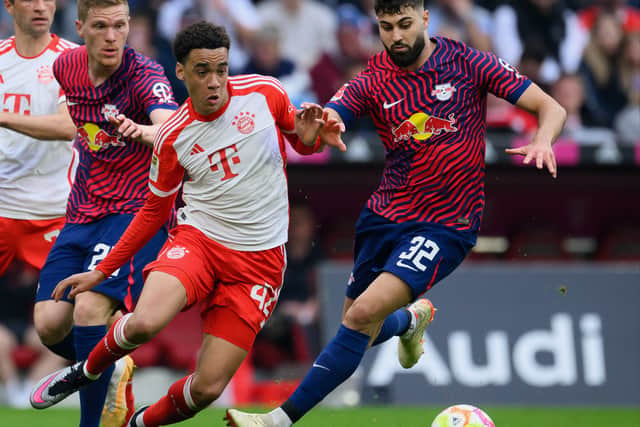 It was a bad week for Bayern, with their 3-1 home defeat at the hands of RB Leipzig putting Dortmund firmly in charge of the Bundesliga title race. None of the blame can be laid at the feet of Musiala, who played a solid 90 minutes, hassling Leipzig defenders and doing his level best to get his team back into it. He didn't succeed this time, but it was another very decent game and yet more proof of the absurdity of Thomas Tuchel dropping him when he first came in. Can Musiala give Bayern a chance on the final day? If anyone in a Bayern shirt looks likely to do some damage against Köln, it's him.
6. Yeremy Pino - Vilarreal (⬆️ from 9)
Last week we suggested that the only substantial weakness in Pino's game was his relative lack of goals. That clearly stung the young Spaniard into action, and so it was that he hared up the field along with Nicolas Jackson in the ninth minute of Villarreal's game against Girona and slid the ball home from his team-mate's pass. A devastating fast break in which no defender managed to get anywhere near Pino - and he's pretty handy with defenders in front of him too, threatening the Girona goal a couple of times as his team wrapped up a 2-1 win late on. An exciting player in handy form.
7. Xavi Simons - PSV Eindhoven (⬆️ from 10)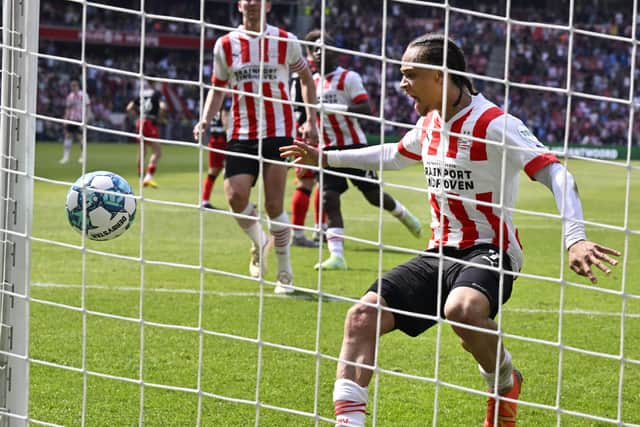 Another game, another goal for the free-scoring young Dutchman, who once again showed off his skill at exploiting space between defence and midfield, getting four shots in over the course of a 3-3 draw against Heereneveen and hitting a late equaliser from the penalty spot. As lively and as dangerous as ever, Simons now has 17 goals in 33 games this season, with nine assists as a nice little cherry on top.
8. Gift Orban - KAA Gent (re-entry)
Continuing the ceaseless and single-minded pursuit of goals that's been on show since he first moved to Belgium in January, Nigerian forward Orban scored his sixth goal in the first four games of the Pro League Europe Play-off on Saturday. That makes it 20 in 20 since he came over from Stabæk for around £3m, and it's fair to say he'll cost a bit more than that this summer, with a few big teams - including Chelsea - understandably interested in securing his services.
9. Bukayo Saka - Arsenal (⬇️ from 7)
His form may have slumped in tandem with his team, but he was still pretty decent against Nottingham Forest, regardless of the result. His passing was as sharp as ever, and his link-up work just as intelligent, but there was so little support, nobody making the runs in behind, and he wasn't able to find a way to do it all himself. Not long ago, he was doing just about anything he wanted with the ball, but heads are dropping all over north London, and you get the impression that Saka is part of a squad that just wants the season to end now. Saka at least gets to celebrate a superb personal season with a new long-term contract.
We want your feedback on 3 Added Minutes - details here
10. Alejandro Baldé - Barcelona (⬇️ from 8)
An unusual assignment for the Spain international this week - fresh from scoring his first senior goal against Espanyol, he was shoved over the other side of the field to fill in as a right-back against Real Sociedad. Barcelona lost the game 2-1, but that had very little to do with Baldé, who acquitted himself well throughout and kept his half of the field on something approaching lockdown -  but he wasn't able to provide his usual forward-thinking threat this time around. Still a very solid and distinctly mature performance from the 19-year-old.