Response to the abuse of Real Madrid's Vinícius Junior indicates Spanish football is institutionally racist
Real Madrid's Vinícius Junior has been the victim of racist abuse once again - and Spanish football's first instinct is to protect those responsible.
Watch more of our videos on Shots!
and live on Freeview channel 276
Visit Shots! now
"The championship that once belonged to Ronaldinho, Ronaldo, Cristiano and Messi today belongs to racists."
The words of Real Madrid winger Vinícius Junior after he was, yet again, the victim of racist abuse from the stands, this time in the Mestalla, home of Valencia. A video circulated on social media shows a substantial section of home supporters chanting mono – "monkey" – and there is no room for reasonable doubt about the intent or the target.
"A beautiful nation, which welcomed me and which I love, but which agreed to export the image of a racist country to the world", the Brazilian continued. "I'm sorry for the Spaniards who don't agree, but today, in Brazil, Spain is known as a country of racists."
He's right. Racism is endemic in Spain, a country I once lived in and where I witnessed first hand not just the inculcation of racism but also its endless exculpation by those in a position of authority. Racism is institutionalised in Spain, and La Liga is one of the numerous powerful organisations which continues to allow bigotry breathing space.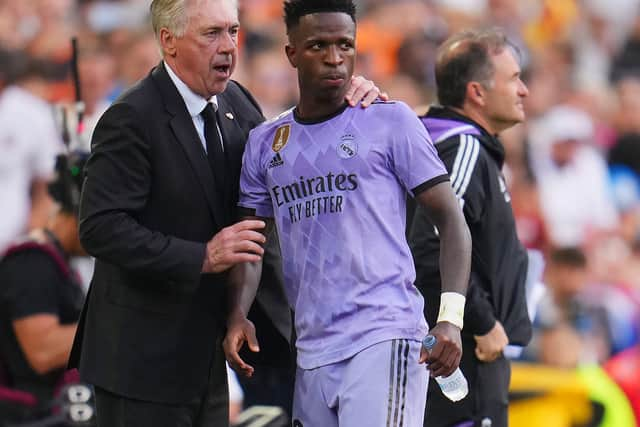 Vinícius' manager, Carlo Ancelotti, was one of far too few people in a position to make a useful statement to do so. "I don't want to talk about football", he said after the game. "What happened today shouldn't happen. For a stadium to shout 'monkey' at a player and for a coach to think about taking him off for that... There's something wrong with this league."
The Italian was proven right just a short time later when Javier Tebas, the incessantly outspoken president of La Liga, decided that the correct course of action was to turn the spotlight on Vinícius: "We have tried to explain to you what LaLiga is and what it can do in cases of racism, but you have not shown up to either of the two agreed dates that you yourself requested. Before criticising and insulting La Liga, you need to inform yourself properly. Don't let yourself be manipulated and make sure you understand the work we have been doing."
Because, of course, it's somehow Vinícius' fault that he was abused from the stand, as he has been on an almost uncountable number of occasions at this point. Spanish authorities – both La Liga and the police and judiciary – have persistently refused to take serious action over complaints of racism, even when video evidence is available. That is, again, what institutionalised racism looks like – powerful bodies refusing to do the bare minimum to make racists feel uncomfortable by offering any form of consequence for their actions.
Valencia's club statement after the abuse – which pointedly refuses to use the word 'racism' – said that "the club are investigating what occurred and will take the most severe measures against the perpetrators" but continues that "whilst strongly denouncing these isolated incidents, Valencia would like to thank the more than 46,000 fans in attendance for their support for the team."
So the club's first instinct is to pat their supporters on the hand and reassure them that the club still love them. And why does it claim that the incident was "isolated"? There has been a months-long campaign of hate against Vinícius from fans across the country, which included an effigy of him being hanged from a motorway bridge, apparently by Átletico Madrid supporters. The abuse was as far from isolated as could be imagined.
Valencia's corporate director, Javier Solís, decided that the post-match fallout was an opportunity to take umbrage with Ancelotti's statement. "He branded all of the fans at Mestalla as racist – the club cannot tolerate this. We reject these complaints."
Again, the first order of business is to protect and reassure the fan base, so many of whom were plainly responsible for racist abuse, not to try and attack the problem at its root. Why is the focus on the semantics of Anclelotti's statement about "the stadium" abusing his player? What useful purpose can that possibly serve, save to deflect attention from what is plainly a more serious issue? Why would you want to focus on demanding an apology from Ancelotti rather than on the work needed to prevent another incident of racial abuse from your own supporters?
Perhaps the club really will find and sanction those responsible – and the video circulating on social media alone should render at least a couple of dozen culprits readily identifiable – but it would represent a break from precedent, to say the least. Clubs and governing bodies in Spanish football routinely protect their fans and players after allegations of racism rather than moving to curb the problem.
When Jefferson Lerma, the Bournemouth midfielder, was playing for Levante in 2018, he accused Celta Vigo player Iago Aspas of racially insulting him during a game. No action was taken on the pitch or afterwards, with Celta denying the allegation and publishing an official statement which said "what happens on the pitch stays on the pitch". When Real defender Marcelo accused Sergio Busquets of calling him a monkey in 2011, there was no action taken and Barcelona defended their player. In 2004 the Spanish national coach, Luis Aragonés, was filmed calling Thierry Henry "a black s**t" – he was fined at first, but that was later overturned, and he continued in his job for another four years. There was no action when Marc Cucurella, then of Getafe, was accused of racially abusing Éder Militão in 2020, either.
This is what institutionalised racism looks like – powerful bodies protecting the alleged purportators and side-stepping any attempt to confront them. You can debate the semantics of whether those who ignore or insulate racists from punishment are racist themselves – and there are plenty willing to take up that pointless cause - but in permitting its continuation, and in failing to deal with bigotry in any meaningful way, these people and organisations support and defend racism in a way that leaves their own views and ideologies moot.
And this is just a small, selected tip of a grotesquely large iceberg. There have been so many incidents of racism in Spanish football, from La Liga down to regional games, that it would take a book to cram them all in. A pamphlet would suffice if one was to document the occasions on which substantive action was taken in response, whether by the judiciary or by La Liga and the Spanish FA.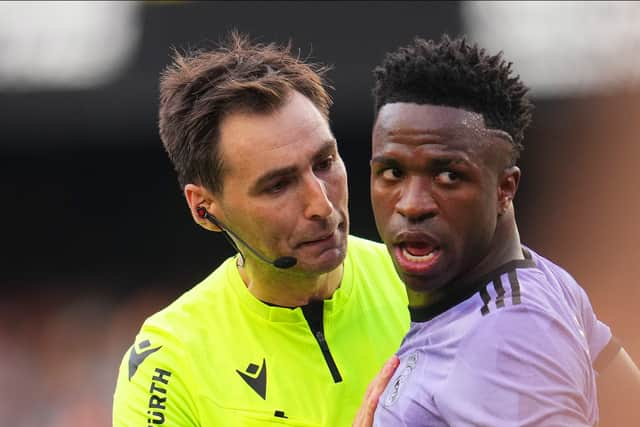 The officials should also shoulder their share of the blame. The referee for Sunday's match, Ricardo de Burgos Bengoetxea, appeared to pause the game in the 70th minute due to the abuse – which Real goalkeeper Thibaut Courtois said he was aware of 20 minutes in – but did not make any reference to it in his post-match report. Referees have the power to suspend the game in the event of racist chanting, but no action was taken at a juncture when a stand could have been taken and an important point made. De Burgos is not the first referee to fail to take action when presented with the chance – when Lerma alleged Aspas' abuse to the referee in that game, Álvarez Izquierdo, the midfielder claimed that the response was that the official was "sick of players complaining to him."
The pattern is unmistakeable – going back years, referees, governing bodies and clubs make excuses for racism and fail to take action. Racists are not punished but offered succour, and until that changes, racism will continue to flourish. Spanish football has both the opportunity and the responsibility to combat racism but persistently fails to do so. Brushing it under the carpet and avoiding confrontation is easier, and has been the default response.
Excuses are made more readily and easily – and there has been no shortage of people willing to criticise Vinícius' attitude or actions. The forward was sent off late on after lifting an arm to the head of an opponent during a brawl, and left the field waving two fingers at the Valencia fans - as a taunt about their league performance, rather than as any form of swearing. As though a loss of temper and control after an incessant barrage of the most vile personal abuse isn't entirely understandable, Super Deporte, a Valencian newspaper, used their column inches on Monday to decribe the Brazilian as "stupid" and an "unbearable provocateur", with a front page that decribed the abuse as "totally isolated". They were very far from alone in finding fault first with the victim.
Should he have raised his arm to an opposing player, or insulted the fans on his way out? Probably not, but who cares? What does that really have to do with anything? How many of us, if we were barracked for our very existence for over an hour, would keep our cool or resist the temptation to take a shot back in kind? Gesturing the number two – for La Segunda, the league Valencia could yet find themselves in if they lose their remaining games – may be petty, but is a remarkably mild comeback under the circumstances.
We want your feedback on 3 Added Minutes - details here
And so the whole rotten wheel continues to turn. Vinícius has been repeatedly abused by opposing fans and likely will be again and again. People who could make a difference will refuse to do so. Racists will continue to be emboldened and protected. Someone needs to step up and break the cycle, but the fallout from Sunday suggests that we are some way from that happening. All those who want to see change can do is to maintain pressure on the authorities who have the power to make a difference, and to refuse to accept the blandishments offered. Perhaps one day, something will finally snap.