The top 10 most iconic bald managers in Premier League history - including Chelsea, Spurs, and Man Utd coaches
No hair? No problems for these 10 top flight bosses.
Watch more of our videos on Shots!
and live on Freeview channel 276
Visit Shots! now
Pep Guardiola. What is there left to say about the man? Regardless of your personal opinion of him, or indeed the advantages that his managerial career up to this point may have afforded him, there is no denying that he is one of the greatest footballing brains of his generation, and perhaps of all-time.
But where does he keep that wonderful, wonderful mind of his? Well, inside of his marvellous bald head of course. As intrinsic to his identity as over-thinking or chunky grey knitwear, Guardiola's shining dome is as iconic as it is crammed with brilliance.
And that got us to musing, in the aftermath of Manchester City's stunning Champions League second leg demolition of Real Madrid/latest Premier League title win, and with Pep not averse to setting the odd trend or two, who else are some of the most recognisable bald men to have managed in the Premier League. Hair we go...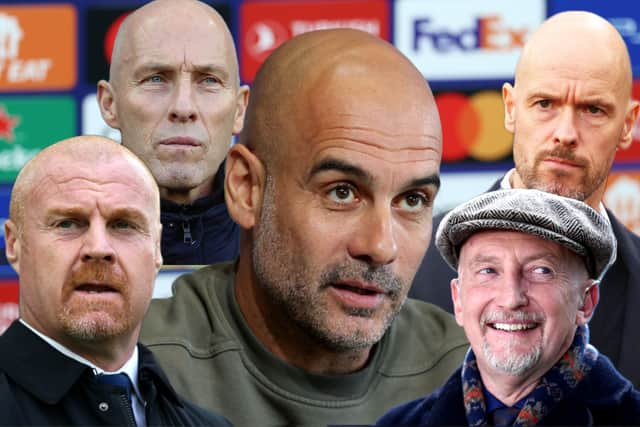 Bob Bradley
Let's start with one of the worst hairless managers in Premier League history, the American Bald Eagle himself, Brad Bobley. The glabrous Yank spent a miserable sojourn in the top flight with Swansea City, then quickly receded into the ether, much like his hairline.
Gianluca Vialli
Martin Jol
Under-appreciated by some, Jol actually did a pretty decent job with both Tottenham and Fulham during his time in England. The Dutchman guided Spurs their highest league finish in 15 years in 2005, and then took the Cottagers to within one point of the club's single-season top flight record.
Also, he absolutely drew the long straw when it came to his parents naming their three baby boys. And if you don't believe me, google 'Martin Jol brothers'.
Erik ten Hag
A relatively new addition to the ranks of bald Premier League managers, Ten Hag has the potential to be an all-timer if he plays his cards right. An egghead in more ways than one, the Dutchman is a cerebral enigma, and also just offbeat enough to carve out a niche as a cult figure in seasons to come.
Whether he will ever lift the big one at Old Trafford, only time will tell, but we could have a proper bald icon on our hands here.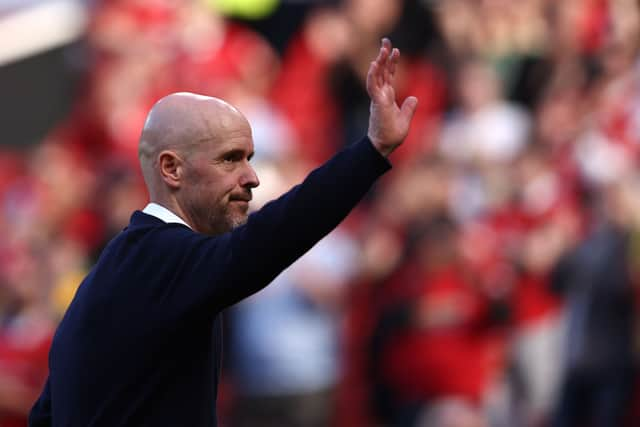 Sean Dyche
Right, let's get one thing straight; Sean Dyche is not bald. He is shaven-headed. If, however, the Everton manager were to grow his perfectly intact scalp of hair out, he would - by his own admission - look like Mick Hucknall. This is the dictionary definition of a rock and a hard place.
That being said, there are few who suit the look - aesthetically or in terms of general vibes - better than the gravel-throated behemoth. He's like the final boss of Mitchell brothers, the de facto enforcer of a rural pub where strangers are only just barely welcome. Dyche chooses to be bald, and we back his decision entirely.
Vincent Kompany
Bit of an unorthodox shout, this one, largely because Kompany has never actually managed in the Premier League. He will next season though, and this disciple of Pep, with his free-flowing mimicry and his monastic commitment to a bare scalp, could prove to be a shining presence for years to come.
Ian Holloway
The maddest, most endearing man in football. Holloway's brand of deranged everyman wisdom has earned him a reputation as one of the biggest characters in the beautiful game, and although his time in the Premier League was fleeting, he deserves his spot on this list for personality alone. As for his baldness, how does Holloway himself describe it? One word; cold.
Tony Pulis
Sometimes it is easy to forget just how bald Pulis is, mainly because he insists on wearing baseball caps whenever he is on the touchline. It is a tactic that some of us know all too well. The no-nonsense Welshman was once a well-oiled cog in the managerial merry-go-round, but has dropped off the radar a little in recent years. Whether we will ever see him ride again, nobody knows, but if he does, you can rest assured that he'll be sporting his trusty headwear.
Thomas Tuchel
Much like his departure from Chelsea, this is maybe a little harsh. Tuchel is not a bald man, but he is balding. With his high cheekbones and general air of erudite self-assuredness, however, he carries it off like an absolute don, much like Woody Harrelson, or Bruce Willis in the mid '90s.
The German's stint at Stamford Bridge was predominantly characterised by a Champions League win rather than anything truly astounding he did in the Premier League, but nevertheless, holistically-speaking, he still might be one of the best pound-for-pound managers the division has ever hosted.
Antonio Conte
We're onto you, Antonio. Before he got a hair transplant that made him look like the captain of a luxury private hire yacht that does tours of the Aegean for bored tech millionaires, Conte was as bald as the goalmouth of a council-owned football pitch in the height of mid-summer. He can run, he can refute, but when all is said and done, the Italian - a Premier League winner with Chelsea and a tortured sufferer of Tottenham Hotspur, is a spiritual member of the bare-scalped brethren.