Welcome to another edition of the Wonderkids Files, where we give you the lowdown on the brighest and best young talents from around the world as they continue their rise towards football stardom – and perhaps a place in the 3 Added Minutes Wonderkid Power Rankings. Last week we took an in-depth look at Italian defender Lorenzo Pirola, but now it's time to open up the factfile for one of the most hyped young forwards on the planet – Mathys Tel.
It takes a combination of confidence and mental fortitude to handle the hoopla that's surrounded Tel over the last year. He became French club Rennes' youngster ever debutant – breaking Eduardo Camavinga's record – before he signed for Bayern Munich for a hefty €28.5m fee at just 17 years of age and after making just seven senior appearances. His early-career exploits mean that Tel is already drawing comparisons to Kylian Mbappe, and that comparison might not be too far-fetched.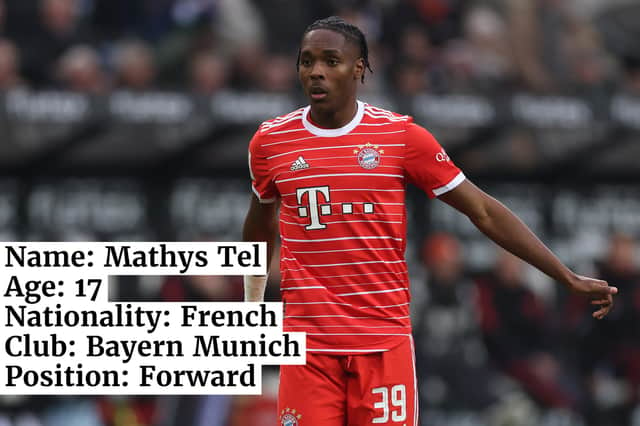 A right-footed wide forward who's equally comfortable on either flank, Tel has sublime ball control, imperious technique and no shortage of pace. The comparison to Mbappe may not hold up from a positional perspective – Tel starts from deeper on the field and is unlikely to be the furthest man forward or to try and break the offside trap – but his raw attributes are similar.
Tel has already made 20 first-team appearances for Bayern with his 18th birthday still over a month away, scoring five goals. Most of his appearances have come from the bench but with Jamal Musiala, Serge Gnabry and Leroy Sane all in the squad as well, that he has played as much as he has tells you how highly Julian Nagelsmann thinks of him.
His first touch and finishing stand out in particular. He scored his first goal on his first start, in the DFB Pokal against Viktoria Koln, slanting in from wide left, leaving his man for dead and whipping the ball across the goalkeeper. He's shown equal confidence scoring from twenty yards and slotting in with his unfavoured left against Stuttgart, becoming Bayern's youngest league goalscorer in the process.
He's still raw, of course. Any YouTube highlight reel of Tel's play will show off his ability to trick his way past defenders and his first touch is magnificent, but he still overplays his hand sometimes and can be prone to trying to find time for a trick or space for a shot when team-mates are in better opportunities. Given how young he is, you can't blame him for having imperfect decision-making – and given how got his shot-to-goal ratio is, you certainly can't criticise him for backing himself in front of goal. But better judgement will come in time.
We want your feedback on 3 Added Minutes - details here
With his nascent international career off to a flying start as well – with five goals in six games for the French Under-19 and Under-18 sides – Tel could hardly have made a better start to his very young career. He has some of the best attacking players in the world to learn from at Bayern, and with his positional flexibility – he has also played limited minutes as a central attacking midfielder and as a left wing-back – he will be ready to pounce on any openings in Bayern's starting eleven. And as the current rate of progress, he will force his way past some of his side's more established names very soon. An extraordinary talent with the sky as his only meaningful limit.