Gareth Southgate's latest England squad is about as far from outrageous as it gets
Gareth Southgate named his squad for England's upcoming Euro 2024 qualifiers on Thursday afternoon.
Watch more of our videos on Shots! 
and live on Freeview channel 276
Visit Shots! now
Gareth Southgate's England squad announcement; the one day when an entire country, ruled over by a self-determined class of entitled egomaniacs and still in possession of a taxpayer-funded monarchy, suddenly becomes obsessed with the concept of meritocracy. In my mind's eye, I imagine Southgate dreads that 2pm deadline like the rest of us might dread a root canal. Indeed, the aftermath of the latter might cause less discomfort.
No matter what Gareth does or who he includes in his 25-man contingent, he is never going to please everybody. In that respect, his is an impossible task, like trying to thread the eye of a needle with 40 strands of spaghetti all at the same time. And yet, every few months, Southgate must poke his head out from beneath the brim of his foxhole, only to be pelted by a virtual slew of verbal rotten tomatoes and ill-conceived vexation from the usual armchair pundits and keyboard warriors. It's a thankless job, but somebody has to do it.
Heading into next week's European Championship qualifiers against Italy and Ukraine, the England manager was met with two particularly thorny conundrums; namely, what was he to do with Ivan Toney and Kyle Walker? The former has demanded acknowledgement as a consequence of his stunning recent form for Brentford, but still faces the looming concern of an ongoing investigation into a number of gambling-related indiscretions. Meanwhile, the latter is a mainstay of Southgate's England setup, but is currently under scrutiny for allegedly exposing himself in a Manchester bar. Ultimately, both have been given the nod - a decision that, from a footballing perspective at least, speaks to Gareth's apparent appreciation for the meritocratic.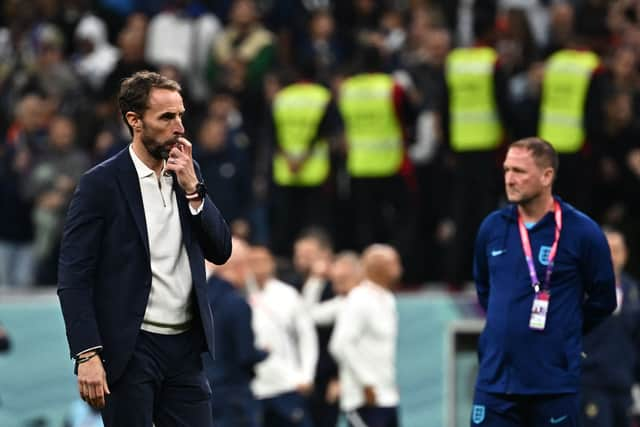 Less clean cut in that regard are the inclusions of Harry Maguire and Kalvin Phillips. It is in instances like this that Southgate's most ardent critics accuse him of a kind of cliquey favouritism. After all, neither are featuring regularly at club level, and in the likes of Lewis Dunk, Fikayo Tomori, and James Ward-Prowse, to name just a smattering, the manager does have alternatives.
Elsewhere, there is no Trent Alexander-Arnold, although at this stage, that is perhaps less shocking than it should be. Instead, Southgate has opted for Reece James, Kieran Trippier, and the aforementioned Walker. When you consider the Liverpool full-back's recent output in relation to those peers, it's hard to argue too vehemently against his omission.
Marc Guehi gets a pleasing call-up at the back, once again suggesting that Southgate sees bright things in the Crystal Palace defender's future, while James Maddison's involvement would intimate that any lingering doubts over his worthiness have been dispelled. Although, in truth, had the Leicester City maestro been left back at home once more, even the most mild-mannered of observers might have been reaching for their pitchforks and a whetstone.
Those discussion points aside, there is very little to get worked up about in Southgate's latest proclamation. Conor Gallagher is maybe a little fortunate to be in there, but not so much so that the FA will be counting how many tins of baked beans they have stored in their panic room, just in case a riotous mob descends on St. George's Park. Perhaps Brighton's Solly March will feel particularly aggrieved by Southgate's snub, but we've seen this kind of thing before (*coughs*, James Maddison) and his time will come if he can prolong his current purple patch beyond the status of 'flash in the pan'.
Likewise, Ben White and Raheem Sterling both miss out, but it's hard to imagine the Arsenal defender losing too much sleep over Southgate's decision, while Sterling is currently sidelined, and could well do without the risk of a trip to Naples next week.
But honestly, that's about it. Between the sticks, Jordan Pickford, Nick Pope, and Aaron Ramsdale all but pick themselves. Up front, Harry Kane, Bukayo Saka, Jack Grealish, Phil Foden, and Marcus Rashford are similarly indispensable. The likes of Jude Bellingham and Declan Rice in midfield are equally so.
All in all, then, there is relatively little to be outraged about in England's latest squad unveiling. But will people with agendas to push and nothing better to do still work themselves into a state of outrage regardless? Probably, yeah.
England squad in full
Goalkeepers: Jordan Pickford (Everton), Nick Pope (Newcastle), Aaron Ramsdale (Arsenal)
Defenders: Ben Chilwell (Chelsea), Eric Dier (Tottenham), Marc Guehi (Crystal Palace), Reece James (Chelsea), Harry Maguire (Manchester United), Luke Shaw (Manchester United), John Stones (Manchester City), Kieran Trippier (Newcastle United), Kyle Walker (Manchester City)
Midfielders: Jude Bellingham (Borussia Dortmund), Conor Gallagher (Chelsea), Jordan Henderson (Liverpool), James Maddison (Leicester City), Mason Mount (Chelsea), Kalvin Phillips (Manchester City), Declan Rice (West Ham)
Forwards: Phil Foden (Manchester City), Jack Grealish (Manchester City), Harry Kane (Tottenham), Marcus Rashford (Manchester United), Bukayo Saka (Arsenal), Ivan Toney (Brentford)