There are few things that truly breathtaking wealth can't buy. Unimaginative philisophers may suggest love and happiness as possibilities, although I'd struggle to imagine being too miserable on a superyacht, and the still-breathing husk of Rupert Murdoch is about to remarry, so I have my doubts on those scores. But one thing that all the cold hard cash in the world could never purchase is a single day without breathless transfer speculation.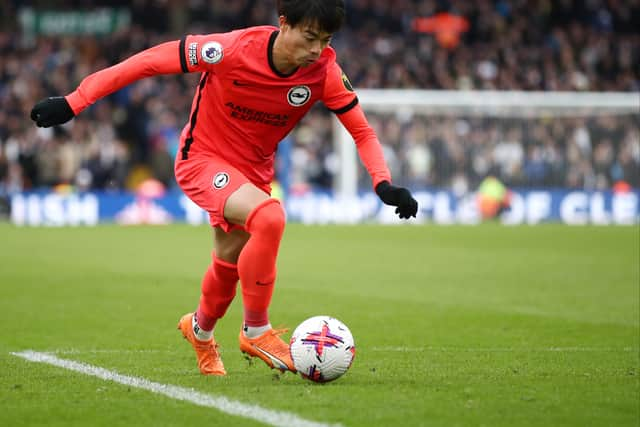 Because as Jim Radcliffe, Sheikh Jassim Bin Hamed Al Thani and various others who have amassed Scrooge McDuck levels of wealth picked over the creaking carcass of Old Trafford yesterday, the scouts were still out doing their jobs, still preparing for blockbuster deals regardless of the fact that they don't even know who might be financing them in a few months' time, or whether they'll finally fork out to fix the great big hole in the roof.
Of course, money most definitely can buy a football player, and I suppose it's hard to imagine any prospective purchaser of Manchester United being too opposed to the idea of signing Kaoru Mitoma, the Brighton winger who's emerged as one of the Premier League's most reliably exciting players in recent months. The Sun say scouts have been sent to watch him in action at the Amex, although one does wonder if they ever just stay at home and stick Sky on. You'd be less reliant on the rail network, for starters.
Another player allegedly drawing attention over in Trafford is Marko Grujic – the ex-Liverpool midfielder could make a mildly controversial switch from Porto having impressed in the Portuguese league this year. Sport Witness suggest the 26 year-old Serbian could anger the red half of Merseyside – well, mildly irritate, he only made 16 appearances after all – with a €9m switch, although AC Milan are also in the mix.
There is also some word on the departures front, with Manchester United apparently confident that all of the current bidders would shrug their shoulders if Scott McTominay were to make a move. The steely Scotsman could be taking his hard running and wildly erratic passing further north to Newcastle United, if The Telegraph are to be believed, with Eddie Howe looking to add a little bit of beef to his midfield.
We want your feedback on 3 Added Minutes - details here
Before we finish today's grim reminder that all professional football players are chattel first and human beings second – or 'transfer rumours' as we tend to call them for brevity – a quick word on two players who aren't making plans for new homes or language lessons. Emi Martinez is insistent that he's perfectly happy at Aston Villa, per The Mirror, and N'Golo Kante is apparently on the verge of signing a new two-year deal at Stamford Bridge, quashing Juventus' hopes of making him their star signing next season. That's according to Tuttomercato, anyway. Happy Tuesday, everybody.