The Rebound: Crushing FA Cup defeats as Spurs' Antonio Conte remakes The Producers
The magic and madness of the FA Cup was on full display, while Antonio Conte aims for constructive dismissal.
Watch more of our videos on Shots!
and live on Freeview channel 276
Visit Shots! now
I didn't see any tin foil cups at Bramall Lane yesterday. I saw photos of them in Brighton as Grimsby Town fans made the most of their inevitably brief time in the sun, lapping up the love and respect that a minnow making it this far in football's most august cup competition rightly engenders. But at Bramall Lane I saw nearly six thousand men and women yelling merry hell at their team and making the biggest din I can remember in a Blackburn away end. In that away end, as in the Amex, the FA Cup meant the world.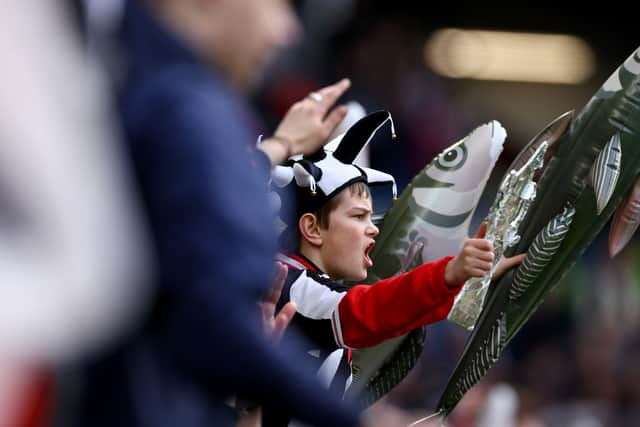 I say men and women, but I also saw at least one very small child copying her elder brothers and turning to the home support while making the universal symbol for someone who loves themselves in a way some parts of society deem inappropriate. I also saw her dad sigh when she asked him what the gesture actually meant. I think he knew that trying to keep his daughter from developing any bad habits was a forlorn task surrounded by a baying mass of blue and white, although I didn't especially expect him to simply say, "it means w**ker, dear". The parenting equivalent of a long ball down the middle of the pitch, I suppose.
I also saw my team succumb to a 91st-minute screamer and stood in awful silence as the home support exploded with joy and jubilation. I saw some rather pathetic young Rovers fans try to give it large to the victorious Blades fans in the street outside, and saw another young boy being hauled away by police at the train station. All suitably childish and embarrassing, and yet hardly any less grown-up than the behaviour Aleksandar Mitrovic would exhibit while I was sat in the Sheffield Tap nursing a pint. In other words, I saw the magic and the madness of the FA Cup all within the span of a few hours, and it was both a reminder of why we all do this nonsense, and also of why it can all feel rather hollow sometimes.
Because while Grimsby making it as far as the quarter-finals was remarkable and heartening, their 5-0 defeat at the hands of a fine Brighton team was also crushingly inevitable from before kick-off. The colossal gulfs between the divisions was even more plainly exposed as Manchester City eviscerated Burnley, the runaway leaders of the Championship, 6-0. For all the praise that Sheffield United's game against Blackburn drew purely in terms of a spectacle, if a team that much better than both can be so bruisingly beaten, it does rather highlight the question of what the point of everything else is. The Blades' prize for beating Blackburn is a day at Wembley and, likely, annihilation at the hands of a team who could buy their whole club ten times over and have change for a taxi ride home.
And both teams are still chasing a promotion for the right to play… Manchester City next year? To be crushed repeatedly by teams who are so far ahead of them that bridging the gap is effectively an impossibility in the short term? Look at Brighton, a brilliantly-run club who have done every last thing right for the better part of a decade, who are chasing European football as well as a Cup final, and are still 19 points shy of City. Every last major decision right for years, one of the best recruitment strategies in the world, brilliant on-field management, and the gap between Seagull and Citizen remains a yawning chasm, with a functioning footbridge across it still a distant dream. Perhaps this is the lingering depression of an added-time defeat talking, but yesterday felt rather dispiriting despite the immense atmosphere and thrilling football.
I suspect Fulham fans are feeling rather fed up as well – although I have little sympathy for anyone trying to defend Mitrovic's moment of madness. Referees have a hard enough time as is and watching them have to back up as players bellow into their faces after every halfway-controversial decision is another deeply unedifying element of the modern game. With amateur referees threatened and physically accosted with alarming regularity, an example needs to be set and I hope the FA throw the heaviest book they can find at the Fulham forward.
Dreadful behaviour towards referees on the pitch perhaps isn't so far away from the lamentable behaviour exhibited by fans outside the stadium that I saw in Sheffield, and which we've all seen at practically every game we've attended. Football matters, but somehow that becomes an excuse for violent, abusive or threatening behaviour towards referees, opponents, or anyone within earshot. So Mitrovic loses his mind, a young man from Lancashire will have to explain to his parents why they collected him from a police station, and while such incidents are small fry, it's hard not to think in the same moment of the Frankfurt fans throwing flares at riot police in Naples, or about Tony Johnson, the poor Blackpool fan who died just a fortnight ago after an altercation between rival supporters outside a pub. Football matters, and somehow we allow that to be the justification for grim behaviours that range from the small and sad to the terrible and tragic. Football, once again, needs to have a reckoning with itself.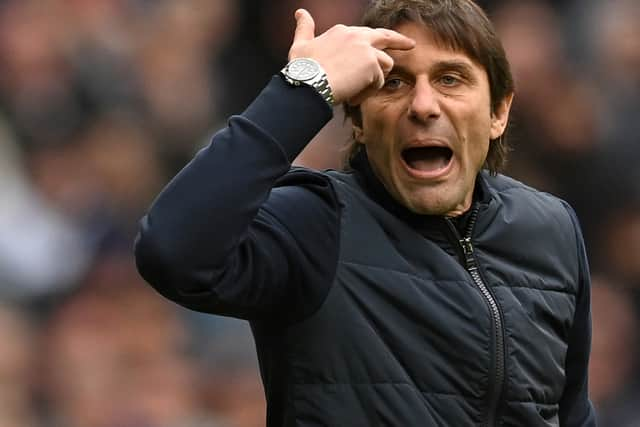 Still, for all the frustrations of the weekend – or at least all the frustrations that become so apparent and alarming when your team loses its biggest game of the season so far – it was at least a visceral reminder of why we're all here, and that it does all somehow still matter so very much. Except to Antonio Conte, who seems to be aiming to become the first Premier League manager to try and achieve his own constructive dismissal.
We want your feedback on 3 Added Minutes - details here
His remarkable post-match rant, in which he unloaded on the club's senior management and players alike, sounded like a man setting up a sporting version of The Producers. Calling the players "selfish" was the action of a man who wants his pay-off and his spare time back. Ranting at the failings of the ownership was his Springtime For Hitler. One assumes he'll get his wish and be gone before very long, perhaps even by the time you're reading this – but if he accidentally follows the famous script of course, he'll manage to steer his side into the top four and find a contract extension on his desk before you know it. Well, probably not. Football doesn't adhere to scripts quite that well – if it did, Grimsby would have won, and it would be a better world in which they did.