Deep down, way down in some cases, we are all football romantics at heart.
Why else do we love seeing a homegrown player bursting on to the scene and cementing their place in the first-team? Or celebrate when a non-league club cause an almighty upset in the FA Cup? Because romance is the solid foundation our love of football is built upon.
And that is why many will have mixed feelings over Barcelona's quest for their first La Liga title since 2019 and the supposed rejuvenation of fortunes at the Camp Nou.
Putting my own cards on the table, Barca were my first foreign love. Their iconic kits of the late 1980s were a staple of my wardrobe, a symptom of annual family holidays to the Costa Brava. Over the depressingly considerable time that has passed, I've eulogised over players that have brought me joy wearing the famous blue and garnet kits.
From the killer touch of Gary Lineker to the raw power and pace of the original Ronaldo, the outrageous Samba skills of Ronaldinho and prodigious ability of Andres Iniesta to the greatest player I've witnessed play the game we love, Lionel Messi. Barcelona, even in their rare periods of struggle, have always provided an allure where other clubs fall short.
So there should be unbridled joy over the improvement in fortunes being overseen by Xavi after his side moved eight points clear of deadly rivals Real Madrid after the two sides experienced contrasting fortunes over the weekend.
Sunday afternoon brought a shock defeat for Real, as a Nacho own-goal condemned them to a shock defeat at the hands of Real Mallorca. Barca took full advantage just hours later as they took a step closer to the title when second-half goals from Jordi Alba, Gavi and Raphinha helped them to a 3-0 home win over Sevilla.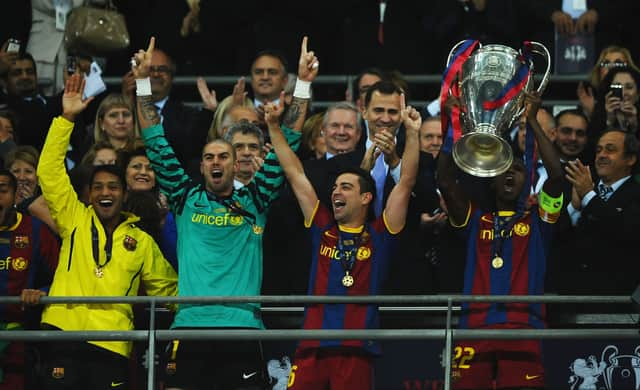 On the face of it, the Barca story should be full of romance. Xavi, the club icon, the World Cup winner, the man adored by Cules of all ages and generally regarded as one of the greatest midfielders of all-time, has returned to the club he loves and is guiding them back towards glory. Naturally, for a club that thrives on emerging talent, the explosion of Pedri and Gavi onto the scene has brought echoes of Xavi and Iniesta's rise to prominence that brought almost unrivalled success under the likes of Frank Rijkaard and Pep Guardiola.
There are links to Xavi's silverware-laden playing career, with the cool, classy and clever play of former team-mate Sergio Busquets still a regular feature of the Barca midfield and Jordi Alba still providing energy from left-back, despite the considerable challenges of young pretenders.
In total, Xavi landed a remarkable 25 major honours in Barca colours, and also became a two-time European Championships winner and a World Cup winner during his time at the Camp Nou. So what better place to earn his first league title as a manager in European football than on the same stage he graced for the vast majority of his playing career.
Yet there is something niggling away at the back of my mind preventing over-celebration over what looks like an increasingly likely league title win. A short, sharp nagging reminding me of the overwhelming issues that continue to plague events at the Camp Nou.
Barca's financial predicament has been widely reported in recent years as the excesses of the chase for continued success have led to something of a crumbling of one of the greatest empires in world football. The return of former president Joan Laporta brought fresh hope, yet it also brought warnings of challenging times, with the man himself claiming 'nobody will run away from their responsibilities' as they looked to protect the long-term future of the club.
Despite that warning, Laporta and his board have pulled more levers than Sr Topham Hatt in the search of finances to kickstart what feels like a precarious revolution. TV rights have been sold off; merchandising rights have followed. Before those moves, Barca posted debts approaching £1.5bn in 2021, a figure reduced by pulling those financial levers. Despite their financial concerns and La Liga's fair play laws meaning the club could not offer a new deal to Lionel Messi and prevent his move to Paris Saint-Germain, Barca have still embarked on a surprisingly cash-rich recruitment drive.
Leeds United winger Raphinha, Sevilla defender Jules Kounde and Bayern Munich striker Robert Lewandowski arrived at a total cost of around £136m last summer, with Franck Kessie, Andreas Christensen, Hector Bellerin and Marcos Alonso all handed big contracts after making free transfer switches to Catalonia.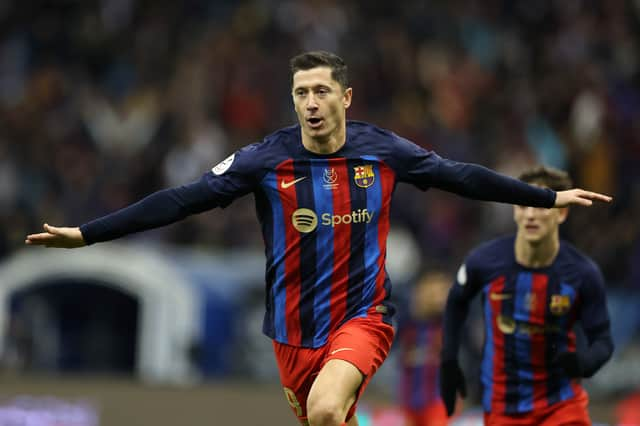 Yes, the likes of Philippe Coutinho and Pierre-Emerick Aubameyang have departed - but the high-earning duo only brought in a combined £32m in transfer fees, although it would be foolish to ignore the considerable benefit of getting them off the wage bill.
Miralem Pjanic, Martin Braithwaite and Dani Alves were granted free transfers to find pastures new, Gerard Pique retired and Samuel Umtiti, Clement Lenglet and Sergino Dest have headed out on loan. The financial crisis - and it is most certainly still a crisis - was hardly helped by an early exit from the Champions League, with the club's board clearly banking on a new look Barca reaching the final stages of a competition they have won four times in the last 18 years.
The high-risk chase for success may well end in a La Liga title win in the coming months - yet this rejuvenated Barcelona feels like it is built on shifting sands and more pain will follow the pride provided by silverware.