The 2026 World Cup may not be in Qatar, but it is still worthy of scrutiny
The 2026 World Cup must also be met with calls for accountability, just like Qatar was.
Watch more of our videos on Shots!
and live on Freeview channel 276
Visit Shots! now
America; land of the free, home of the brave, wet nurse of the hypocrite. Ever since the pearl-clutching hysteria of McCarthyism, right the way through to the Bay of Pigs and a thousand CIA-sponsored coup d'etats, from the arrogant sleaze of the Iran Contra Scandal to the lucid nightmare of the post-truth, post-Trump epoch, the world's self-anointed moral compass and de facto arbiter of peace has been less 'E Pluribus Unum', more 'Do as I say, not as I do'.
For many, that's a convenient arrangement. When the hellish grind of daily life snarls to bear its crushing molars, it can be easy to treat the struggles of others in the same way that a newborn might treat a game peekaboo; namely, if you can't see them, they mustn't exist. It can be even easier to succumb to the seductive numbness of flimsy object permanence when it is exacerbated by delusions of grandeur. As inhabitants of the global north, we have been taught, reassured, and convinced that our version of the status quo is the proper version - regardless of the malevolent nature of the burning coals that warm the cockles of the swinging bricks which occupy the chest cavities of dubious ghouls who cackle in heavy-doored rooms that most of us will never, ever see.
Of course, the things that the USA - and most of its Western peers - claim to stand for are admirable. Social liberty, equality of opportunity, egalitarianism in justice; to achieve those things would be to make the world a better place. But the reality is often different. Vastly different.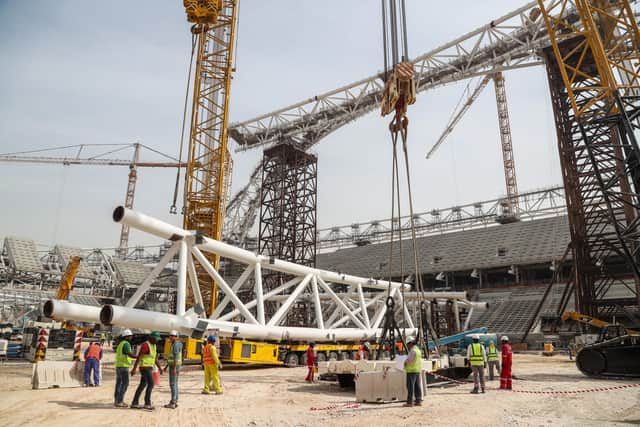 Last month, the Qatari World Cup ended, and football fans everywhere drew a long, pensive sigh of relief. Never before has FIFA's carnival showpiece been subjected to such immense scrutiny, and justifiably so. An estimated 6,500 migrant workers died during the construction of the stadiums which hosted this winter's tournament. Countless others were underpaid, mistreated, or both. As recently as September, Qatari authorities were alleged to have arbitrarily arrested and detained members of the LGBTQ community, while one prominent ambassador for the event described homosexuality as 'damage in the mind' just days before proceedings got under way. Ludicrously ill-judged comments from FIFA president Gianni Infantino, in which he claimed to feel 'gay', 'disabled', and like a 'migrant worker', did little to quell the din of anger, while away from the football, the Qatari government itself was implemented in a scandal in which it was accused of attempting to influence EU policy by bribing European parliament officials. Even by the rotten expectations everybody held before it began, the competition truly surpassed itself.
In a little over three years, the World Cup will take place in North America, and nobody will bat an eyelid. After all, why would they? It's not as if the USA - who will host 60 matches in 2026, including every knockout fixture from the quarter-finals onwards - would ever do anything as questionable as sell $1 billion worth of arms to the Qataris in an effort to protect their own Middle Eastern interests from Iranian proxies in the region. Except it appears they did, and they announced the deal during the half-time interval of the USMNT's group stage clash against Iran in late November. Impeccable tragicomic timing. But hey, at least it's better than that time Donald Trump accused Qatar of funding terrorism and then sold them weapons to the tune of $12 billion just days later. I, of course, use 'better' in the absolute loosest sense of the word.
You might sit there, begrudgingly absorb that information, and shrug a desensitised shrug. Governments proliferate conflicts for all kinds of nefarious and duplicitous reasons, and immorality does not exist in a vacuum - especially in the age of globalism. Profit and pragmatism will always eclipse the ethics of men in suits, and trying to process the machinations of the international arms trade on a molecular level is a bit like asking a mosquito to explain a blow-by-blow synopsis of Twin Peaks.
But here's the thing: just because everybody's doing something, it doesn't make it justifiable. Two hundred wrongs don't make a right.
And as messy as the USA's presence is on the international stage, domestic matters are just as problematic. Earlier this week, The Arizona Central reported prisoner claims that the state's Department of Corrections is inducing labour in pregnant inmates against their will. Just imagine, for a second, that a story like that originated in Doha, rather than Buckeye, Maricopa County. More holistically, the US Supreme Court voted last year to overturn the abortion rights upheld for decades by Roe vs Wade. In response, some 26 states are certain or likely to either ban or heavily restrict the termination of pregnancies. As of November 23rd, 17 already had.
Similarly, in 2022 alone, over 230 anti-transgender bills were introduced in state legislatures in a coordinated national campaign to target transgender rights, with many of these bills becoming law. Scoff and tut all you like at the abhorrent social injustices that are being perpetuated in places like Qatar, but it's worth reiterating to the usual suspects in high places that women's and trans rights are human rights all the world over, not just when there are Western agendas to push.
Elsewhere, statistics show the number of anti-LGBTQ hate groups in America climbed by 43% between 2018 and 2019 alone, the welts opened up by the pervasive and often institutionalised racism highlighted by the Black Lives Matter movement are still as bloody and tender as ever, and some 736 people were killed in 705 separate mass shooting incidents last year.
All of this is to say that even disregarding the elephantine bankruptcies of the political landscape, America on a fundamental human level is a tough, spiteful place for so many of its own citizens. Nowhere is perfect, of course. Hell, if the next World Cup was being held here in the United Kingdom this article would be longer than most doctoral theses. But just because the host cities of 2026 will be familiar, and the artifice of decency will be as broadly and blindly embraced as ever, it does not mean that we cannot confront such rampant and detrimental iniquity.
The World Cup can and should be a platform for meaningful conversation and positive change, regardless of whether it is being staged in Qatar or the USA. Rallying and railing against the harm caused by one while sweeping the foibles of the other under the carpet is hypocrisy, plain and simple. As fans, there's not a lot we can do about the next destination of FIFA's travelling circus, but if nothing else, we can try and bring about a little bit of accountability, even when first glances would have you believe that everything is absolutely, perfectly alright.