The top 10 greatest comebacks in football history - including Liverpool, Man Utd and Newcastle United classics
The greatest comebacks in the history of the sport, featuring Liverpool and Manchester United.
This weekend, millions of Christians around the world with gather together to celebrate the moment when a chap called Jesus supposedly died, spent three days dead inside a sealed cave, and then popped back up alive again. Which we can all agree is quite the comeback – but arguably not quite as impressive as Liverpool that one time in Istanbul.
By way of an special Top 10 for this Easter weekend then, please enjoy the ten most Christ-like resurrections achieved by football teams around the globe, all of which outdo Jesus in terms of historical corroboration but sadly aren't marked with chocolate eggs or fancy hot cross buns at Marks and Spencer. So in the grand scheme of things, Jesus still has the lead here – but he wouldn't have it for long if he was up against this lot:
10. Germany 4-4 Sweden – World Cup Qualifier, 2012
Germany were fresh off their run to the semi-finals at Euro 2012 and had started their qualification campaign for Brazil 2014 at a canter, winning their first three games including a 6-1 drubbing of the Republic of Ireland in Dublin. So when they went four up against Sweden in Berlin, with Miroslav Klose bagging a brace, the game looked rather like a done deal. And so the game was drifting a bit when Sweden scored two goals out of nothing – a brilliant header from Zlatan Ibrahimovic (of course) was immediately followed my Mikael Lustig chancing a snapshot which somehow squirmed through Manuel Neuer.
Then the game came alive, an end-to-end affair with everything up for grabs. Johan Elmander dialled the tension up a notch with Sweden's third before Toni Kroos cracked a piledriver against the post, Mesut Ozil fired marginally over and Tobias Sana failed to control his shot when presented with an open goal. Germany must have thought they'd got away with it – but just as the referee prepared to put whistle to lips, the ball fell kindly for Rasmus Elm and the striker lashed a volley into the bottom corner. The stakes may not have been as high as other games here – Germany simply went onto win all their remaining games, while Sweden finished as runners-up in the group – but it was a night that will live long in Swedish memories.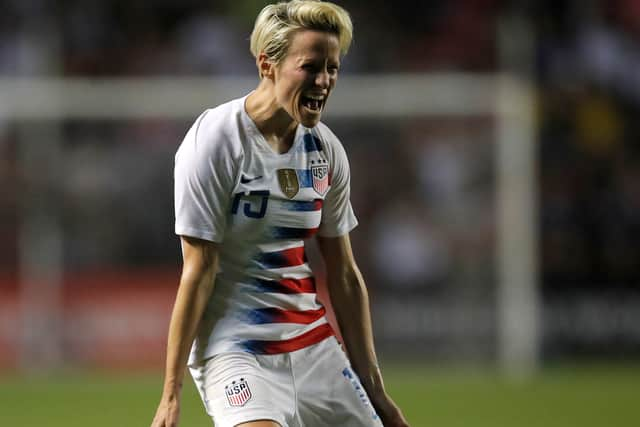 9. USA Women 4-3 Brazil Women – Tournament of Nations, 2017
A ding-dong match between two of the world's best women's team – albeit at a time when the USA were on a surprisingly low ebb, their superstar side having lost three times in the year already before the Brazilians came calling. The game had ebbed and flowed for 78 minutes with chances aplenty for both teams when Andressinha swung home a superb free-kick, made it 3-1 to Brazil, and killing the contest off.
Except it didn't, of course – Christen Press managed to slip a shot past Barbara's near post two minutes later, then Megan Rapinoe ghosted in at the back post to fire in an equaliser five minutes later – and with a ragged Brazilian defence suddenly falling apart, Julie Ertz was given the freedom of the penalty box to fire home from an 89th-minute cross and send the San Diego crowd into raptures.
8. Newcastle United 4-4 Arsenal - Premier League, 2011
It took Arsenal just 44 seconds to go ahead, thanks to Theo Walcott, only two more minutes to go two up, and just 26 to find themselves four goals up and cruising at St. James' Park – all this against a Newcastle side who had just lost Andy Carroll to Liverpool and Shola Ameobi to injury. No chance they'd score four, you can take it easy lads – probably not the words of Arsene Wenger, but who knows? They probably didn't even panic too much when Abou Diaby got sent off just after half-time, nor when they conceded a penalty in the 68th minute. Maybe a few nerves crept in when Leon Best bagged with a quarter-hour left to go, and they would definitely have begun to fray when Joey Barton scored his second penalty eight minutes later… but I wonder if anyone really believed that Newcastle would become the first team to come back from four down in the Premier League until the moment that the much-missed Cheick Tiote's thunderous strike came to rest in the bottom corner. The stuff of top tier legend.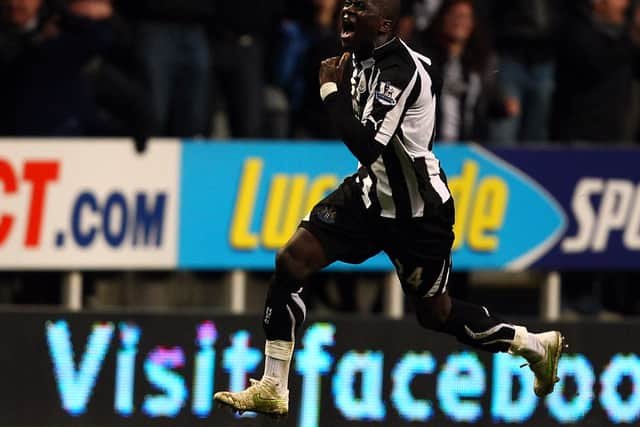 7. Liverpool 4-0 Barcelona (4-3 on aggregate) - Champions League, 2019
Sometimes the great comebacks are just combinations of never-say-die mentality combined with some good old-fashioned fortune. Liverpool had been blasted off the Nou Camp pitch in the first leg, and needed to be both very lucky and a lot better at Anfield to make amends. They were both, and it was mesmerising to watch. The superior side on the night – but not by four goals on any normal day - there would have games where the ball didn't fall at Divock Origi's feet for the first, where Marc-Andre Ter Stegen's save from Georginio Wijnaldum wouldn't have bounced back off himself and into the net, or perhaps when Barcelona wouldn't simply fall asleep completely to allow Trent Alexander-Arnold's cold corner to find Origi and make the Belgian the man of the moment. Again. He either scored the decisive goal in the big game, or he blazed it miles over the bar when one-on-one against some mid-table team. Funny player, Origi.
6. Tottenham Hotspur 3-5 Manchester United – Premier League, 2001
"Lads, it's Spurs." Sir Alex Ferguson's famous advice to his charges didn't come ahead of this match, but it was a point proven, if nothing else. Spurs were three goals to the good at the halfway point, with Les Ferdinand scoring the pick as they ran riot at White Hart Lane. One dose of the famous old half-time hairdryer, however, and Man Utd came alive, scoring straight after the break through Andrew Cole and piling on the pressure for the entire half, carving a bedraggled Spurs apart time and time again. Ruud van Nistelrooy headed home an equaliser with 20 minutes remaining, Juan Sebastian Veron smashed United into the lead four minutes later, and David Beckham capped the whole thing off with a fine goal with a few minutes left. United were magnificent and Spurs were, well… Spursy, let's be honest.
5. West Germany 3-2 Hungary – World Cup, 1954
You know a game was pretty good when it gets its own nickname. This was 'The Miracle of Bern', the final of Switzerland 1954 and one of the most famous matches in history. The Mighty Magyars – the fearsome Hungarian side who had Ferenc Puskas, Sandor Kocsis, Nandor Hidegkuti and Zoltan Czibor, all greats of their generation – had already thumped West Germany 8-3 earlier in the tournament, and many had the game at the Wankdorf Stadium (stop tittering at the back) down as a foregone conclusion – and few would have changed their minds when Hungary found themselves 2-0 to the good after eight minutes, Puskas and Czibor on the scoresheet after some calamitous defending.
But the Germans were ready to lay the seeds for their own later football successes, and took just ten minutes to equalise through Max Morlock and Helmut Rahn. Not that Hungary's golden generation looked too downcast about the turnaround – they dominated the match throughout, creating chance after chance, only to hit the post, the bar, have three shots cleared off the goal-line and find German goalkeeper Toni Turek on the form of his life. It was an utterly one-sided affair – but with six minutes left to play, Rahn picked up a loose ball, shimmied into the box and fired low and hard into the Hungarian goal. Hungary even had time to have a Puskas goal disallowed but whatever charm was holding the German goal intact held – and Hungary has never been close to winning a World Cup again.
4. Angola 4-4 Mali – Africa Cup of Nations, 2010
There's a level of politeness required when you're a guest in someone's house – and when you're the visiting side in the opening game of the Africa Cup of Nations, on a night of pomp and celebration for the nation of Angola, you could at least be kind enough to not come back from 4-0 down and put a great big puncture in the party. But that's exactly what Mali decided to do.
A 74th-minute penalty from former Manchester United man Manucho put the home nation 4-0 up and it seemed like a perfect night was in the offing in Luanda, with some fans even leaving the stadium early to get the celebrations going – but Seydou Keita pulled one back, Fredi Kanoute found a second, and then Keita scored again three minutes into injury time, and just one minute later substitute Mustapha Yatabare slotted home from close range to complete the most extraordinary comeback in the history of the tournament.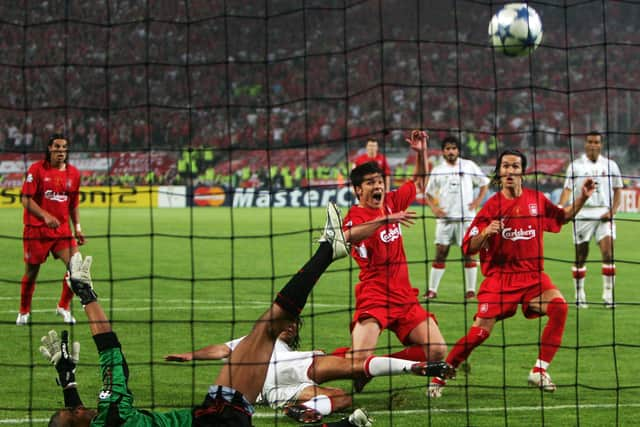 3. AC Milan 3-3 Liverpool (Liverpool win 3-2 on penalties) – Champions League, 2005
There's almost nothing more to be written about the greatest night in Liverpool's storied European history. This was a respectable but, by Champions League standards, less than stellar side up against an AC Milan team featuring a host of greats – Cafu, Kaka, Andrea Pirlo, Clarence Seedorf and of course Paolo Maldini, who put them ahead in the very first minute. A side featuring Djimi Traore and Milan Baros should not have been able to come back from 1-0 down, less still 3-0 – but Steven Gerrard was inspired, Vladimir Smicer was on target and Xabi Alonso was able to tap in after his saved penalty, and Liverpool got their greatest night against one of the great European teams.
We want your feedback on 3 Added Minutes - details here
2. Bayer Uerdingen 7-3 Dynamo Dresden (7-5 on aggregate) – Cup Winners' Cup, 1986
West Germany faced East Germany in the quarter-finals of the now-defunct Cup Winners' Cup, with the Berlin Wall in place and Dresden the favourites. The East Germans had duly won the first leg 2-0 and were leading 3-1 on the night at half-time, an easy lead which no team could conceivably squander – but then, this is another match which gets its own nickname, the slightly less-catchy 'Miracle of Grotenburg', so that's exactly what they did.
It still took until the 63rd minute for Uerdingen to get back to level terms on the night thanks to a Ralf Minge own goal, and that still left them needing three more with the away goals rule in place. Wolfgang Schafer lobbed the goalkeeper, Dietmar Klinger fired home from distance and Wolfgang Funkel did the honours with a penalty over fifteen extraordinary minutes as the favourites fell to pieces - and Schafer even added a little flourish with a seventh four minutes from time. Uerdingen would go on to lose the semi-final to Atletico Madrid but coming from four goals down to not only win but do so by two clear goals? A likely unrepeatable slice of history.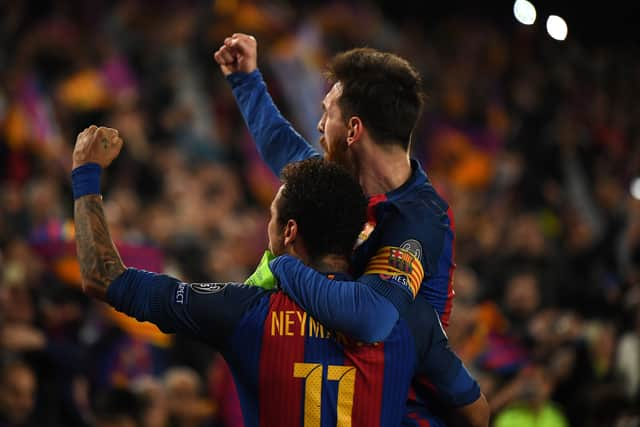 1. Barcelona 6-1 Paris Saint-Germain (6-5 on aggregate) - Champions League, 2017
This match fills me with regret. I was living in Barcelona at the time but the game took place on my close friend's birthday. A close friend who didn't watch football and wanted to go to a seafood restaurant. But that was fine, Barcelona had lost 4-0 in the first leg so the tie was over. I wouldn't miss much. I only discovered my mistake when we heard cannon fire coming down Las Ramblas. I had missed one of the greatest games in history – and the food wasn't even that good.
'La Remontada' – the comeback – looked utterly impossible after Edison Cavani pulled a goal back in the 62nd minute, leaving Barcelona 3-1 up but needing three more to advance. It looked even more implausible in the 87th minute when they hadn't even got one. But then Neymar smashed home a free-kick, buried a controversial penalty, and set the stage for Sergi Roberto to score in the fifth added minute and send the entire city into rapturous celebrations. The entire city, that was, except for the author, blissfully unaware until we hit the street and found ourselves swamped by a see of blue and red and Catalan flags. Ah well, maybe that's what I get for those jokes about Jesus back in the opening paragraph.