The Wonderkid Files: Endrick, the Brazilian sensation under immense pressure
The Wonderkid Files look at Real Madrid's €60m man - Endrick, seen by man as the next Ronaldo.
Watch more of our videos on Shots!
and live on Freeview channel 276
Visit Shots! now
Welcome to another peek inside The Wonderkid Files, where we at 3 Added Minutes give you the full lowdown on the brightest and best young players in the world as they take their first steps up the footballing ladder – and perhaps even onto The Wonderkid Power Rankings.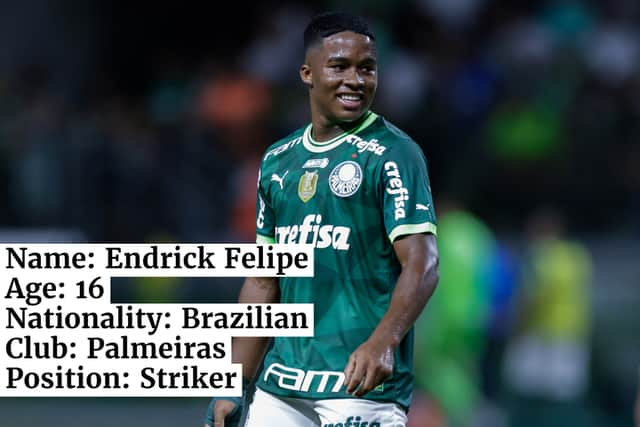 Today's young starlet is a name most of you will know – Endrick. Just 16 years old, Real Madrid have already invested €60m in the Brazilian prodigy, who will join Los Merengues in 2024 after he turns 18. The expectation that comes with the huge transfer fee, however, seems to be weighing heavily on Endrick's young shoulders.
Emerging from Palmerias' youth academy last year having scored 165 goals in 169 junior games, Endrick's astonishing highlight reel – all long-range screamers, bicycle kicks, scintillating dribbles and predatory finishing – set one of football's fastest-growing hype trains in motion. Before he'd even made his senior debut, almost every major club in Europe were making trips over to Sao Paulo to take a closer look.
Watching those highlights, it isn't hard to see why. Endrick has all the skills required to become Brazil's next great goal machine, and his rapid-fire running at defenders combined with his ability to score from almost anywhere meant that he immediately drew an obvious comparison with Ronaldo Nazario. The similarities between their styles of play are striking.
When he finally made his debut – becoming Palmeiras' youngest ever player – the hype only grew. He scored his first two goals in a 3-1 win against Athletico Paranaense, making him the second youngest scorer in the history of Brazil's Serie A. Finishing the season with three goals in seven games, mostly off the bench, the deal with Real was finalised and suddenly almost every eye in Madrid seemed to be watching his every move.
Which may be where the trouble began. With the 2023 Campeanato Paulista – the regional state championship that precedes the Serie A season – nearly over, Endrick has failed to score in 11 appearances and has lost his place in the starting line-up. After he was substituted off in a 2-0 win over Red Bull Bragantino, he was pictured covering his face with his bib after breaking down in tears. The Madridista press are printing doomsday articles over the youngster's goal drought on an almost daily basis.
Palmeiras manager Abel Ferreira seemed to confirm that the pressure had been getting to him, saying: "Nobody likes criticism. There is tremendous pressure on him to score five or six goals and he tries to deal with it himself. The goal will appear at the right time. You just have to be calm and keep smiling."
We want your feedback on 3 Added Minutes - details here
Endrick has all the talent in the world and, when he finally arrives in Madrid, will be with a club that has proven its ability to develop world-class talent into world-class players – his compatriot Vinicius Junior, who was the subject of similarly feverish hype a few years ago, is proof of that. In the meantime, a very young man will need to find ways of handling the immense weight of expectation as Spaniard and Brazilian alike watch his every move. Many players have struggled at this stage of development – if Endrick can find his way through it, he could very well become one of the best in the world before too long. We can only hope that in a few years' time, we're watching him mesmerise defenders the same way Ronaldo did so many years ago.