I probably shouldn't be a football fan, less still a football journalist.
I grew up in a quiet, leafy Sussex backwater, 30 miles or so away from the nearest professional team. A pleasant enough place, but something of a sporting desert. My mum, bless her, could hardly have been less interested in football. I was raised with greater proximity to fox hunting and Morris dancing than to a sport which, when I was a kid, was still making its way slowly through its long post-hooliganism hangover. I was growing up in a world where football was barely considered a socially acceptable activity.
But in 1992 we wound up with Sky Sports on our satellite package for some reason, and so I watched, got hooked, and became a Blackburn Rovers fan. Worse than a fan – a tragic.
I spent all of my pocket money on Merlin's Premier League sticker albums. I was forever badgering my schoolmates to pick teams for home-brewed fantasy leagues. I once bought a fact-filled World Cup '86 ring-binder at a car boot sale, despite the fact that it had happened before I was even born. I had shoeboxes full of VHS tapes of Match of the Day. I couldn't get enough of Tony Yeboah. God alone knows what my poor mother thought was going on.
Luckily, my burgeoning boyhood obsession overlapped with the English game's gradual return to the nation's good graces. Tabloid fears over hooligan uprisings weren't the story any more – the birth of the Premier League and the munificent involvement of Sky was painting the sport in a shinier, more glamorous light, and exciting foreign signings were starting to trickle over the Channel, lured by new money and the tempting opportunity to get lumps kicked out of them by Julian Dicks.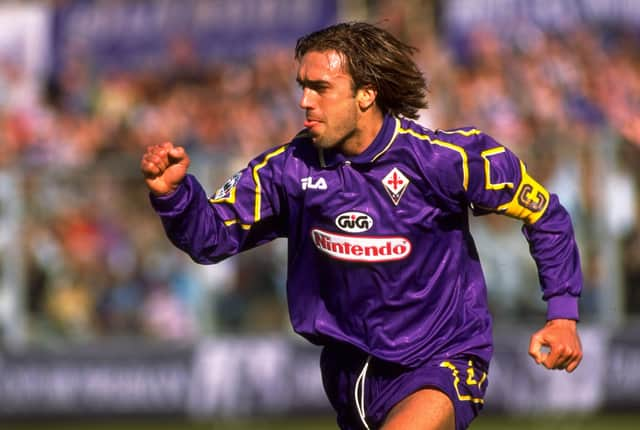 And then Football Italia came along, introducing my impressionable young self to Gabriel Batistuta in that glorious Fiorentina shirt, and everything else that was cool and beautiful about Serie A in the Nineties – which was everything. The kits, the hair, the style, James Richardson coolly sipping an espresso while keeping us abreast of whatever the hell Gazza was getting up to in Rome that week. It was a heady, sexy blend and helped to seal football's place in my developing mind as the most thrilling thing in the world – even finding out about Alan Shearer leaving Ewood Park at a school summer camp couldn't dampen my enthusiasm by that point.
Years later, and somehow I've persuaded the good people of 3 Added Minutes to pay me to write about football. After a mildly peripatetic life which has seen me live in London, Manchester and Barcelona, I took a job at BBC Sport helping out with live texts and making sure things on the iPlayer worked, and then one thing led to another in a roundabout sort of way, and now you all get to take in my addled ramblings right here. I also now live in Gateshead, which is both a long story and a long way from where I grew up, but the local non-league scene is excellent and the views over the Tyne are stunning, so I'm settling in rather well.
So, what will my ramblings involve? Well, I still carry those formative memories of Italian football, and believe that we've perhaps lost a little bit of the joy of taking in the global game in an era when the best players inevitably congregate in a smaller number of leagues. I'm the sort of person who follows Twitter accounts updating the world with the latest news from the Polish Ekstraklasa or the Faroese top flight, so hopefully I'll be able to bring you all a little taste of the weird and the wonderful from the wider world of the sport, even if I won't do so with quite the same elan as James Richardson at his little coffee table.
I'm also conscious of the way the changing game needs to be examined and re-evaluated. The Premier League first succeeded in rehabilitating the English game and then turned it into a slickly-marketed financial juggernaut, and the rapidly-spiralling figures being scrawled in club chequebooks have brought many interests to the table that need to be carefully scrutinised – state investment in the game stands alongside lucrative sponsorship deals with murky overseas betting firms, and I believe that football journalism needs to have the guts to examine the new ways the game is being bought, sold and administered, and to stand up for fans' interests in a time when ownership is so often further from them than it has ever been.
But for all of that seriousness, I hope that my scribblings still put the sheer joy of this sublime, brilliant and often rather absurd game front and centre. I'm glad that despite the controversies and frustrations inherent to the modern game – and despite the many struggles endured by the team I arbitrarily decided to support over 30 years ago – football is still a daily source of excitement and inspiration to me. I hope that deep, if slightly obsessive, love for the game comes across in my work here at 3 Added Minutes.