The top 10 greatest final day Premier League games ever - including Liverpool, Spurs and Man City classics
Counting down the most exciting final-day games in the Premier League's history.
Watch more of our videos on Shots!
and live on Freeview channel 276
Visit Shots! now
The final day of the Premier League season is upon us – a time for heroes and villains, drama and tears, and hopefully a few absolutely brilliant games of football.
The last day of the seasons throws up more classics than most, of course – partly because of the unbearable tension as relegation battles and title races draw to a close, but also because you get a lot of games between teams who have nothing to play for and are most playing half-cut on champagne with their beach bags packed and ready in the dressing room.
This top ten combines the best of both – from unforgettable final-day thrillers to seemingly-drunken ding-dongs. Let's hope for more of the same this Sunday.
10. Crystal Palace 5-3 Bournemouth – 2019
Two teams with nothing to play for and two teams who decided that was a good excuse to slack off the defending and play a bit of schoolyard-style football. Both teams probably should have scored even more – there were 33 shots in the match as any attempts at keeping a clean sheet went swifty out of the window.
Crystal Palace went 3-0 up courtesy of a close-range brace from Michy Batshuayi and a tragicomic own-goal by Jack Simpson – but Bournemouth pegged it back and stayed in touch until Andros Townsend wrapped it up. Jefferson Lerma's outrageous 25-yard screamer, one of the great forgotten bangers of the Premier League - cracking against the angle of post and crossbar before whipping across the goal-line into the opposite side-netting and out again - was the undoubted highlight. A consequence-free 90 minutes of fun.
9. Manchester City 2-2 Liverpool – 1996
If younger readers have ever wondered how we all got by before the invention of the smartphone – we didn't. And to prove it, Manchester City got themselves relegated on the final day in 1996 because they had the wrong scoreline from a different ground.
Needing to better Coventry City's result at Highfield Road, City were level at 2-2 against Liverpool and got word that the Sky Blues were losing to Leeds United – so manager Alan Ball instructed his team to time-waste as much as possible and keep Liverpool at arm's length at Maine Road. There was just one slight problem – Coventry were actually level against Leeds, and stayed up at City's expense. The farcical miscommunication saw City spend ten whole minutes timewasting their way to their own demise. It's hard to imagine it happening under Pep Guardiola, isn't it?
8. Manchester United 4-2 Blackpool – 2011
It was a five-way stramash at the bottom of the table in 2011, with teams' positions chopping and changing constantly as they all battled to avoid the drop. Blackpool, enjoying an improbable season in the top flight, needed to win away at champions Manchester United to stay up. Not likely…
But while Park Ji-Sung seized upon Ian Evatt's error to open the scoring, Blackpool found themselves back in it when Charlie Adam's brilliant free-kick found its way into the bottom corner – and were in with a chance of a hugely improbably survival story when Gary Taylor-Fletcher turned home just before the hour mark. Perhaps the greatest underdogs in Premier League history were in with a chance of staying up against all the odds. It didn't happen, sadly… Anderson, Michael Owen and an own-goal from the desperately unfortunate Evatt all combined to send the Seasiders down when a win would have been enough after Wolves lost to Blackburn Rovers. Blackpool have never made it back to the top flight, and don't look likely to in the near future.
7. Chelsea 8-0 Wigan Athletic – 2010
Carlo Ancelotti's Chelsea needed a win to wrap up the Premier League title on the final day, and it's fair to say that they delivered in some style. Ahead within six minutes thanks to Nicolas Anelka's back-post finish, the floodgates really opened just after half an hour when Gary Caldwell was sent off for dragging Frank Lampard down in the box.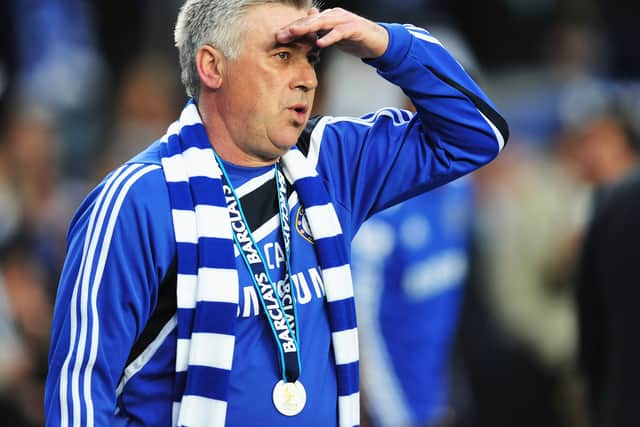 The penalty was duly dispatched, and Chelsea ran rampant against a Wigan team who had already secured their survival and clearly just wanted to get on the first flight to Lanzarote. Didier Drogba bagged a hat-trick and had a bicycle kick brilliantly saved by Mike Pollitt, as well. A one-sided demolition derby with seven second-half goals and an opposition who probably couldn't have cared much less, but a hugely compelling watch in a car-crash sort of way.
6. Newcastle United 3-3 West Bromwich Albion – 2011
Two teams who had been promoted from the Championship the season prior and comfortably made their way to mid-table, and were therefore just playing out something of an exhibition at St. James' Park – not that it would have felt like a lot of fun for Jonas Olsson, whose woeful own goal put the home side 3-0 up shortly after half-time. Still, nothing to play for, so West Brom could just put their feet up and relax, really.
Not that anyone told Somen Tchoyi. The Cameroonian forward, who had scored four goals in the first half of the season but hadn't bagged for the Baggies for nearly six months by this point, seized on a loose ball to slot home for one, rifled the ball into the roof of the net from a set piece for a second, and then headed home his hat-trick with just seconds left on the clock, setting up an improbable draw. The powerful striker only scored two more league goals in his entire professional career, leaving West Brom in 2012 and retiring altogether three years later, at the age of 32.
5. Stoke City 6-1 Liverpool – 2015
It was Steven Gerrard's last game, and what better way to head into retirement than with a fine goal, the captain and club legend sent haring away from the last man before slotting coolly past Thomas Sørensen in the Stoke goal.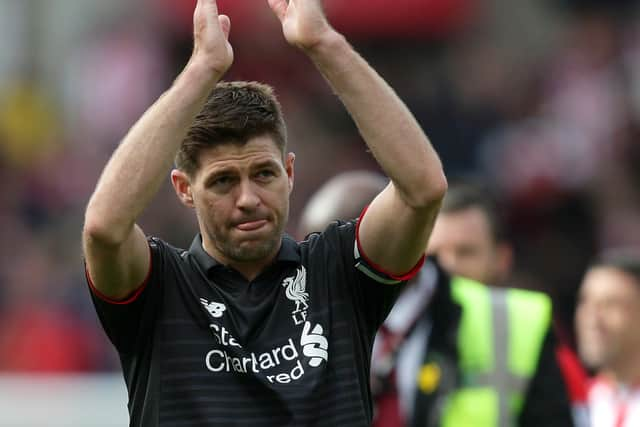 Well, a better way might have been had his team not been 5-0 down at the time. The Liverpool defence completely imploded as Stoke ran riot at the Potteries, capping an incredible first-half performance with Steven N'Zonzi's sublime 25-yard curler into the top corner. Gerrard wasn't able to celebrate his last ever goal with anything more than a grimace and wave in the vague direction of the travelling fans.
4. Middlesbrough 8-1 Manchester City – 2008
This wasn't yet the time of the well-oiled City sides of their Emirati ownership, of course, but a few months before Robinho made his way to Manchester you would still have expected Sven-Göran Eriksson's team to avoid taking a complete thrashing at the Riverside Stadium.
An early red card for Richard Dunne – and the ensuing penalty – set Boro on their way to a thumping win and one of the best performances of their time in the Premier League, with Stewart Downing's glorious outside-of-the-boot volley across goal and Fábio Rochemback's thunderous 30-yard free-kick the highlights for the home side. City – who qualified for Europe this season via the Fair Play rankings, of all thing, did at least get the tiniest measure of consolation imaginable courtesy of a left-footed piledriver from Elano. It was Eriksson's last game as manager, Thaksin Shinawatra's last game as owner, and ultimately the last game of Manchester City as we knew it.
3. Tottenham Hotspur 5-4 Leicester City – 2018
Another game with nothing to play for but the hell of it, and another barnstormer produced by a bunch of players who were mentally sipping a mojito somewhere even warmer than a sunny White Hart Lane. Kelechi Ịheanachọ and Riyad Mahrez both hit thunderbolts to put the Foxes firmly in control at 3-1, only for Erik Lamela and an unfortunate own-goal by Christian Fuchs to level it all up.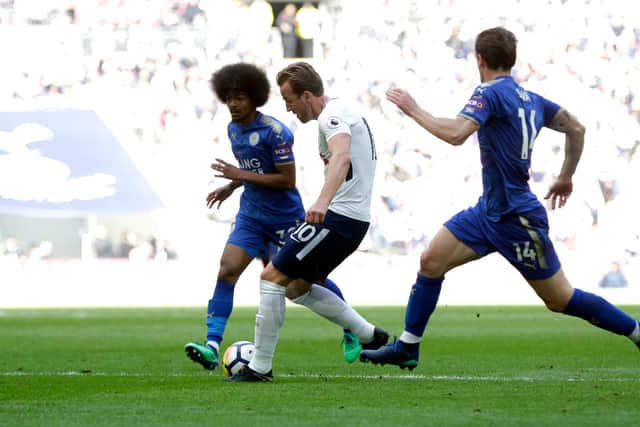 Not that that was anywhere near the end of the absurdity. Lamela tapped in to give Spurs the lead, Jamie Vardy cracked one into the roof of the net at the near post to square it up again, only for Harry Kane to curl one lusciously into the corner of the Leicester goal to seal the deal. The annoying thing is that there was still nearly 15 minutes left by the time Kane did that, leaving plenty of scope for even more fun and games – but Kane's winner clearly signalled the official start of the holidays for all concerned. Still a see-sawing cracker of a game.
2. West Bromwich Albion 5-5 Manchester United – 2013
The last game of the great Sir Alex Ferguson's long and storied spell in charge at Old Trafford had nothing on the line for either team, but ended up being an unexpected classic. It all looked like being the perfect send-off for the Scot after United romped into an easy 3-0 lead thanks to goals from Shinji Kagawa and Alexander Büttner – and although a couple of quick goals for the visitors, including a wonderfully casual 20-yard pass into the bottom corner from a young Romelu Lukaku, threatened to upend proceedings, things were quickly back on track.
Robin Van Persie and Javier Hernández made it 5-2 with ten minutes to go, and the procession was all but complete – but West Brom had other ideas, and suddenly came alive, battering down United's defences for the remaining time and drawing level with the shellshocked Red Devils when Lukaku bundled home his hat-trick goal in the 86th minute. One of the most extraordinary and unexpected endings to any game in the Premier League.
1. Manchester City 3-2 Queens Park Rangers – 2012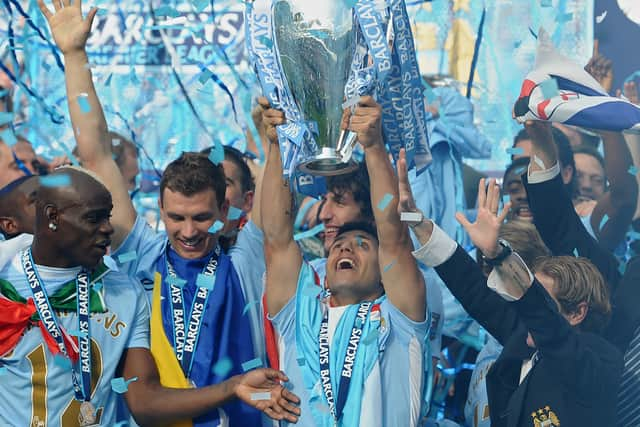 Well, what else could it be? The story is so well-told by this point that a rehash is barely necessary, and the extraordinary tension of drama of the lost minutes has reverberated through the last decade of Premier League history along with Martin Tyler's primal bellow of Sergio Agüero's name.
We want your feedback on 3 Added Minutes - details here
The drama was sent to even great heights with City's local rivals winning at Sunderland, meaning that it took those two late, late goals to win the title – and they could easily have relegated QPR with the same stroke, with the London side apparently unaware, as Agüero slammed home the Premier League's most famous goal, that results elsewhere meant they were safe. A rollercoaster ride of a match with the most thrilling finale imaginable, and a truly unforgettable day – although United fans are probably still trying.