We're just a couple of weeks away from the start of silly season – or "the transfer window" as it's more usually called – and what better way to while away a bit of time waiting for all the deals to drop then to indulge in some wild speculation via a popular video game?
There's a lot of speculation that West Ham United's best player, Declan Rice, will depart from seriously big money over the summer, and that happened in the world of Football Manager 2023 as well, with Liverpool dropping a cool £92m on the England man. So, how would West Ham use that windfall? Go on a crazy spending spree? Keep it tight while the shareholders giggle on their way to the bank? Or spend a bunch of cash on an obscure Dutchman with a brilliant name? Let's spin forward in time a little bit with FM23 and see what happened…
Tiémoué Bakayoko - £4.3m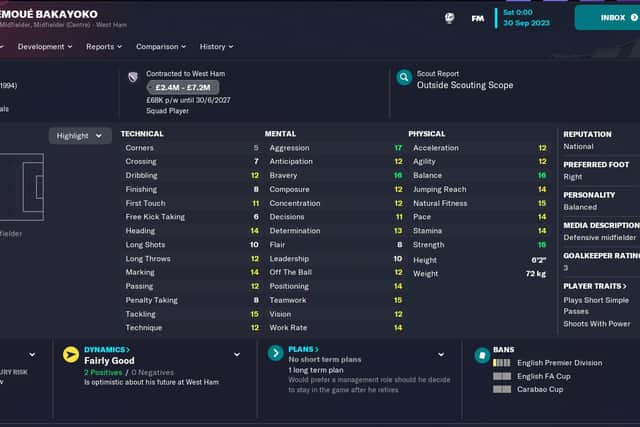 Show of hands here – who remembered that this guy is still a Chelsea player? In the land of FM23, he barely saw grass for AC Milan in the 2022/23 season and was available at a knock-down price for West Ham to fill the hole left by Rice. He's not exactly on a par, admittedly, but a quick look at his stats suggests a pretty shrewd budget buy by the Hammers. He's got respectable numbers across the board and you can't do too much better at that price. He's still largely warming the bench at the virtual London Stadium, however, mainly because of West Ham's next defensive midfield purchase…
Santiago Hezze - £5.75m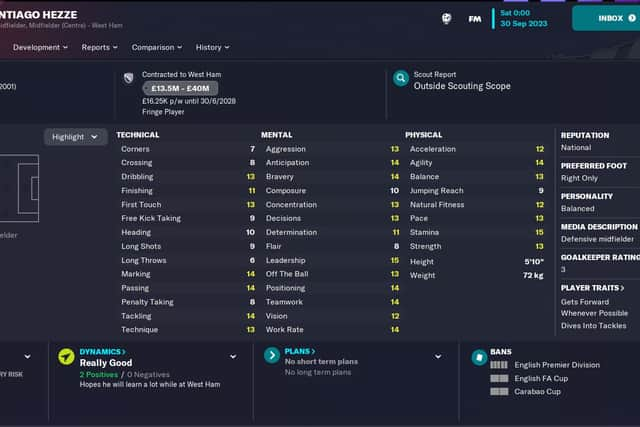 Partnering Tomáš Souček at the base of West Ham's post-Rice midfield is a largely unknown Argentinian midfielder, purchased from Huracán. In real life, the 21-year-old has made 53 appearances for the Primera División side, and has trained – but not been capped by – the national Under-23 squad. Transfermarkt reckon they've paid about the right sort of fee for the youngster and those are some pretty solid underlying statistics for a holding midfielder. So let's go forward another four years and see what happened…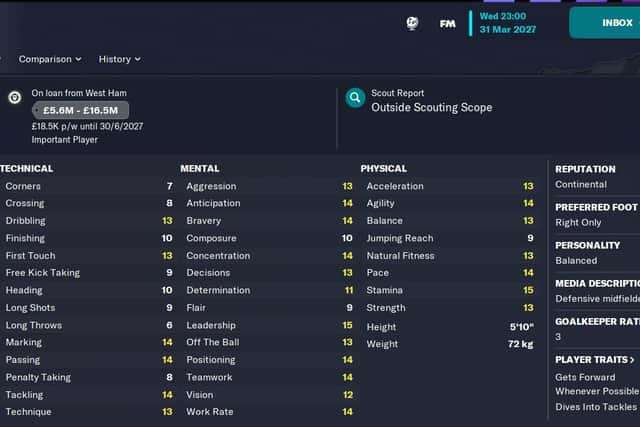 On loan to Pumas in Mexico having fallen completely out of favour. Ho hum.
Lucas Moura – £2m loan with £6m obligation to buy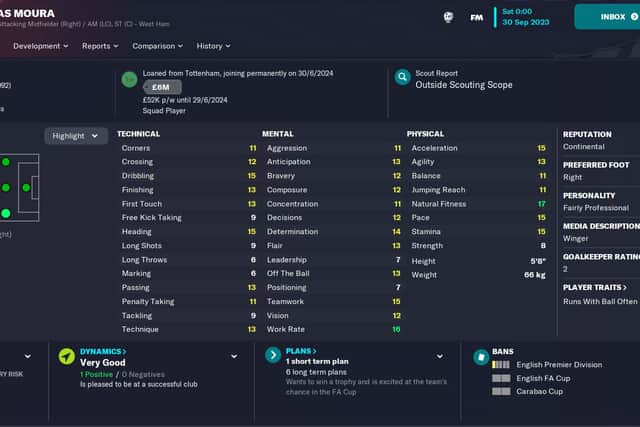 Tired of being a bit-part player at the Tottenham Hotspur Stadium, the Brazilian right-winger – in both senses of the word – makes a relatively budget-conscious move across London. Much like the real-life Moura, he has a handful of very solid stats but offers little more than mediocrity in several key areas. We wandered far enough into the future to know that he scored a crucial late winner against Bournemouth, at least. I think it's fair to say that if this transfer panned out in real life, West Ham fans would be exactly whelmed.
Million Manhoef - £26.5m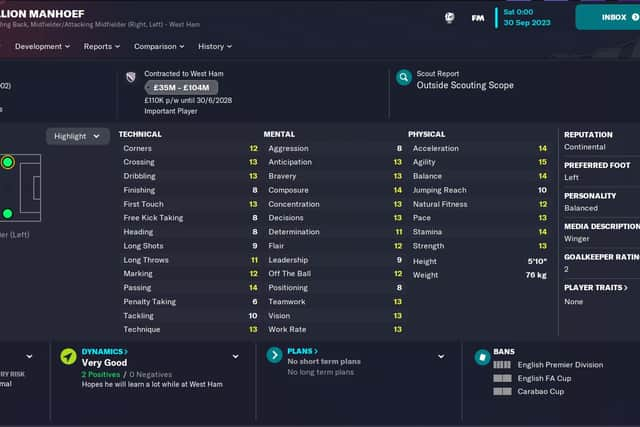 Let's start with the obvious – what a fantastic name. The 21-year-old is a versatile left-sided player brought in from Vitesse Arnhem, where he didn't pull up too many virtual trees, so splashing a hefty fee on him seems rather speculative. Not a very Moyes-y sort of signing, on paper, but then again in this incarnation of West Ham, Brendan Rodgers is currently in charge, so that makes it all a bit more understandable.
We'll be honest – his stats aren't all that spectacular. He'd be a solid player for a relegation-threatened team at these rates, but he'll need to develop a fair bit to be worth the outlay, and on raw numbers he's worse than both Maxwel Cornet and Saïd Benrahma, who departed for AC Milan and Fulham respectively. So let's do us all the favour of seeing how the 25-year-old Manhoef looks so we can judge whether Brendan did himself a decent bit of wheeling and dealing or whether he just blew a bunch of cash on a dud…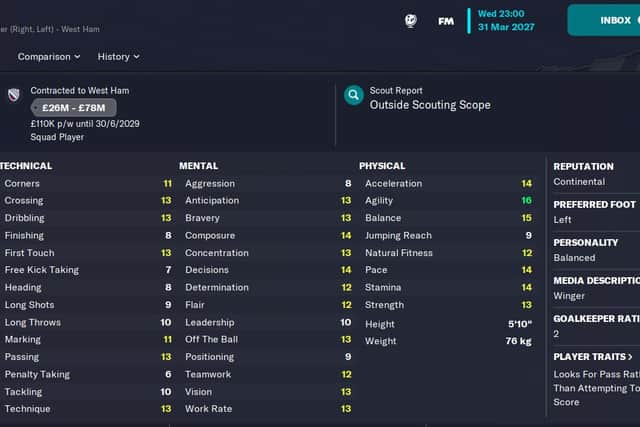 Not playing and has handed in a transfer request Ah well, never mind.
Jed Steer - £160k loan with £375k obligation to buy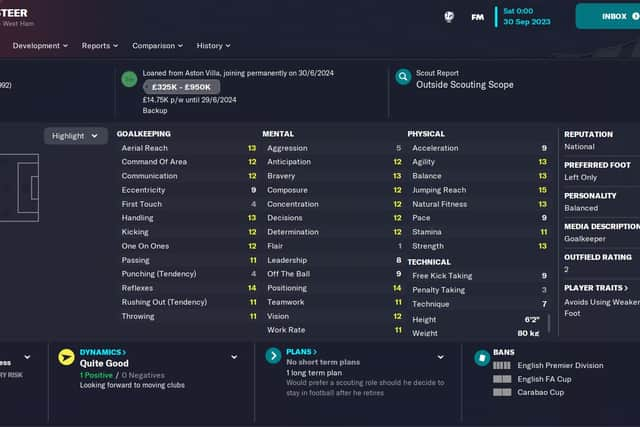 Łukasz Fabiański swapped bench duties in London for bench duties with Átletico Madrid in our game, which honestly seems like a career move we can all get behind. Jed Steer comes in on back-up duties from Aston Villa, which is one of those boring but necessary transfers that grease the wheels of a Football Manager game. Everyone needs a back-up goalkeeper, and Steer can spend a few years earning a tidy £15k per week for doing very little. Nice work, if you can get it.
Michael Keane - £5.25m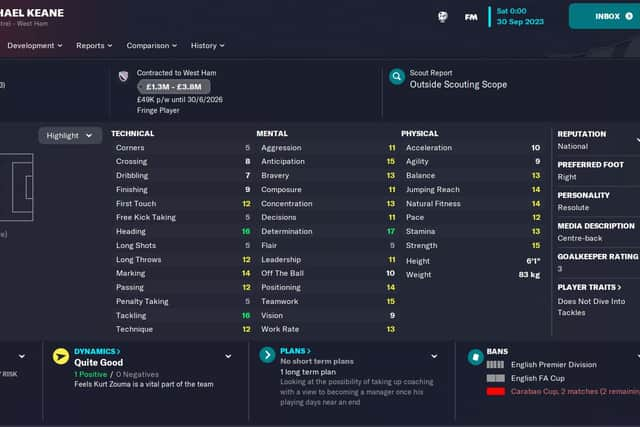 You know what, this would be a very decent bit of business in the real world. The 30-year-old former England international has less than stellar physical stats, which is presumably why Everton were happy to get shot of him, but his heading, tackling and determination all make him a pretty handy player on paper. That said, he's currently not even getting in the virtual matchday squad, so perhaps Everton were right to get rid after all.
We want your feedback on 3 Added Minutes - details here
So that's about £50m of the Declan Rice money spent (not even mentioning the Benrahma money…) on a few solid squad men and a couple of youngsters who didn't pan out. Still, they haven't been relegated in the five years we looked over, so that's something, eh? Let's hope they use the likely real money a little better, though…