Jose Mourinho must be held to account for Sunday League antics after AS Roma Europa League defeat
The Italian side were beaten on penalties by Sevilla in Budapest on Wednesday night
Watch more of our videos on Shots!
and live on Freeview channel 276
Visit Shots! now
They were scenes perhaps better suited to Sunday League football, the kind of petty fury that bookends a bitter cup clash between two rival pub teams from neighbouring villages - fuelled by a fissure that opened up over a contentious quiz night dispute during the Callaghan premiership and that, swilled by years of ale and idle gossip, has gradually mutated into a vague, hazy blood feud to make the Hatfield and McCoys blush.
On Wednesday evening, Jose Mourinho took his AS Roma side to Budapest for a Europa League final against Sevilla. It was a meeting between a manager who had never lost a continental decider and a club with a similarly unblemished record. Something had to give. In the end, it was the Special One's self-restraint.
After a fraught, curmudgeonly affair on the banks of the Danube, Mourinho was filmed swearing at referee Anthony Taylor in a car park, as well as branding the official a 'disgrace'. This after he had already labelled the Englishman's performance as a 'scandal' during a post-match press conference, and had hoyed his loser's medal into the crowd in a performative act of apparent disgust. Reports today suggest UEFA could look to punish Jose for his behaviour. No doy.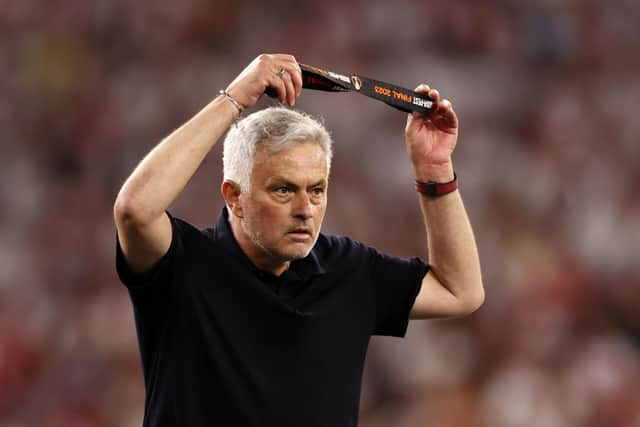 As is so often the case, things could have been very different. For large swathes of last night's final, Mourinho succeeded in doing what he does best. The ultra-conservative svengali - a footballing Dementor of sorts - sucked the vigour from the contest, drained it of its vim. It was still fiery, granted, but fiery in the same way that a Visigothic sacking might be, rather than, say, a Fourth of July bonfire celebration. By the end of this graveyard shift of a clash - one that felt as if it stretched long into the night and wrestled with more than its fair share of restless ghouls - some 13 bookings had been handed out, including one for Mourinho himself. As a further illustration of the match's dripping ugliness, the boffins concerned with such particulars have since calculated that the ball was out of play for 45% of proceedings - equivalent to over 80 minutes. That sound you can hear is the aesthetes vomiting into their own cupped hands.
Again though, Mourinho cares not for such trifles. I've seen him described as a footballing nihilist of late, but I'm not sure he is. Nihilits reject everything in the belief that existence has no meaning. For Jose, life does indeed have purpose, but only when he's winning. The pursuit of silverware, to him, is the be all and end all. It matters more than beauty, more than diplomacy, more than decency, even.
For a while it looked as if he was on course to become the greatest continental club manager of all time; unparalleled and unprecedented with six European trophies to his name, at long last tangibly clear of that pesky Giovanni Trapattoni. Paolo Dybala put Roma ahead late in the first half, and a cocktail of traditon and common sense dictated that should have been that. After all, there are some truths that are accepted as universal; the sun rises in the east and sets in the west, humanity is afflicted by mortality, and Jose Mourinho eeks out cagey bouts - especially when his side take the lead.
Not this time, though. Shortly after the interval, Sevilla equalised courtesy of an unfortunate own goal and the disarray reared its head once more. Tammy Abraham was denied from close range, Roma were denied a dubious penalty shout, and Chris Smalling, with all of his redemptive veganism, hit the bar at the death via a looping headed effort. With nothing else to separate the two punch drunk sluggers, penalties were wheeled out like a revolver with one bullet in the chamber.
In a pleasing moment for U2 fanatics, Bono gave Sevilla the edge, and then the real controvesy began. Gonzalo Montiel's deciding spot kick was initially saved by Rui Patricio, before VAR intervened to - correctly, mind you - determine that the keeper was guilty of encroachment. The Argentine defender stepped up again, went the other way, and Sevilla were crowned, if not kings then certainly dukes, of Europe for a seventh time. They are becoming inevitable.
The headlines, however, belong to Mourinho, and his signature brand of vitriolic grouchiness. The temptation is to excuse it as a quirk of his character; roll the eyes, tut forgivingly and chuckle at the impudence, then wait for the next episode in his meandering, dimming saga.
But the reality is that we're not talking about a naughty schoolboy here, or a beloved dog stealing a link of sausages from a butcher shop window. He is a fully grown man who professes to be one of the finest to ever prowl a dugout, and he should be held to account as such. It is possible to be an insatiable winner without also straying into the realm of sore loser, but Mourinho has never truly understood where that line resides. Or maybe he does understand, and he just doesn't care. Some will argue that is to his credit, and at this point, it would be foolish to believe that he will ever change. Regardless, there have to be boundaries and they have to upheld to a certain extent.
If this was indeed Sunday League football and a disgruntled manager made a point of waiting by an official's car to rant and curse at him after the final whistle, there would be repercussions. Just because Mourinho was frothing at the mouth in a 67,000-seater stadium and not the overspill parking of the local community centre, it doesn't make him exempt. He should be criticised, and he absolutely should face discipline.