Ex-Sunderland flop Jason Steele is Brighton & Hove Albion's mystery man - best of luck to him
The Seagulls goalkeeper has shone this season, prompting calls for an unexpected international call-up
Watch more of our videos on Shots! 
and live on Freeview channel 276
Visit Shots! now
I feel like I'm being Punk'd. Like, seriously, is Ashton Kutcher going to jump out and ambush me with a hidden camera crew and a gormless grin plastered across his perfect, perfect face? I almost wish he would. At least then I would have an explanation for this madness.
Earlier in the week, I saw a report claiming that Brighton goalkeeper Jason Steele is being considered for an England call-up. I didn't so much do a double take at the headline, but rather pinched myself and checked to make sure that nobody had sprinkled the rim of my coffee mug with hardcore psychedelics.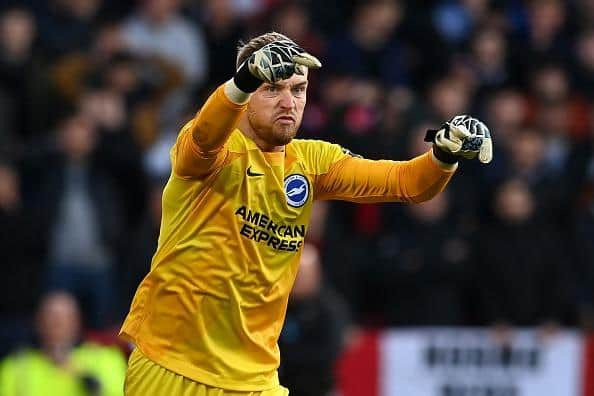 You see, here's the thing; I'm old enough to remember Steele's ill-fated stint at Sunderland, when he performed with all the reliability and shot-stopping effectiveness of a malfunctioning hologram. Others may recall a similarly doomed spell with Blackburn Rovers. Both nightmares ended in relegation to League One. The fact that this same goalkeeper - who for many Mackems is whispered about shudderingly with a dread comparable to the Quaver-wristed Lee Camp - is on the cusp of international recognition simply does not compute. Glow ups like this are usually reserved for the final acts of Disney Channel movies in which bookish mathletes are transformed into dazzling prom queens.
Of course, Steele's sudden acknowledgement is not so sudden at all. After half a decade in the shadowy recesses of the Amex dressing room, he was unexpectedly - and some would argue bafflingly - handed a starting opportunity by incoming manager Roberto De Zerbi over Spanish teammate Robert Sanchez. He has not disappointed since.
From the cluster of Premier League goalkeepers who have made 10 or more appearances in the division this season, Steele is the seventh-highest rated, according to stats gurus Whoscored, and the highest rated Englishman. He also holds the distinction of making more short passes per 90 minutes than any other goalkeeper in the league, and averages the eighth most saves from shots taken inside his penalty area per game too. In short, he is being lauded on merit.
And y'know what, good on him. At 32, most people - myself included - had written Steele off as a perpetual understudy; a Carabao Cup darling, a glorified training cone for the purposes of intricate shooting drills. You sense that the player himself might have had his doubts as well.
In a recent interview with BBC Sport, Steele spoke frankly of how he had grown to 'hate' football, and about the negative effects that a barrage of online abuse has had on him in years gone by. Some would have crumbled under that kind of strain, or at the very least grown apathetic. But he has not.
Instead, he has been patient, been professional, and has seized his chance with the kind of sure-handedness that many didn't believe he possessed. Quite how he has enacted this epiphanic change in his game remains, in my mind at least, something of a writhing mystery, but the simple fact of the matter is that he has - and best of luck to him. If nothing else, let Steele be a lesson to all of us that it is never too late to come good.