Goodbye Ben Brereton Díaz - the fairytale forward who made Blackburn dream
Watch more of our videos on Shots!
and live on Freeview channel 276
Visit Shots! now
It was the last and hardest pill us Blackburn Rovers fans had to swallow on a day when we were presented with quite a few to choke down – Ben Brereton Díaz confirmed what we all knew, that he was leaving the club on a free transfer at the end of the season. His departure brings to an end one of the greatest and most improbable stories in the recent history of the English second tier – the overpriced flop from Stoke who turned himself into a Chilean scoring sensation.
He signed off with two goals in a thrilling 4-3 comeback victory over Millwall – the first a curled right-footed finish from the edge of the area that has become his trademark over the past two seasons, the second a simple tap-in that kicked Millwall out of the play-off places. Had he scored a few more in the past couple of months, Blackburn might have gone up in their place – instead, Sunderland's win at Preston North End put them in the top six and Rovers settled for seventh.
That brace was a fitting send-off in more ways than one. It summed up both the joy and frustration he brought to his time at Ewood Park – scoring superbly to lift his team, but still seeing them fall just short as he departs for around £15m less than he would have done had Blackburn cashed in on him over the summer. They decided to gamble on his goals sending them up – and missed out by the barest of margins. It was Brereton Díaz's goals that put them in a great position to go up in the first place – and his lack of form for the second half of the season that saw them throw it away.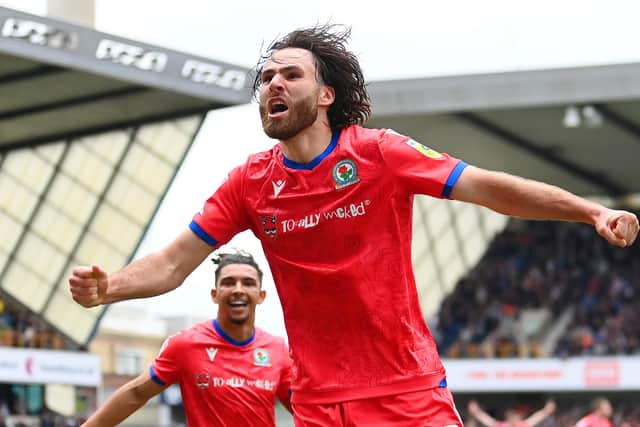 We're probably past the point where the pertinent facts of the story need to be repeated, but just in case – back in 2018, Blackburn spent around £7m to bring a 20-year-old forward called Benjamin Anthony Brereton in from Nottingham Forest. And he flopped. Badly. He scored just one goal in each of his first two seasons with the club, and made it all of nine in a grand total of 88 appearances by the end of his third. For a club run on a relatively tight budget, it had been a pretty disastrous transfer.
Then came the twist in the tale – over the summer, the Chilean FA discovered that his mother had been born in Santiago, and unexpectedly called him up for the national squad. He started scoring, played in the Copa América, added his mother's maiden name to his own and became the face of Pepsi Max in his adopted home country. Back in Lancashire, he began rattling them in with sudden regularity, to the extent that some bookmakers found themselves paying out on optimistic pre-season bets that he would hit 20 goals in the season just in time to pay for many Rovers' fans Christmases. He had become a club legend almost overnight, and a global news story out of nowhere.
He started this campaign much as he left off his last – and as Blackburn spent much of the first half of the season in direct contention for automatic promotion, the goals flowed as surely as they had before. But after the World Cup break, it all dried up, his form deteriorated, his head dropped, and he was plain old Benjamin Anthony Brereton all over again – right up until that fateful final day, when he found his Díaz and condemned Millwall to another year in the Championship. By then, though, the Chilean chickens had come home to roost, and Blackburn will be visiting the New Den next year as well.
None of which makes his departure any easier to bear. He hasn't officially confirmed his landing spot, but it is widely expected to be Villarreal. He will probably be playing European football as his former comrades languish in the second tier, but few at Blackburn will love him any less for it. There haven't been many fairytales in East Lancs of late, and the ballad of Brereton Díaz could have been written by Disney. The Goal movies have less improbable story arcs.
Watching a forlorn and forgettable forward transmogrify into an unstoppable goal machine, brimming with quality and confidence, was a joy. He brought hope of big things to a club who are typically content if they make it to mid-table. Those bigger things never arrived, but it was pleasant to dream, for a little while, that Blackburn could make it back to the big time. We could have sold him and made a handy profit, but for this season at least, that would have meant selling the dream as well.
We want your feedback on 3 Added Minutes - details here
We'll miss his goals, his link-up play down the left and his physical presence. We'll miss pictures of him in a flat cap pouring fizzy drink into a porcelain tea cup. Personally, I'll miss my Twitter header, of a newsreader who looks faintly like Bernie Sanders stood in front of a giant graphic of Big Ben's face with the slogan "Breretonmanía" plastered across it in humongous letters. Maybe we'll miss the money. But mostly, we'll miss watching a young man living out an improbable dream under the gloomy clouds of Blackburn, of all places. Living vicariously through that fantasy has been an unadulterated joy. Thank you, Ben, and goodbye.