It's not necessarily about the mistakes you make, but rather, how you recover from them. That may sound like the kind of soft serve platitude spewed forth by a self-styled life coach who compiles the vast majority of their personal philosophy by stealing mantras from bumper stickers in supermarket car parks, but it is true. And credit where credit is due, Manchester City really look as if they might be learning some vital lessons when it comes to their summer transfer policy.
Last year, the defending champions were struck down with a bout of unusual generosity, and sold both Oleksandr Zinchenko and Gabriel Jesus to a ragtag crew of plucky underdogs going by the name of 'Arsenal'. Since then, the Gunners have floored everybody by having the audacity to lead the Premier League with just 10 games to go. 'Well', mutters Pep Guardiola as he wraps a thick cable knit cardigan tighter around his midriff and sips at a steaming mug of black coffee while he stares pensively out to sea from the balcony of a lonely lighthouse, 'Never again'. And to be fair, he is sticking to his word.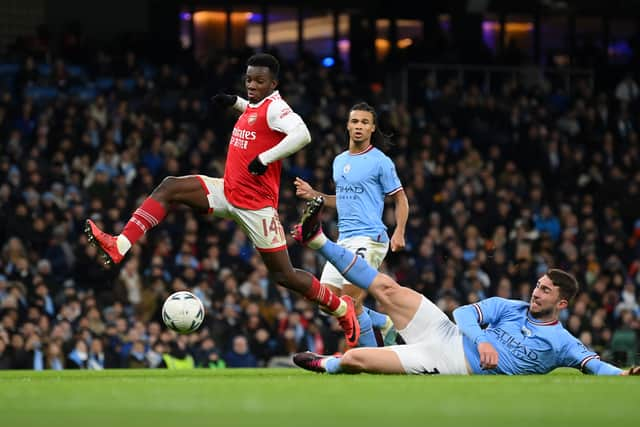 Aymeric Laporte could be the next City pariah to be ousted from the Etihad, but Pep will be damned if he's heading to a Premier League rival. He's not falling for that one again, no siree!
That could be bad news for the aforementioned Arsenal; not because they want Laporte, but rather because they have their hearts set on a cheeky lil swoop for his teammate Ilkay Gundogan. The 32-year-old could leave Manchester on a free transfer this summer, but Pep would presumably rather keel over than let him move to the Emirates. Don't make him tap the sign. Barcelona are also understood to be another potential destination for the German international, and would represent an option that might not cause Guardiola to pull out his three remaining hairs.
And finally, Newcastle United, Wolves, and Leicester City are all said to be keen on summer raids for the lesser-spotted Kalvin Phillips. The Yorkshire Pirlo has seen fewer minutes than a blind clockmaker this campaign, and is already being prepped as rumour mill fodder ahead of the close season. But alas, the Pep Paradox means that whoever wins that particular tussle will at once have to accept that they are good enough to attract a starting England international while still being deemed a thoroughly unserious outfit by Guardiola and his minions.
Perhaps his scorn is a price worth paying. Congratulations to Wolverhampton Wanderers, Premier League champions 2023/24.